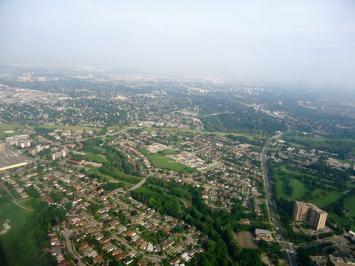 A new poll by Sotheby's International Realty suggests substantial disappointment among Canada's young urban families, unable to afford to purchase the types of houses that they prefer. The poll determined that young urban households in Canada strongly prefer detached houses, but they are often "motivated by (financial) necessity to purchases houses, especially condominiums, they do not prefer."
The poll, the "Modern Family Home Ownership Trends, the Evolution of the Canadian Dream" included families from 20 to 45 years of age, with over one-half being Millennials and the balance composed of Generation Y. According to Sotheby's, the survey "reveals the growing gap between the real estate dreams and the actual home ownership realities of young families – particularly as it relates to the dream of single family home ownership." The survey included the four largest census metropolitan areas (CMAs) in Canada, Toronto, Montréal, Vancouver, and Calgary.
The problem results from Canada's rapidly deteriorating housing affordability. House prices have escalated across Canada since 2000, rising at triple that of household incomes (See: Canada's Middle-Income Housing Affordability Crisis). Nearly all of that increase has been since the middle-2000s, when house prices in Toronto, Montréal and Calgary were far more affordable, at just above three times incomes or less. Since that time, house prices have more than doubled relative to incomes in Vancouver and Toronto and rose about 50 percent to incomes in Montréal and Calgary (though there has been a modest decline in Calgary due to the virtual depression in Alberta's petroleum industry). Vancouver had already become out of reach by 2000.
Things have become so bad, that RBC Economics (Royal Bank of Canada) finds that the average family would have to pay nearly 120 percent of their pre-tax income in monthly housing expenses for a detached house in Vancouver, 90 percent in Toronto and more than 45 percent in Montréal and Calgary. All of these figures are well above the generally accepted maximum guideline of 30 percent. These high costs are in large measure the result of urban planning policies in each of the four metropolitan areas that are steering young urban households away from the detached, single family houses they prefer and into smaller housing, such as condominiums.
Nature of the Disappointment
It is important to understand the nature of this disappointment. It is not like the middle-income family in Los Angeles dishearted that their budget does not permit buying a house in pricey Beverly Hills, or a young family in a Newmarket apartment unable to afford buying in a multi-million dollar home in the Rosedale neighborhood in Toronto. Rather this applies to young, middle-income households that cannot afford the same kind of middle-income housing as their middle-income parents, or others of similar incomes less than two decades ago. It is a fundamental indicator of a declining standard of living. The survey found that "43% of young, urban families who already own real estate but do not currently own a single family home have given up the "dream" of single family home ownership due to high costs." This would include owners of condominiums, and attached houses as well as duplexes and triplexes.
Canadian Families Want Single-Family Detached Houses
For years, urban core interests, especially urban planners, have claimed that younger households have a preference for higher densities and condominiums:
Sotheby's notes: "…proponents of urban densification now argue that the desire to live in condominiums, attached homes and duplex/triplex/multiplex units has increased across every demographic group, including a new generation of families who prefer higher-density housing and an urban lifestyle over the traditional single family home 'dream.'" The Sotheby's survey findings "reveal a more complex picture." That picture is of young urban families overwhelmingly preferring detached houses, and decidedly not the condominiums into which planners are driving them. As Sotheby's puts it, "The report dispels myths about young, urban families' housing preferences."
Preferences and Purchases
On average, across the four metropolitan areas, 83 percent of such families preferred detached houses, but only 56 percent were able to afford them. In other words, one-third had to settle for their second choice in housing type.
The largest level of disappointment is in Vancouver, where 78 percent of young urban families prefer detached houses, but were affordable to only 46 percent. Here more than 40 percent were forced to take their second choice. Young urban families fared best in Calgary, where 91 percent favored detached housing, and 74 percent could afford their preference, a gap of 20 percent. In Montréal, 84 percent favored detached housing but only 61 percent were able to afford their preference. In Toronto, the disappointment level was nearly as high as in Vancouver, with 82 percent favoring detached housing and only 50 percent having the budget to afford their first choice (Figure 1).
The most dissatisfied among young urban families was among those who purchased condominiums. Among the four metropolitan areas, more than three times as many families were forced by budgetary pressures to accept condominiums as preferred them. The biggest gaps were in Vancouver and Calgary, where approximately four times as many families purchased condominiums as preferred them. In Toronto and Montréal, about three times as many families purchased condominiums as preferred them (Figure 2).
The second choice of young urban families was attached housing, which includes include row houses, semi-detached and townhouses. Attached houses, like detached houses, are ground oriented, with entries at ground level and exclusively occupying the ground underneath. Among the four metropolitan areas, The "disappointment gap" here was less than for condominiums, but still substantial (Figure 3).
Detached and (Secondarily) Attached Houses: A Clear Canadian Urban Preference
The Sotheby's survey indicates a clear preference on the part of an overwhelming share of Canadian young urban families for the suburban style of housing, principally detached. The strong secondary preference is for attached housing. Together, these ground oriented houses garner 93 percent of young urban family preferences in the largest Canadian metropolitan areas (Figures 4). From 92 to 97 percent prefer ground-oriented housing in the four metropolitan areas.
These ground oriented housing types were cited by Ryerson University as "the only viable solution to dealing with deteriorating longer-term affordability – significantly increasing the number of new ground-related housing units built" in research related to Toronto's housing affordability crisis.
Who Decides? Planners or People?
The cause of this rising disappointment are housing costs that have risen far more quickly than incomes. Some of the reasons have applied to all housing markets, such as the rise in interest rates and more stringent mortgage qualification criteria. But those factors cannot account for the huge cost escalation that has occurred.
Each of these metropolitan areas has been plagued by urban planning policy that ignores economics. All are subject to urban containment policy, that makes it virtually impossible to expand the urban footprint to accommodate rising populations. The mechanisms of urban growth boundaries and greenbelts, interfere with the operation of land markets, driving up prices. As occurs across an economy, if the supply of a highly demanded good is constrained, prices rise (such as gasoline or land for housing), as the economic literature on urban containment policy makes clear (research summary).
But the people have to live somewhere. Many move out, as the exodus of Toronto residents to places like Kitchener-Waterloo, Guelph, Barrie and Brantford indicate. Many middle-income young urban families are forced to purchase smaller houses, such as condominiums. To some urban planners, this is seen as success. To aspiring young urban families it is an unwanted and unnecessary interference with achieving the basic middle income standard of living their incomes could otherwise afford.
Wendell Cox is principal of Demographia, an international public policy and demographics firm. He is a Senior Fellow of the Center for Opportunity Urbanism (US), Senior Fellow for Housing Affordability and Municipal Policy for the Frontier Centre for Public Policy (Canada), and a member of the Board of Advisors of the Center for Demographics and Policy at Chapman University (California). He is co-author of the "Demographia International Housing Affordability Survey" and author of "Demographia World Urban Areas" and "War on the Dream: How Anti-Sprawl Policy Threatens the Quality of Life." He was appointed to three terms on the Los Angeles County Transportation Commission, where he served with the leading city and county leadership as the only non-elected member. He served as a visiting professor at the Conservatoire National des Arts et Metiers, a national university in Paris.
Photograph: Suburban Toronto (by author)