America is at a crossroads. Its current path is unsustainable. The deficit for fiscal year ending Sept. 30, 2009 was $1.42 trillion. The National Debt is $12.5 trillion with the debt ceiling just raised to $14.9 trillion. The National Debt has increased $4 billion per day since September 28, 2007. The Obama Administration projects trillion dollar deficits for years to come. It has bailed out GM and Chysler, the banks "too big to fail" , and state governments that cannot manage their budgets. They have given away billions for clunkers and caulkers, and rewarded homeowners who bit off more than they can chew. We owe China $894 billion, Japan $764 billion and the Oil Exporters another $207 billion. It is uncertain how long foreigners will continue to finance our debt.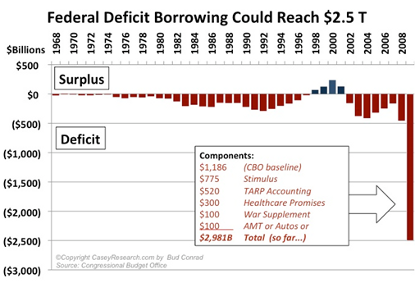 There comes a breaking point at which the financial model is unsustainable and can no longer continue. For you and I, it is called bankruptcy. If we screw up financially, we are forced to declare bankruptcy. The courts offer protection until we can get our house in order but we are forced to stop spending. We solve our problems under Chapter 7 (liquidation) or Chapter 11 (reorganization).
DECONSTRUCTION
Cities can also be forced into Chapter 9 municipal bankruptcy. The City of Vallejo, California, population 120,000, filed for bankruptcy in 2008 after its politicians went fiscally berserk, paying the city manager $400,000 per year and its fireman an average annual wage of $175,000. Cleveland, Ohio declared bankruptcy in 1979 after defaulting on $15 million of bonds. (Seems trivial in this era of trillion dollar deficts). New York City avoided bankruptcy in 1975 when the teachers union forked over $150 million at the eleventh hour. These cities were forced to remedy their reckless spending.
States cannot declare bankruptcy. Nor can they print money like the federal government. The Legislative Analyst's Office estimates California has unfunded pension obligations of $237 billion. California is flirting with junk bond status. If it loses its credit rating, it will no longer be able to fund its bloated operations. The Golden State then will become the first failed state. They will be forced to dismantle their regulatory bureacracy. California has over 500 agencies and many are overlapping. They have 250,000 state employees. Thousands will lose their jobs as the financial community imposes cuts the legislature will not make. Such down-sizing will become known as deconstruction. California may be the first state to deconstruct its government services but it will not be the last. The Pew Center for the States reported that state governments have more than a trillion dollars in unfunded pension obligations.

There is no better example than the City of Detroit. Once the home of Henry Ford and the American automobile industry, Detroit has fallen on hard times. Its population has fallen from nearly 2 million residents to less than 900,000 today. With a budget deficit of $300 million per year, Detroit can no longer provide basic services to its own residents. There are 33,500 empty homes and 91,000 vacant residential lots. More than 300,000 buildings are vacant or in shambles. It is estimated that 40 square miles of Detroit lies abandoned.
Twelve years ago, British urban historian Sir Peter Hall wrote in "Cities in Civilization" that Detroit "has become an astonishing case of industrial dereliction; perhaps, before long, the first major industrial city in history to revert to farmland." Hall may have been prescient. This week, Mayor David Bing released the "Neighborhood Revitalization Strategic Framework," a landmark document that suggests that vast sections of Detroit be razed and returned to farmland, open space and nature. The report suggests the first organized and orderly deconstruction of a major American city.
The report envisons replacing entire neighborhoods with "Naturescapes" (meadows), "Green Thoroughfares" and "Village Hubs" that require fewer city services. But, it will require hundreds of millions of federal aid to finance such a major transformation, money the federal government no longer has to give.
In an era of trillion dollar federal deficits, there are no longer easy solutions. The shift of tectonic plates caused by the Great Recession have exposed hopelessly unsustainable city and state budgets. Swollen payrolls, duplicative agencies and inefficient municipal services can no longer be afforded. The deconstruction of government services seems inevitable.
In five years, will Detroit remain a cratered landscape of vacant buildings, broken promises, and smashed dreams? Or will a smaller, safer, more efficient city evolve out of its ruins? If deconstruction is successful in Detroit, it could serve as a model for many other governments as well, from City Hall to state capitols and all the way to the most bloated disaster of all, Washington, DC.
***********************************
During the first ten days of October 2008, the Dow Jones dropped 2,399.47 points, losing 22.11% of its value and trillions of investor equity. The Federal Government pushed a $700 billion bail-out through Congress to rescue the beleaguered financial institutions. The collapse of the financial system in the fall of 2008 was likened to an earthquake. In reality, what happened was more like a shift of tectonic plates.
************************************
This is the eighth ninth in a series on The Changing Landscape of America written exclusively for New Geography
Robert J. Cristiano PhD is a successful real estate developer and the Real Estate Professional in Residence at Chapman University in Orange, CA.
PART ONE – THE AUTOMOBILE INDUSTRY (May 2009)
PART TWO – THE HOME BUILDING INDUSTRY (June 2009)
PART THREE – THE ENERGY INDUSTRY (July 2009)
PART FOUR – THE ROLLER COASTER RECESSION (September 2009)
PART FIVE – THE STATE OF COMMERCIAL REAL ESTATE (October 2009)
PART SIX – WHEN GRANNY COMES MARCHING HOME – MULTI-GENERATIONAL HOUSING (November 2009)
PART SEVEN – THE FATE OF DETROIT: GREEN SHOOTS? (February 2010)
PART EIGHT - THE FAILED STATE OF CALIFORNIA (March 2010)