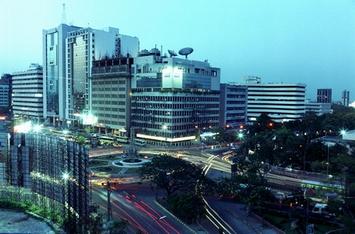 Perhaps no idea is more widely accepted among urban core theorists than the notion that higher population densities lead to more productivity and sustainable economic growth. Yet upon examination, there are less than compelling moorings for the beliefs of what Pittsburgh blogger Jim Russell calls "the density cult," whose adherents include many planners and urban land speculators.
Let's start at the top of the urban food chain, the world's 28 megacities of over 10 million people (which we are defining as areas of continuous urban development, incorporating suburbs and satellite communities). Is greater density the key to great prosperity? For the most part, the world's densest megacities are the poorest. Take the densest, the Bangladeshi capital of Dhaka. Its 14 million residents are squeezed into an area of 125 square miles, making for a population density of 115,000 per square mile, as reported in the latest edition of Demographia World Urban Areas (which includes estimates for all known urban areas in the world with at least 500,000 residents). Dhaka's per capita gross domestic product, $3,100, is the lowest of all the world's megacities.
Three other megacities — Mumbai, Karachi, Delhi — have population densities that are between three to seven times as high as the biggest megacity, Tokyo-Yokohama, which has a density of 11,000 per square mile. Tokyo is also much richer; the region's per capita GDP tops $41,100, while the three ultra-crowded metropolises on the subcontinent have GDPs under $10,000 per capita. In contrast the two most spread out megacities, Los Angeles and New York, have population densities about half or less of Tokyo's, but their per capita GDPs rank number rank first and third ($63,100 in New York and $54,400 in Los Angeles).
Do any dense metropolitan areas boast higher GDPs? Seoul-Incheon, South Korea, packs more than 20 million people into an area roughly a quarter of Tokyo's and at a density four times that of Los Angeles. Its per capita GDP, at $32,200, is the highest among the 10 most dense megacities. Paris, which is twice as dense as New York and 50% more dense than Los Angeles, stands at $53,900. (Yes, Los Angeles is denser than New York — despite its small central core, L.A. lacks the wide stretches of bucolic suburbia common in eastern cities).
This imperfect, if not inverse, relationship between density and wealth is widely ignored by most urban core boosters, many of whom argue that packing people together is the true key to economic growth. But more often than not, notes Russell, the objective is aggrandizing the "creative class" — those who tend to settle in dense urban cores and also work in industries that do best there, but with little positive for everyone else.
Many retro-urban theorists maintain that high density is the key to urban prosperity. These theorists often point for justification to Santa Fe Institute research that, they claim, links productivity with density. Yet in reality it does nothing of the kind. Instead the study emphasizes that population size, not compactness, is the decisive factor.
Size does matter. A region is helped by the infrastructure that generally comes only with a large population, for example airports. But being big does not mean being dense. In fact the U.S. cities that made the largest gains in GDP  in 2011 — Houston, Dallas-Fort Worth and greater Detroit — are not dense cities at all.
Some of the metropolitan regions that have the highest per capita GDPs in the world based on purchasing power are not particularly dense. The two regions at the top — Hartford, Conn. and San Jose, Calif., — are if anything largely suburban in character. Neither has a strong central core, and most of the jobs in the areas are on the periphery.
These areas are marked by everything that density advocates detest: They have very low levels of transit ridership and are largely dominated by single-family homes. The most affluent, Hartford, has among the lowest urban population densities in the world. It turns out that our low-density, "sprawling" metropolitan areas do very well in terms of wealth creation. Of the top 10 urban regions in the world in terms of GDP per capita all but one — Abu Dhabi in the United Arab Emirates — are located inside the United States.
There are many thriving American urban areas with densities below the U.S. average for large urban areas.This includes not only Hartford, but also Boston, Durham, Seattle and Houston. Indeed, smaller, low-density Des Moines nearly broke into the top 10 (13th), reflective of the economic gains being made in the Great Plains.
We may think, for example, of Boston, which ranks fifth in the world in per capita GDP, as a tightly packed urban area. But once one gets behind the relatively small urban core, the overall density is barely 2,200 per square mile, less than half San Jose or Los Angeles, hardly a fifth that of Tokyo and not much more than Atlanta, the least dense major city in the world with more than 2.5 million residents.
Why is this the case? One key reason is that cities, as they evolve, naturally spread out. As New York University's Shlomo Angel has pointed out, virtually all major cities in the world are growing more outward than inward, and becoming less dense in the process. This is not only true in the United States, but also in Europe and, even more surprisingly developing countries as well. For example, over the past four decades, everyone's favorite dense core city, Paris, has seen its urban land area expand 55%, while its population has risen only 21%. Today, the geographical extent of urban Paris is more than 25 times that of the ville de Paris, home to most of the familiar tourist attractions.
In some ascendant countries, notably China, American-style suburbs are being duplicated; and when Chinese and other Asians immigrate, they tend to move to lower-density suburban areas. The only exceptions have been cities where development has been distorted by ideology, such as Moscow before the fall of the Soviet Union, notes Alain Bertaud, a former principal planner World Bank.
The reason for moving outward may be lost on theorists and their real estate backers, but they remain compelling for many people, particularly families. A national association of realtors survey in 2011 found that roughly 8o% of adults prefer to live in detached single-family houses while only 8% preferred an apartment. It is thus not surprising that the suburbs, which abound in detached housing, contain nearly three-quarters of America's major metropolitan population or that areas outside the urban core accounted for 99% of growth between 2000 and 2010.
For the most part, this suggest the population, for the most part, will continue to seek out the periphery. This is not only true, as NYU's Angel points out, in the United States or in similar countries such as Australia or Canada. As people seek out more affordable and larger housing, they tend to spread out from their historic cores. It happens most decisively in wealthy areas that are also land-rich.
This is not to say that the higher-density enclaves of urban areas do not have an important place. In terms of culture, finance, media and certain other transaction-based industries, a number of dense urban cores remain unassailable in their efficiency and appeal. But in the United States, and much of the rest of the high-income world, this is accomplished by bringing residents from the periphery to the core — by car, train, bus and increasingly through telecommunications, even as most jobs are located elsewhere in the urban area.
The future shape of the city is likely to continue expanding, even as some urban cores grow. Visit any burgeoning city in the developing world from Shanghai to Mexico City and the same reality emerges: as cities get larger, they spread out, as people begin to aspire, as best they can, for the quality of life that most North Americans and Europeans already take for granted.
Joel Kotkin is executive editor of NewGeography.com and a distinguished presidential fellow in urban futures at Chapman University, and a member of the editorial board of the Orange County Register. He is author of The City: A Global History and The Next Hundred Million: America in 2050. His most recent study, The Rise of Postfamilialism, has been widely discussed and distributed internationally. He lives in Los Angeles, CA.
This piece originally appeared at Forbes.com.
Dhaka photo by wiki commons user BL2593.