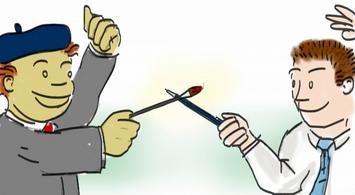 North Carolina Gov. Pat McCrory made waves when he said on syndicated radio that he wants to encourage the funding of four-year programs that align with the job market — not those, like gender studies, that do little to help a graduate's employment prospects.
This was covered in a pointed column for The Wall Street Journal by Jane Shaw, the president of the John William Pope Center of Higher Education Policy in Raleigh, N.C. Shaw supports McCrory's attempt to roil the higher education establishment and get students — heaven forbid — thinking about job prospects when they pick a major:
Referring specifically to North Carolina's 16-campus state university system, Mr. McCrory wondered if state funding incentives should encourage areas of study that align with the job market. Other disciplines, such as gender studies, Mr. McCrory said, might be subsidized less. The funding formula, he said perhaps a bit indelicately, should not be based on the number of "butts in seats, but how many of those butts can get jobs."

The education establishment immediately went bonkers. The pundits piled on. But Mr. McCrory raised a legitimate concern. And the solution he proposed, sketchy as it is at this stage, is not a bad one.

The truth is: Elite universities, such as the University of North Carolina at Chapel Hill, are doing a disservice when they lead students into majors with few, if any, job prospects. Stating such truths doesn't mean you're antagonistic to the liberal arts.
This discussion — and the one we contributed to last year after Viriginia Postrel's column for Bloomberg — got us thinking: just how valuable is a liberal arts education in landing a job and contributing in the business world? Because EMSI works with so many community and technical colleges, we're all for matching educational programs to in-demand fields. (In fact, we've developed a tool, Career Coach, that does just that.) For schools that specialize in offering associate's and certificate programs, data-driven program assessment makes sense — and it helps students, colleges, and the regions that colleges serve.
But what about universities like the University of North Carolina, which McCrory chose to use an example? It's much trickier to link gender studies, history, or some other liberal arts degree to an actual career. But these graduates — in theory — are getting a more well-rounded education than they would get at a vocational school, and they should have the critical thinking, analytical, and writing skills valuable in the marketplace.
Or do they?
In criticizing American higher education institutions, Shaw writes, "Many liberal-arts graduates, even from the best schools, aren't getting jobs in large part because they didn't learn much in school. They can't write or speak well or intelligently analyze what they read." If this is the case, these students are bound to get a poor education regardless of what they major in.
However, as Postrel mentioned in her column last year, the students who flow into well-regarded schools and the majors that result in well-paying jobs, like some STEM degrees, "have the aptitudes, attitudes, values and interests that draw them to those fields (which themselves vary greatly in content and current job prospects)." And as Anthony Carnevale at Georgetown showed in a study last year, the unemployment rate for graduates of certain scientific or technical fields isn't any better, and sometimes it's worse, than the rate for graduates who major in education or the humanities (see above chart).
We looked at completions data from the National Center for Education Statistics to get a sense of the top educational programs for graduates from 2003 to 2011 among all award levels. First, here's the top 10 programs in the U.S. Liberal arts comes in second — just under 50,000 completions short of business administration — while psychology, cosmetology, and general studies are also hugely popular.
But what's striking is to look at the same chart for North Carolina. Notice the huge growth in liberal arts degrees — from 4,111 in 2003 to 8,778 in 2011. And since the recession, the rate of students graduating in liberal arts fields has picked up, not slowed down like you might think.
Based on this data, perhaps McCrory has a point. North Carolina has far outpaced the nation in terms of the proportion of liberal arts degree it awards. But the real question in this debate is, what kind of education are these students getting? If it's as lousy as Shaw depicts, and if they're not aggressively pursuing internships and other career-advancing opportunities while in school, many of these graduates are in for a tough time no matter what.
Joshua Wright is an editor at EMSI, an Idaho-based economics firm that provides data and analysis to workforce boards, economic development agencies, higher education institutions, and the private sector. He manages the EMSI blog and is a freelance journalist. Contact him here.
Lead illustration by Mark Beauchamp.