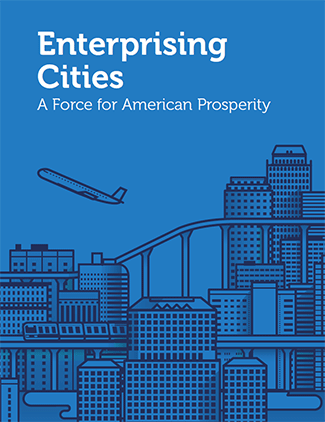 The inaugural edition of Enterprising Cities: A Force for Prosperity that was recently released examines best practices in municipalities taking proactive measures to support job creation and economic growth together with the private sector. The U.S. Chamber of Commerce Foundation's Enterprising States and Cities program takes an in-depth look at the policies and programs being implemented to promote economic growth at the state and local levels.
The cities highlighted in the Enterprising Cities report—Dayton, OH, Irving, TX, Memphis, TN, Minneapolis, MN, Salt Lake City, UT, San Antonio, TX, Sioux Falls, SD—each, in their own unique way, are examples of how enterprise-friendly leadership, strategies, and partnerships can be put into action to achieve meaningful results.
Cities, both large and small, play a pivotal role as drivers of America's economy by creating and sustaining the local ecosystem for innovation, competitiveness, and productivity through enterprise-friendly policies that create jobs, enhance economic development, and build prosperity. Pragmatic leaders at the city level can often take on the issues that Washington will not, or cannot, solve. Enterprise-friendly policies at the city level can indeed facilitate local economic growth by supporting entrepreneurs and mobilizing effective partnerships for improving the conditions for business and job growth. Working together with businesses, city leaders can bolster expansion into national markets and exports to reach global markets.
City policies and practices that will help strengthen our free enterprise system—the system that has served as the foundation of America's prosperity and the only system capable of creating the jobs we need for the long haul—are those that do the following:
Allow businesses to grow and thrive.
Free businesses from excessive taxes, unnecessary regulations, and onerous local government processes.
Focus government on the critical tasks that are the foundation of economic opportunity, such as infrastructure and protective services.
Help educate, cultivate, and equip the next generation of young entrepreneurs and the workforce of the future.
Enterprising cities use policy inputs, well-designed community programs, and economic development best practices to create an environment where free enterprise creates jobs and prosperity. Economic prosperity creates fiscally sustainable local governments capable of supporting the infrastructure and workforce that free enterprise needs. 
Is your city an enterprising city? The 2013 Enterprising Cities were selected based upon their approach to local governance, fiscal management, and program deployment. You can use the criteria upon which these seven cities were selected to assess your own city. 
Explicit involvement of the local business community, citizens, and local education institutions.
A sound approach to fiscal management and the deployment of government services, often based upon private sector best practices.
Strong leadership, communication, and cooperation from the mayor, chamber of commerce, or other civic entities.
A focus on metrics to measure outcomes.
Open communication between local residents and city leaders, and strong city response to citizen input.
Evidence of a plan of action or community strategy carried out by multiple public and private partners.
Recognition that local business activity drives the economy, providing the fiscal stability that allows local governments to focus on the safety, education, and infrastructure that the private sector needs to thrive.   
Praxis Strategy Group is an economic research, policy, strategy and development company.  Praxis and its partner Joel Kotkin conducted the Enterprising Cities study and the four annual Enterprising States studies for the U.S. Chamber of Commerce Foundation.