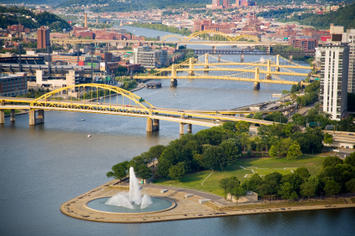 The current recession provides a new opportunity for Pittsburgh's elite to feel good about itself. With other boom economies from Phoenix to Miami on the skids – and other old Rust Belt cities like Detroit, Cleveland and Buffalo even more down on their luck – the slow-growth achievements of the Pittsburgh region may seem rather impressive.
Yet at the same time, the downturn also poses longer-term challenges for which the local leadership is likely to have no answers.
In large part, Pittsburgh's "success," such as it is, has been based on what may be called a "legacy economy," essentially funded by the residues of its rich entrepreneurial past. This includes the hospitals, universities and nonprofits whose endowments have underwritten the expansion of medical services and education, which have emerged as among the region's few growth sectors.
The other great advantage Pittsburgh has – as do potentially other shrinking Rust Belt burgs – is lower housing prices. That's the good news. But the lack of a great surge in housing prices during the real estate "bubble" also testifies to the region's general lack of overall attractiveness and its languid job market.
The current national economic meltdown now changes these realities, and in ways that may not allow Pittsburgh and other slow-growth burgs as much comfort as they might wish.
For one thing, the "legacy" economy is almost certain to start shrinking as the portfolio investments of universities, hospitals and nonprofits begin to erode. After all, these institutions rode the boom elsewhere for a long time; they now will reap the consequences of that dependence.
Perhaps even more important, the great housing advantage seems certain to weaken as a net positive. As prices in Florida, Arizona and even California begin to decline, Rust Belt residents who've been thinking of moving to warm weather, more dynamic economies and lively entrepreneurial environments will now have their chance.
To thrive, Pittsburgh simply cannot rely on being somewhere that is a good place to go to school, get sick or die. It needs to offer restless, entrepreneurial people an opportunity to succeed and do something new.
As local blogger Jim Russell notes, the real problem with his hometown is not that people leave, but that others do not come to replace them. People always leave places, but exciting locales – Los Angeles, New York, Seattle, Houston or San Francisco – also attract large numbers of new people. The immigrants, many of them seeking the "main chance," are generally the people who shake things up and bring new energy to places.
Who seeks their "main chance" in Pittsburgh? Certainly not foreign immigrants, who are staying away in droves. Metropolitan Pittsburgh has one of the lowest percentages of foreign-born residents in the nation. Even Detroit, with its sizable Arab population, has some sort of ethnic vibe.
In the short run, some might argue, not having immigrants relieves the stress on schools and eases potential social tensions. Yet in the America that is emerging, these newcomers represent arguably the most dynamic new element and harbingers of the future. By 2000, one in five American children already were the progeny of immigrants, mostly Asian or Latino; by 2015 they will make up as much as one-third of American kids.
Rather than compliment itself on not exhausting itself by running too fast, the Pittsburgh region should think about producing enough of a pulse to attract immigrants and aggressive young people. A place that reassures itself on the basis of its stable, homogeneous and rapidly aging population seems doomed to achieve little better than self-satisfied stagnation.
City leaders may be proud to see Pittsburgh hailed in the media – most recently by USA Today and the Cleveland Plain Dealer – as a poster child for urban "renaissance," yet these glowing accounts are clearly not inspiring many people to settle there.
Indeed, in a nation with the most vigorous demographics in the advanced industrial world, the City of Pittsburgh continues to suffer one of the most precipitous declines in population. Like the former East Germany, the town needs more coffins than cribs. Even the suburbs of Pittsburgh have been losing population.
More worrisome, there seems no strategy – or even an inclination of needing one – to change this reality. Rather than stimulate the grassroots economy, the region for decades has sought to revive itself by spending billions on new stadia, arenas, convention centers and cultural facilities, sometimes in the process demolishing vibrant working-class neighborhoods or local business districts. Meanwhile, the roads and bridges of the city – which continues to battle bankruptcy – are in a constant state of disrepair.
Every time I read about or visit Pittsburgh, the powers that be have a new project to prove to themselves that the city actually has a life. Most recently, it's a lame-brained scheme to create a 1.2-mile, $435 million (at least) transit tunnel under the Allegheny River to connect Downtown's heavily subsidized office towers to the North Shore's even more heavily taxpayer-funded pro sports stadiums and a future casino.
Yet, in reality, Pittsburgh's "Tunnel to Nowhere" is simply part of the same old brain-dead development strategy that may impress visiting journalists or conventioneers but creates little in the way of good new jobs or long-term opportunities.
You have to think about what the energetic people who come to a community really want – things like economic opportunities, single-family houses and good schools for their kids. Who but speculators and city officials cares about luring the latest ESPN Zone or Planet Hollywood? These kinds of venues are simply commodities now, with no sense of place and available in any city of decent size willing to subsidize them.
So what should the Pittsburgh region do differently?
The first thing would be to consider using its scarce public funds to revive the old urban neighborhoods and leafy suburbs that constitute Pittsburgh's greatest competitive advantage. These are places that may attract students now, but to matter in the long term, some of these young people must stay after they graduate. This will be particularly critical as the current "echo boom" begins to fade and the now record-high number of students begins to drop.
Second, the region should target growing small businesses. The era when Pittsburgh was a big-business town is all but over. In 1960, 22 Fortune 500 companies were headquartered there. Now it's roughly a third that number. High taxes, tiresome regulatory regimes and the enormous burden created by outsized city employee pensions have hit the small entrepreneur hardest. Addressing these issues is more important to them than new arts venues or jazz clubs.
Finally, the city needs a shtick to call its own. It might look at its historic strengths as an innovative engineering city. Pittsburgh could look also to its hinterland, a region rich in beauty and resources, as part of its competitive advantage.
All of these things could provide linchpins for a true renaissance – one driven not by public relations and shiny new subsidized edifices, but by the energy of its people.
That's what has always made for great cities – and what will do so well after this current recession has passed into memory. Pittsburgh has the potential to catch the inevitable next wave that will emerge after the crisis, but only if it can get past its long-standing celebration of mediocrity.
This article originally appeared at Pittsburgh Tribune-Review.
Joel Kotkin is executive editor of NewGeography.com and is a presidential fellow in urban futures at Chapman University. He is author of The City: A Global History
and is finishing a book on the American future.