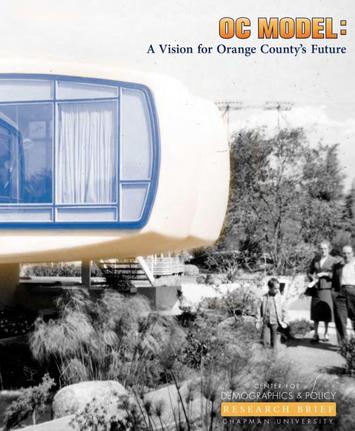 This is the introduction to a new report on Orange County published by the Chapman University Center for Demographics and Policy titled, "OC Model: A Vision for Orange County's Future." Read the full report (pdf) here.
Blessed by a great climate and a highly skilled workforce, Orange County should be at the forefront of creating high wage jobs. The fact that it is not should be a worrying sign to the area's business, academic, political and media leaders. Despite some signs of recovery in OC, long-term trends, such as a dependence on asset inflation and low wage employment, seem fundamentally incompatible with sustainable and enduring growth in the County.
To be sure, asset inflation benefits established property owners, and those who work in the real estate sector, but the surge in property prices and an ever increasing number of touristic venues does not provide enough of a viable base for coming generations. Given the area's high costs — which can at best be mollified — the area's prosperity depends on building up its cadre of well-paying high value jobs in promising fields as professional business services, technology and design-oriented cultural industries.
The good news: the county retains some strength in all these fields. But many long-term trends, as we will demonstrate below, are not encouraging. Once one of the nation's most powerful high-end economies, the county is in danger of losing momentum to other markets.
Reversing this trend will require a more holistic assessment of current realities. It also requires a strong, coherent strategy targeted to high-wage growth sectors. Instead of the current obsession with real estate and tourism projects, the County needs to focus more on what professional business services, technology, finance and science-based companies need in order to succeed.
This necessitates a conscious effort, led by the business community, to develop a strategic direction for Orange County. There are a number of models to choose from, ranging from the most successful, Silicon Valley to greater Boston to the North Carolina Research Triangle, and many more. In each case, the growth from established university research centers — Stanford, MIT, Harvard, as well as the University of North Carolina, Duke and North Carolina state — extended from the university's base to its periphery. This strong cooperation among universities, government and the private sector is critical to the emerging tech and business service corridor developing between the Texas cities of Austin and San Antonio.