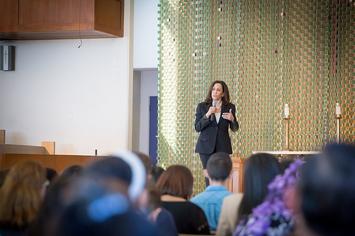 In the free-form, roller derby race for the Democratic presidential nomination, few candidates are better positioned than California's Senator Kamala Harris. She is a fresh and attractive mid-fifties face, compared with septuagenarian frontrunners Joe Biden and Bernie Sanders, or the aging progressive Elizabeth Warren. Part Asian-Indian, part Afro-Caribbean, and female, Harris seems the frontrunner in the intersectionality sweepstakes that currently largely defines Democratic politics. Yet the national obsession with ethnicity and novelty obscures the more important reality: Harris is also the favored candidate of the tech and media oligarchy now almost uniformly aligned with the Democratic Party. She has been a hit in all the important places—the Hamptons, Hollywood, and Silicon Valley—that financed Hillary Clinton's 2016 campaign.
Unlike Warren and Sanders, or Minnesota's Amy Klobuchar, Harris has not called for curbs on, let alone for breaking up, the tech giants. As California's attorney general, she did little to prevent the agglomeration of economic power that has increasingly turned California into a semi-feudal state dominated by a handful of large tech firms. These corporate behemoths now occupy 20 percent of Silicon Valley's office space, and they have undermined the start-up culture that once drove the area's growth.
Read the entire piece on City Journal.
Joel Kotkin is the Presidential Fellow in Urban Futures at Chapman University, director of the Chapman Center for Demographics and Policy and executive director of the Center for Opportunity Urbanism in Houston, Texas. He is author of eight books and co-editor of the recently released Infinite Suburbia. He also serves as executive director of the widely read website www.newgeography.com and is a regular contributor to Forbes.com, Real Clear Politics, the Daily Beast, City Journal and Southern California News Group.
Photo: Office of Senator Kamala Harris [Public domain], via Wikimedia Commons