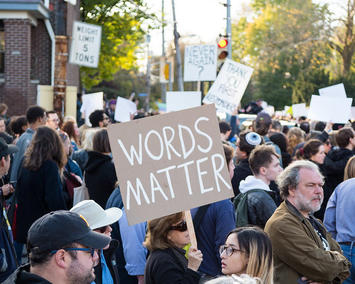 In our selfie-defined culture, it's usually considered a good thing to get attention, the more the better. But it may not be the case for Jews, or for Israel, to be caught in the firestorm that is burning through American politics in ways not seen since the Second World War. "That Israel is becoming a wedge issue in American politics," notes author Daniel Gordis, " bodes very badly for Israel's future security."
Jews have been prominent in U.S. political life for generations but have never previously been considered a "wedge issue" as, for example, African Americans were in the past, or Latinos and Muslim Americans more recently. Yet, both sides of the political divide, along with each party's Jewish allies, now seek to use the threat of rising anti-Semitism to either keep Jews inside the Democratic Party or pressure them to defect to the Republicans.
The 2020 presidential election is likely to make this all worse. As Republicans try to pry Jewish votes away from their traditional stronghold in the Democratic Party, they will emphasize the most divisive political issues that they wager are able to get people passionate enough to switch party loyalties—namely: Israel and anti-Semitism. This is most evident in the Orthodox community where support for Trump has manifested itself in awards to two Florida lawyers who are accused of being Rudy Giuliani's alleged Ukrainian fixers.
At the same time, conservatives and Trump operatives point to rising anti-Israel sentiment on the left, as well as to signs of overt anti-Semitism becoming normalized in progressive politics even apart from the debate over Israel, as was the case with the former leadership of the Women's March. For the people driving the wedge from the right, any Jews who don't back Trump are "disloyal" to Israel and Jewish survival...
Read the rest of this piece at Tablet Magazine.
Joel Kotkin is the Roger Hobbs Distinguished Fellow in Urban Studies at Chapman University and executive director of the Houston-based Center for Opportunity Urbanism. He authored The Human City: Urbanism for the rest of us, published in 2016 by Agate. He is also author of The New Class Conflict, The City: A Global History, and The Next Hundred Million: America in 2050. He is executive director of NewGeography.com and lives in Orange County, CA. His next book, "The Coming Of Neo-Feudalism," will be out this spring.
Photo credit: Mark Dixon via Flickr under CC 2.0License.