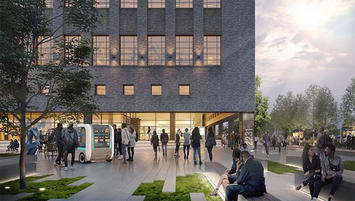 Ford Motor Co. unveiled grand plans this week to enhance its investment in the Corktown precinct of Detroit, envisioning creation of a 30-acre "mobility innovation district" around the iconic but crumbling Michigan Central train station that the automaker is restoring to make a hip urban locale for 2,500 engineers and tech people.
The problem is that Ford Executive Chairman Bill Ford and his brain trust are having to decide about doubling down on their vast and expensive new experiment in human capital at the exact same time that the pillars under their initial thinking are wobbling. And it may not be a good sign that, while Corktown work is ongoing, Ford also is moving to jettison lots of other office space in metro Detroit, where 60 percent of its 90 buildings are more than a half-century old.
Ford's plans to invest about $750 million in creating a new "mobility" and transportation technology hub in a neglected part of Detroit are admirable for their boldness. They want to make their new Corktown complex a magnet for young engineering talent who would spurn a traditional automaker based in a faltering suburb of the Motor City – but who might be turned on by the chance to work in an excitingly collaborative environment, on the latest technology, in a mixed-use neighborhood that is serving as a modern poster child for urban reinvention.
But amid the pandemic it's no longer certain that Ford's dreams make sense as they did just nine months ago. What happens to Ford's plans if the ravages of COVID-19 make millennials and Generation Z employees wary of taking a job on a congested campus -- even if the place is new and glistening and lots of fun – if they may still have the option of working at home instead?
Renderings released this week depict a scene that seems jarringly anachronistic given how the virus and resulting shutdowns have laid waste to the social and commercial landscape of just several months ago. In this image, a lovingly restored, Alfred Kahn-designed old book warehouse has become a thriving new mixed-use center, with people huddling outside around an electrically powered food truck and cuddling on benches in the courtyard.
Instead of a scene from 2021, the rendering looks more like a wistful picture of how life was in the fall of 2019.
Read the rest of this piece at Flyover Coalition.
---
Dale Buss is founder and executive director of The Flyover Coalition, a not-for-profit organization aimed at helping revitalize and promote the economy, companies and people of the region between the Appalachians and Rockies, the Gulf Coast and the Great Lakes. He is a long-time author, journalist, and magazine and newspaper editor, and contributor to Chief Executive, Forbes, the Wall Street Journal, the New York Times and many other publications. Buss is a Wisconsin native who lives in Michigan and has also lived in Texas, Pennsylvania and Florida.