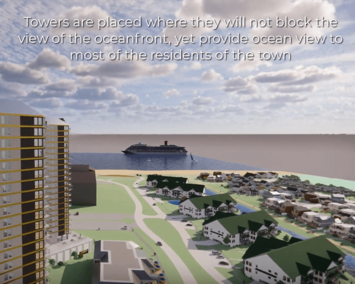 About a year ago, I got a call from Sonny Matta, one of the founders of Atlantic Beach Redevelopment Public-Private Partnership, introduced me to Atlantic Beach, South Carolina – a 97 acre city along the Atlantic Coast known to locals as The Black Pearl.
The town was formed in the 1930's as a vacation destination for black families with thriving black-owned businesses. It became an entertainment center African American musicians could not just play, but also stay, which was not an option even in "integrated" cities like Los Angeles.
Some great entertainment was associated with these venues. It was an era of Jazz performers that evolved to Ray Charles, Marvin Gaye, The Spinners, The Drifters and so on. Then in 1954, hurricane Hazel wiped out a large portion of the town and decay began to drift in. Today, the downtrodden town is but a shadow of its past, still in many ways isolated from Myrtle Beach that surrounds it.
A business leader Gene Lawson specializing in educational institutions, saw an initial vision of something great for the town. He worked for many years with Benjamin Quattlebaum, the Town Manager to collect citizen and stakeholder's thoughts, wishes, and comments. The mission was to create a new city transcending racial barriers, with forward thinking Town Leaders and residents working together with innovators in land planning, design and financing, crafting land use to achieve public private dividends, and provide for the Town and its citizens for many generations. That was the mission – but how to make it an achievable reality was placed on my lap.
A decade ago, I had worked with Jamil Ford, a prominent Minneapolis Architect to create a redevelopment model that we wanted to use in Detroit. We pulled away from that effort because of the complex politics to enter that market. However, that same redevelopment model was ideal for The Black Pearl.
Atlantic Beach's previous planning for a redevelopment effort resulted in a marker pen colored map of existing streets and blocks redefined as a particular land use. This simplistic and common approach to redevelopment embraces the past planning (in this case the 1930's) and ignores today's advancements in both planning and architecture.
The task I was handed was to create a lower density environment desire of the existing residents with ties to the musical history of the town, and yet keep the city away from gentrification. Impossible? Absolutely, but to balance these goals in a way that was economically responsible is what we developed.
Before taking on such a task, I had made some conditions:
We were not going to create a wall of high-rises to screen the view of the ocean, but instead pull them back from the perimeter.
The ocean must be viewable from across the entire 97 acre town, so that the vast majority of the population will feel connected to it.
Achieve a town where the ocean or some form of water feature can be viewed from living space within most homes and deck areas.
And from the start – if I was to be involved in the planning, Jamil was to be the architect of record. Jamil's has a track record of improving the quality of life in minority areas. He has advocated better community involvement and a greater attention to architecture and planning design and is heavily involved in the redevelopment of downtrodden areas in Minneapolis including the recent Minneapolis Finance and Commerce Top Project of the Year.
This was not just an exercise of lots and streets, but also involved how to showcase the town's history promoting Atlantic Beach through music events and venues, while increasing livability, and incorporating proven sustainable practices.
The team engaged Richard DeGorter whose expertise working for a national builder is to mobilize resources and assemble the land structure, and Entrepreneurial development expert, Ilonka Harezi.
A year ago, I told Sonny Matta, what you are asking is a nearly impossible task, yet over the year as it began to take shape, it seemed to be very possible.
On April 5th, the council of Atlantic Beach will decide to move forward with this vision which Jamil coins: The Black Pearl Community of Tomorrow – "A Rich History with an Abundant Future".
I'd like to share with you the actual presentation submitted for the Town's council meeting:
With the current racial tension plaguing this nation, this neighborhood will be a model of redevelopment no matter what social status or color of the residents.
---
Rick Harrison is President of Rick Harrison Site Design Studio and Neighborhood Innovations, LLC. He is author of Prefurbia: Reinventing The Suburbs From Disdainable To Sustainable and creator of LandMentor. His websites are rhsdplanning.com and LandMentor.com