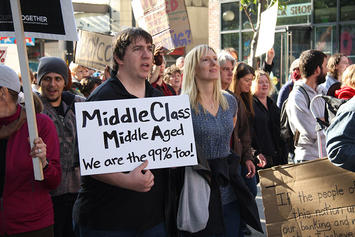 A specter is haunting America, a great revolt that threatens to dwarf the noxious rebellion led by Trump. The echoes of a another potentially larger pushback can already be heard in progressive America. But it's not towards socialism, as many suggest. It's the opposite: a new middle-class rebellion against the excesses of the Left.
This new middle-class rebellion isn't rejecting everything that progressives stand for; the Left's critique of neo-liberal excess is resonating, as is the need for improved access to health care. But the current focus on "systemic racism," coupled with a newfound and heavily enforced cultural conformism and the obsessive focus on a never-ending litany of impending "climate emergencies" are less likely to pass muster with most of the middle class, no matter how popular they are with the media, academics, and others in the progressive corner.
And this new middle-class rebellion is being bolstered by a wide-ranging intellectual rebellion by traditional liberals against the Left's dogmatism and intolerance. Indeed, what we're about to see has the potential to reprise the great shift among old liberals that had them embracing Reagan in reaction to the Left's excesses of that generation.
In a way, this should not be surprising. After all, the progressive base is limited: According to a survey conducted by the non-partisan group More in Common, progressives constitute barely eight percent of the electorate. The report also found that fully 80 percent of all Americans believe that "political correctness is a problem," including large majorities of millennials and racial minorities.
Party line journalists may see President Biden as the new champion of the middle class, but every time he adopts central tenets of the new Left, he undermines his pitch. And this happens not infrequently: The Biden Administration has adopted elements of the "anti-racist" agenda, for example, by explicitly favoring Black farmers for subsidies, rather than focusing on all farmers in need. Race issues may be popular on college campuses and in the human relations departments of giant corporations like Lockheed and Amazon, but a recent Yale study found that language based on inclusivity around class was far more popular than one focused largely on race, even with progressive voters.
This is not the message coming out of the Biden administration, which has put a premium on diversity hiring and "equity," despite the fact that racial quotas, in hiring or in college admissions, are unpopular with three out of four Americans, including African-Americans and Hispanics; 65% of Hispanics, 62% of black Americans and 58% of Asians oppose affirmative action in college admissions.
Read the rest of this piece at Newsweek.
---
Joel Kotkin is the author of The Coming of Neo-Feudalism: A Warning to the Global Middle Class. He is the Presidential Fellow in Urban Futures at Chapman University and Executive Director for Urban Reform Institute. Learn more at joelkotkin.com and follow him on Twitter @joelkotkin.
Photo credit: Hollywata via Flickr under CC 2.0 License