Is this a story from the Onion? No. Too Implausible. The Chicago Tribune reports:
Coming from as far away as Azerbaijan, dozens of corporate executives and government bureaucrats gathered at a downtown hotel Wednesday to hear Mayor Richard Daley share his tips for preventing corruption.

Absent from his speech at the international event was any talk of city hiring fraud, the Hired Truck program or the myriad other scandals that put Daley aides in federal prison or left them free pending appeals of official misconduct convictions.
In 2005, The Chicago Sun-Times explained "From an exhaustive Hired Truck investigation to a probe into patronage hiring at City Hall, there's so much corruption to investigate in the Chicago area, the FBI is adding manpower." Chicago got a third public corruption squad while New York and L.A. only had two. The Hired Truck scandal was one of the biggest in recent history, where private trucking companies were paid to do nothing. Mayor Daley has yet to explain why a Chicago Mob bookmaker was running the program.
But, it's not only Hired Truck. Mayor Daley's Water Department was described by the Justice Department as a racketeering enterprise for at least 10 years. Just a week ago,the Chicago Democratic Machine's own Rod Blagojevich was indicted for running a racketeering scheme even before he took office as Governor.
Blagojevich earned the early endorsement of the Machine in 2001. The Daily Herald reported powerful Alderman Burke's glowing endorsement, "I am with Rod 100% because he has what it takes to win – money, message and an army of supporters."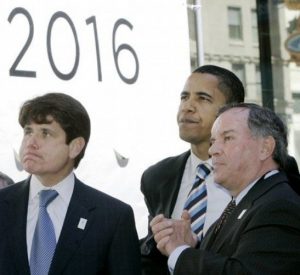 Mayor Daley's son and nephew have just hired a prominent criminal lawyer for their questionable business dealings with the city of Chicago.
Mayor Daley isn't the only Chicago Democrat lecturing audiences about ethics. Recently, Illinois Supreme Court Justice Anne Burke(wife of Alderman Ed Burke) lectured Illinois state workers on "Ethics in the Workplace" at University of Illinois-Chicago.Anne Burke has been accused by a top FBI informant of corruption.
Since 1971, 31 Chicago Aldermen have been convicted of felonies. Sometimes you just have to laugh. Or cry.