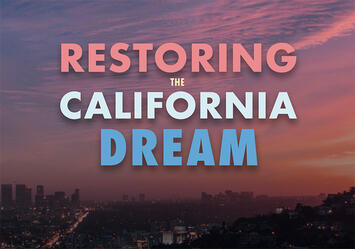 This newly released report examines how the California dream can be restored for California's middle- and working-class families. An excerpt follows:
What is happening to the California dream? For some it still comes true, but for many, and perhaps most Californians, the state increasingly fails to provide ample opportunities to start a business, buy a home or move up to the middle class. The state's performance on these issues is the ultimate test of the 'California model' and its validity for the rest of the nation.
We face two seemingly discordant realities. In technology, culture and lifestyle, California remains the envy of the world. The state's aggregate economy—its GDP—has continued to grow faster than the national average, in large part due to the enormous surge of wealth created in the tech sector, where California is home to 53 of the country's 500 largest firms and four of the country's seven most valued firms, all in tech.
California's 2020 $3.2 trillion GDP would make it the world's fifth largest national economy if it were a standalone country, just behind Germany. It accounts for 14% of the US GDP, while our 40 million people account for slightly under 12% of the country's population. The Golden State, by that metric, still punches above its weight. Yet for most Californians, the economic reality is far from rosy. Even as the state creates an ever-higher number of billionaires—24 added just last year—California workers have not shared in the prosperity. Nearly 80% of all jobs created in the state over the past decade paid less than the median income, a percentage far below our prime compet-itors. The inconvenient truth is that in key metrics such as housing costs and income growth, most Californians are doing worse than their counterparts elsewhere.
Overall, California now underperforms its main competitors, notably Arizona, Texas, Washington and Utah in many sectors of the economy—manufacturing, professional business services, construction and energy—that once provided steady, high-wage employment. The loss of major corporations in distribution, engineering, aerospace and technology also has eroded our economic diversity and key sources of long-term, middle-class employment.
Low real wages, combined with the very high price of real estate, have created a profoundly divided California. The primary task before us is to restore California's opportunity culture, and by doing so, create prosperity for a broad section of California's middle and working-classes. Our great state needs to restore its historical promise to its citizens.
California's key challenge is not to produce wealth, but rather to spread its blessings more widely. Housing may well be the key issue; more than 70% of Californians surveyed consider the state's housing costs as "a very serious issue," and more than half are considering a move out.
View and download the full report here.
---
Joel Kotkin is the Roger Hobbs Presidential Fellow in Urban Futures at Chapman University, Executive Director of the Urban Reform Institute, and an internationally-recognized authority on global, economic, political and social trends. His most recent book, The Coming of Neo-Feudalism is now available for order.
Marshall Toplansky is a widely published and award-winning marketing professional and successful entrepreneur. He co-founded KPMG's data & analytics center of excellence and now teaches and consults corporations on their analytics strategies.