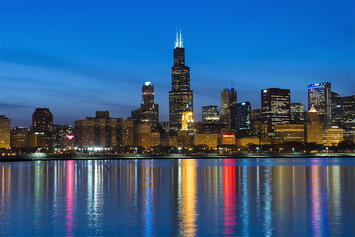 Even in the era of digital marketing and online home-page "takeovers" by brands with something to announce, it's full-page ads in major newspapers where companies still turn when they want to make an important statement. They pat themselves on the back expensively in the Wall Street Journal about how they make things in America, take veiled shots at competitors — and, though also usually obliquely, make political observations.
Making a political statement was exactly what McDonald's CEO Chris Kempczinski did in September when he authorized the fast-feeding icon to take out a full-page ad in the Chicago Tribune that seemed to offer nothing but support and encouragement to Chicago Mayor Lori Lightfoot.
"Chicago has always been first" for McDonald's, the ad read, followed by fine print about the company's significant new investments in a metro area that has been its home since Ray Kroc opened his first restaurant in suburban Des Plaines in 1955. "Our commitment to Chicago is only getting stronger," the ad concluded. "We're proud of our Chicago history and invested in Chicago's future."
What could be more read as sweetness and light?
But the Tribune advertisement only carried punch because of what had transpired shortly before it published. In a speech at the Economic Club of Chicago, an august gathering of local business leaders, Kempczinski called for change because of how the Windy City has become overrun by violent crime — and its business leaders, as well as citizens, seized by the fear of it.
Clarion Call
"There's a general sense out there that our city is in crisis," Kempczinski said. "The truth is, it's more difficult today for me to convince [a McDonald's executive] to relocate to Chicago from one of our other offices than it was just a few years ago. It's more difficult for me to recruit a new employee to McDonald's to join us in Chicago than it was in the past."
After Lightfoot squawked, with her people saying a record 173 companies moved to or significantly expanded in Chicago in 2021, McDonald's placed the makeup ad in the Tribune. But the horse was already out of the barn.
And in truth, Kempczinski's honest critique of a once-great headquarters city was an overt act of ESG, which is what CEOs are supposed to commit these days — action on environmental, social and governance causes. It was a seriously considered, sober-minded warning to city leaders that they'd better get a handle on violent crime, or even long-time corporate pillars like McDonald's might consider moving elsewhere.
What could be more socially responsible than for a CEO to try to help a city correct its biggest problem?
Read the rest of this piece at Flyover Coalition.
---
Dale Buss is founder and executive director of The Flyover Coalition, a not-for-profit organization aimed at helping revitalize and promote the economy, companies and people of the region between the Appalachians and Rockies, the Gulf Coast and the Great Lakes. He is a long-time author, journalist, and magazine and newspaper editor, and contributor to Chief Executive, Forbes, the Wall Street Journal, the New York Times and many other publications. Buss is a Wisconsin native who lives in Michigan and has also lived in Texas, Pennsylvania and Florida.
Photo: Chicago skyline, courtesy Flyover Coalition.