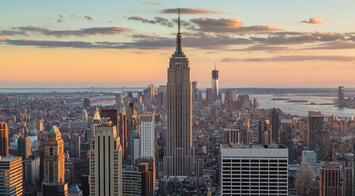 When my Gen Z students graduated a few months ago, I noticed something unusual about their post-baccalaureate plans. For most of my teaching career, many of my students would move to New York City or other large cities to be at the center of the cultural zeitgeist and be connected with others. They liked the cramped and tight spaces, they wanted walkable streets and public transit, and they made the costs and daily difficulties work.
This year, in the post-lockdown world, many more are moving into suburban areas and to Southern "cities" which are sprawling, car-dependent, and known for space, affordability, and privacy. One of my students had multiple terrific post-graduate offers in New York City but turned down the positions and moved to a Southern city because she wanted to live in a place with more space, a better cost of living, and something away from the chaos and unending hassle that has become so common in many urban centers.
It turns out, that student represents the thinking of others in Gen Z. Now that the frantic population dispersal of the COVID-19 pandemic has ended, the data are clear: Significant numbers of younger Americans want space, understand non-urban areas are vibrant and have third-places, and are willing to accept the tradeoff of forgoing walkable amenities. Planners, politicians, and pundits would be wise to understand that the older patterns of college graduates flocking into cities and then out to suburbs as they age is simply no longer true.
Survey data collected by the Survey Center on American Life throughout the COVID-19 pandemic reveal that big cities—despite the values of propinquity, density, and scale—are simply not where most Americans want to reside. Younger generations of Americans actually show greater interest in suburban living than dense city living. In fact, after being homebound for many months due to the pandemic, more Americans now express a desire for personal space than ever before. The majority of respondents in 2021 stated that they were "willing to sacrifice easy access to amenities to have more space to themselves and distance from their neighbors." City life is not where those desires are realized.
Even after the lockdowns and vaccines, data from YouGov confirms that younger Americans are not sold on high-density city living. When asked about whether it is better for the environment if houses are built closer together or farther apart, majorities of Americans of various age cohorts all agree that space between homes is important: Almost six in 10 (58 percent) Americans between ages 18 and 29 feel this way, and an even higher 83 percent of their parents' cohort (Americans ages 45 to 64) agree.
Although older Americans are more likely to believe that extra space is better for the environment, the fact is that significant numbers of younger Americans feel the same way. In this new, post-pandemic era, it should not be assumed that younger Americans are excited or willing to live in cramped apartments just to be in urban cores, as the majority of adult Americans under 30 believe that having space is of value.
Read the rest of this piece at AEI.
---
Samuel J. Abrams is a professor of politics at Sarah Lawrence College and a senior fellow at the American Enterprise Institute.
Photo: Sam Valadi via Flickr under CC 2.0 License.