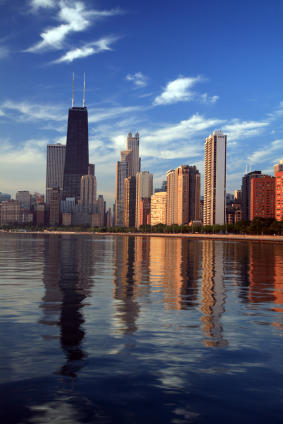 In Chicago's recent history, when you think of beers, Jesse Jackson and his sons Yusaf and Jonathan come to mind. Yusaf and Jonathan Jackson were fortunate enough to receive a coveted Anheuser-Busch distributorship on the north side of Chicago. Just the other day, MillerCoors announced it would move its corporate headquarters to downtown Chicago by the summer or fall of 2009. The cost was high. The City of Chicago and the State of Illinois will pay $20 million to help bring 300 to 400 jobs to Chicago.
Chicago was in competition with Dallas for MillerCoors. Even though Dallas lost the MillerCoors battle to Chicago, Texas as of late has been the big winner in landing corporate headquarters. In April of 2008,Texas became the number one state for headquarters of the 500 largest corporate headquarters compiled by Fortune Magazine. As the Houston Chronicle reported, "Texas now boasts 58 headquarters, three more than New York, the previous No. 1, and California, with 52. The Houston area has 26 of the companies."
In the same week as the MillerCoors announcement, some rather grim news for Chicago and Illinois was released. The Illinois Department of Employment and Security reported that the "Illinois unemployment rate for June was 6.8 percent, climbing 0.4 percent points from May. The number of unemployed increased for the second month in a row, rising by 26,900 to 463,900 unemployed individuals, and reaching it highest level since June 1993." To put things in perspective, last month, while the Illinois unemployment rate was 6.8 percent, the national unemployment rate was 5.5.
While Illinois and Chicago give MillerCoors the $20 million welcome, America's largest retailer is an object of derision in Chicago. Wal-Mart was allowed to open its first store in Chicago's city limits after a protracted fight in the City Council. The pro-union Chicago Aldermen have prevented any more Wal-Marts in Chicago. The thousands of jobs Wal-Mart could have provided Chicago's poor and working class will not happen.
The taxpayers are allowed to subsidize MillerCoors with $20 million (for 400 jobs) in Chicago, but having several Wal-Marts employing thousands of job seekers is not to be in Chicago. Instead of challenging Chicago's City Council to open up the city to an aggressive anti-union company, Mayor Daley wants organized labor peace. The organized labor calm is necessary to bring the Olympics to Chicago in 2016. Chicago didn't have much domestic competition from other U.S. cities bidding on the Olympics because it's a money loser for taxpayers. Mayor Daley, the unions, and businesses with heavy clout view the Olympics as a great heist with high tax tolerant Chicago taxpayers left with the tab.
The last several decades, Illinois has been a sub-standard performer in jobs and population growth. In December 2007, Crain's Chicago Business described the Illinois job situation:
"Financial pressures on Illinois residents are deepening, as the state continues to lose economic ground compared to the nation and its own past.

That's the gloomy bottom line on a comprehensive study of the state's economy being released this morning by the Chicago-based Center for Tax and Budget Accountability and the two research units of Northern Illinois University at DeKalb.

The study finds that, though the rate of decline has somewhat slowed, Illinois continues to lose good-paying manufacturing jobs to service-industry posts that tend to pay less.

As a result, most Illinois workers actually earned less in 2007 than they did in 2000, adjusted for inflation, with median household income dropping from $54,900 in 1999-2000 to $49,328 today."
An important part of the erosion of jobs-based earnings in the state is due to the loss of manufacturing jobs. Howard Wial and Alec Friedhoff did a study for the Brookings Institute in 2005 on manufacturing jobs lost in the Great Lakes Region from 1995-2005. The greater Chicago area was one of the leaders in manufacturing jobs lost. Wial and Friedhoff report:
"Total employment in metropolitan Chicago grew moderately before the 2001 recession, declined from 2000 through 2003 and rose again in 2004 and 2005. The region gained 346,000 jobs (an 8.2 percent increase) from 1995 through 2000. Despite recent gains, total employment fell total employment fell by 109,900 (2.4 percent) from 2000 through 2005. Over the entire period 1995-2005,the region gained 236,100 jobs (5.6 percent), well below the national growth rate.

Manufacturing employment declined almost continuously since 1995,with the largest annual losses occurring in 2001 and 2002. The region lost 35,700 manufacturing jobs (a decline of percent) from 1995 through 2000 and another 141,300 (22.2 percent) from 2000 through 2005. The result was a loss of 177,000 manufacturing jobs (a 26.3 percent decline) over the entire decade, the largest total loss of all regions in this analysis."
The Chicago Tribune had an interesting fact in their article about MillerCoors coming to Cook County. The Tribune reports that the county's job growth for "management of companies" jobs is nowhere near that of adjacent counties. According to the Bureau of Labor Statistics, the Tribune reports: "between 2001 and 2006, they grew 7 percent in Cook County, 33 percent in DuPage County and 83 percent in Lake County."
In conclusion, Chicago needs all the jobs it can get. Cutting regulations and eliminating union mandates would be lot cheaper and more effective for attracting jobs then subsidizing a major corporation with $20 million dollars from taxpayers. The MillerCoors deal is indicative of the costs Chicago taxpayers endure. It's ironic though, MillerCoors will be located in downtown Chicago (which is a special taxing district that has an 11.25 percent retail sales tax, the highest in America). The tax proceeds from the highest retail sales tax is meant to subsidize economic development in downtown Chicago. So, Chicago may lose retail jobs downtown.
Steve Bartin is a resident of Cook County and native who blogs regularly about urban affairs at http://nalert.blogspot.com. He works in Internet sales.