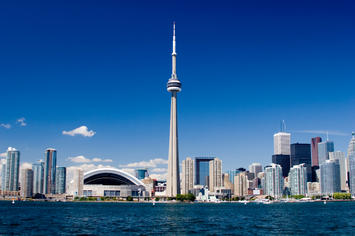 Toronto is a nice city.
If that seems like faint praise, then so be it; I'm not a great Toronto fan. Don't get me wrong. It is a wonderful city for the tourist, and temporary residents I know swear by the place. But it's not my kind of town.
I spent much time in Toronto in the 1980s and 90s. My first visit must have been in 1970 or so, and I was last there on a very cold, January day in 2003.
The city used to be known as "Tidy Toronto." Indeed, that was the impression I got from my first visit - it all seemed very British, very clean, very orderly. In the 1970's the Blue Laws were strict - it wasn't possible to buy a cup of coffee on a Sunday morning. For the tourist (as I was then) it made for an unpleasant stay. These rules have weakened over the years, but as far as I know, many shopping malls and large stores are still closed on Sunday.
In contrast to the United States (Life, Liberty & the Pursuit of Happiness), Canada was founded as British North America on the principles of Good Government & Good Order. The Blue Laws are of a piece. There are some nice things about this: Canadian parks, including Toronto city parks, are much nicer and better maintained than their American counterparts. Toronto supports one of the largest public library systems in North America (an expensive anachronism?). They have street cars. The streets are (or at least were) cleaner. Canadian hotels and motels are fantastic – and apart from boring Sundays, Canada surely is one of the best countries in the world for the tourist. By all means, visit Toronto.
But compared to American cities of comparable size – Boston, Atlanta, Seattle – Toronto is stifling, provincial, and culturally unimportant. This, I believe, is why.
The city is situated on the northwest shore of Lake Ontario. The street system is oriented by the lake, which means E-W streets roughly parallel the shore. Thus, going east on Bloor will put you on a 75 degree heading. North-south streets are perpendicular – Yonge Street heads north at 345 degrees.
The lake is the city's geographical feature of note, and serves as a transportation artery. Both the railroad and the Gardiner Expressway run right along the lakefront, thus cutting the city off from the water. City planners have tried mightily to rectify this fundamental error in design: they have built as many urban attractions as they can on the water side of the tracks, beginning with Queen's Quay. This is nice enough, but is not easily accessible for pedestrians (one has to cross both the expressway and the tracks to get there). And then it is a synthetic cityscape, such as Manhattan's South Street Seaport or Chicago's Navy Pier: seen one, you've seen them all. Off shore are the Toronto Islands, now mostly used as park space. I'm ashamed to admit I've never been there.
I've always thought of the center of town being the corner of Yonge and Bloor Streets, for that surely is the busiest subway stop. It is an impressive corner, similar to Chicago's Michigan Ave (though on a much smaller scale).
South of Bloor, Yonge Street is the city's major promenade, where young people go to see and be seen. They strut by on wheels and on foot, in hot rods and hot clothes. It's a great place to walk on a Summer evening.
A half mile (Toronto's streets were designed long before Canada went metric) south of Bloor is Dundas Street, a street that doesn't follow the grid (probably an old Indian trail). Yet another half mile south is Queen Street, the main E-W pedestrian thoroughfare and location of Eaton Centre – a huge, indoor shopping mall (apparently now open on Sunday). Further south are King Street, Front Street, Union Station, and then the Gardiner Expressway at the foot of Yonge Street. Yonge St. becomes less lively south of Queen St.
Walking west on Queen Street (highly recommended) one comes first to Nathan Phillips Square, location of the justly famous Toronto City Hall. The old city Hall, a beautiful red brick building to the east, is just as impressive. In the summer there are fountains, and in the winter ice skating. Beyond this is Osgood Hall, a judicial institution and a lovely building surrounded by a marvelous garden. Go inside if you can. En route you will cross Bay Street, Canada's financial center. The heart of the financial district is Bay & King Streets.
Continuing west brings one to University Avenue, a broad, visually spectacular boulevard. It is full of institutions: Ontario Hydro has its headquarters here, as do large insurance companies. It is not a shopping street. About a mile north, University Ave. divides to surround Queen's Park, the location of the Ontario Provincial Legislature. It is a beautiful park and an interesting building. "At Queen's Park today," begins many a news cast, "Premier McGuinty announced..." North of Queen's Park, University Avenue turns into the redundantly named Avenue Road.
Continuing west on Queen brings one to Spadina Avenue, a major N-S traffic thoroughfare. Spadina and Dundas is the center of the traditional Chinatown. North of that, between Spadina and Queen's Park, is the University of Toronto – the center of the campus is surrounded by King's College Circle, and a pleasant walk.
Beyond Spadina, Queen Street is Toronto's version of Greenwich Village, known as the Gallery District. Here are nice cafes, bookstores, small shops. I believe this used to be the center of the Italian district, and Italians still live on the West End and in Etobicoke. But West Queen St. has outgrown the ethnic identity.
Bathhurst, about a mile west of Spadina, forms the outer edge of the city center. Beyond this Queen Street looked like a slum, at least when I was last there.
East Queen Street, east of Jarvis, is skid row.
North of Bloor, between Yonge and Avenue Road, is an area called Yorktown – a mostly pedestrian area with narrow streets, small shops, and sidewalk cafes. Just to the east of Yorktown is Rosedale, a very elegant neighborhood of beautiful homes. Both are worth exploring on foot.
So that brings us back to the corner of Yonge & Bloor. Next time we'll start again from there.
And what happens if you go east on Bloor?
Daniel Jelski is Dean of Science & Engineering State University of New York at New Paltz.