Here's a simple question for you…which metro areas did prospered the most during the past business cycle? (2000-2008) Were the winners the highly-educated communities that make up the Creative Economy? Or did someone else zoom ahead?
I asked myself these questions when I was preparing for a talk that I was giving at the Rochester Institute of Technology on innovation and economic development. Being a man of numbers, I calculated the gains in real-per capita income for all metro areas. Who do you think was #1, and who do you think was #366 (out of 366)?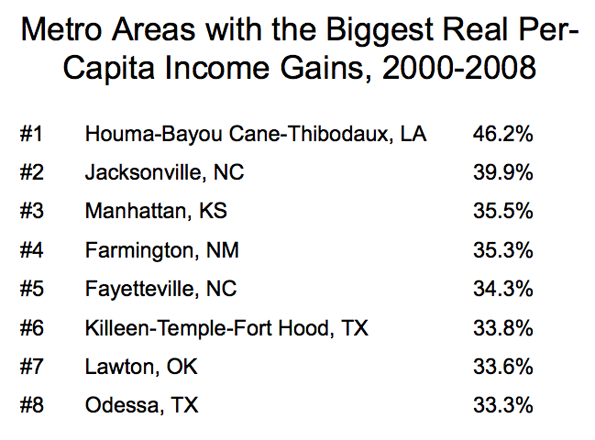 A bit surprising, isn't it? The common themes are guns and oil. The big gains in the #1-ranked Houma region are mainly connected with the increase in oil drilling, since BLS data shows that wages in the mining/oil industry in Terrebonne Parish, where Houma is located, soared from $58K a year to $78K from 2005 to 2008. #2 Jacksonville (NC) is the location of Camp Lejeune. Fayetteville (NC). #5 Fayettville (NC) is home to Fort Bragg, one of the larget military bases in the world. #6 Killeen is obviously home to Fort Hood. #8 Odessa, Texas, is riding the oil boom.
Now let's look at the metro areas which were the biggest losers in real per-capita income, 2000-2008.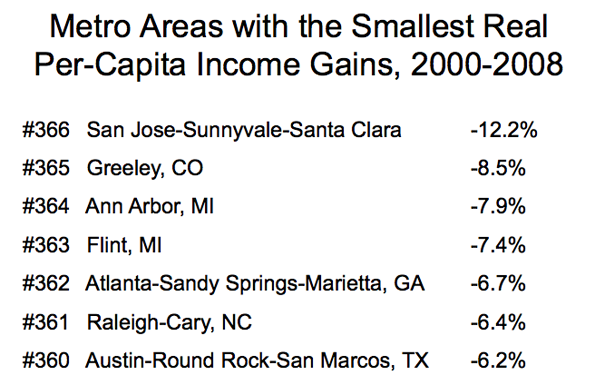 Uh, oh. This is not the list you might have expected, in a world where brains and innovation are supposed to be important. There's Silicon Valley at the top (or the bottom) of the list, where incomes didn't recover from the popping of the tech bubble that peaked in 2000. But other tech-type metro areas, such as Raleigh and Austin were hit hard as well.
Brains and education did not seem to count too much in success in the last business cycle. Overall, the top ten cities, measured by growth in per capita income, had an average college graduate rate of 17.7% The bottom ten cities had a college graduate rate of 31.8%.
Is this inverse relationship between growth and education going to persist into the future? Impossible to say. My personal view is that the lack of rewards for education–which show up in the individual income statistics as well–is correlated to the lack of commercially-successful breakthrough innovations, which would immediate sop up all the excess college graduates.
To put it another way, innovative industries tend to locate where they can get a lot of college graduates. That means high education areas attract new companies, boosting growth.
But without innovation, the whole economic development dynamic changes. You can't attract growing innovative companies because they are few and far between. For their part, companies are more likely to view cost as a main consideration in deciding where to locate. Goodbye San Jose and Austin, hello China and India.
Mike Mandel is Editor-in-Chief of Visible Economy. This post originally appeared on his blog "Mandel on Innovation and Growth."