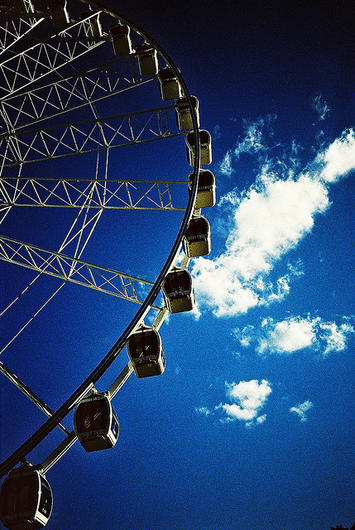 At a time when government in California faces an existential crisis, it's telling to observe a starkly different picture in Australia. Forty years ago, local officials in fast-growing suburban communities in Queensland, Australia looked to their colleagues in fast-growing suburban communities in California as kindred spirits. They began a tradition of trading annual exchange visits to compare notes. Last month I had the opportunity to participate in that exchange. This year's gathering took place on the "Sunshine Coast" north of Brisbane. While California government seems paralyzed by the strains of the economic crisis, local government Down Under is leading constructive change.
Fiscal crisis is so pervasive in California that some have questioned whether the nation's largest state and the world's eighth largest economy remains "governable." Every year our state budget is held hostage to interminable partisan bickering. This year, a patently bogus deal was cut that left an estimated $25 billion gap over the next 19 months.
Until recently, non-partisan local government maintained greater credibility. But with the City of Vallejo declaring bankruptcy, Maywood firing its entire workforce and Bell embroiled in a grotesque corruption scandal, most Californians fear the eclipse of the "California Dream." Widespread unemployment, home foreclosures, budget meltdowns and severe cuts in government services are the most obvious symptoms. But there's a growing disconnect between angry voters and their government.
Yet in Australia, the unofficial national motto is "no worries, mate." It's not an excuse for complacency. Australians seem to recognize that innovation is key to continued success. Where California politics has become gridlocked, local government in Queensland plows forward with reorganization and strategic visioning.
At the annual conference of the Local Government Managers Association in Queensland, the most glaring distinction I viewed was the Australian embrace of "amalgamation." Beginning a decade ago, state governments in Australia have pushed consolidation of smaller towns into larger and more efficient regional groupings. In Queensland, that process has reduced the number of local governments from 157 to 72. While local officials may have questioned the mandate, they approached the challenge with brisk efficiency. Three years on, Queensland local government officials look forward confidently instead of backward nostalgically.
After the conference I spent five days with the Central Highlands Regional Council, gaining direct experience with current Australian local government. I was particularly impressed by the Central Highlands motto of "one region, one council", to underscore their commitment to regional unity and equity.
In contrast, local officials in California have an almost pathological hostility to State government (not without justification.) California's 488 cities are part of a confusing jumble of 5,000 overlapping government entities in our state. Californians elect separate boards for schools, colleges, and innumerable water, library, sanitation, transportation and other "special district" agencies. It's been forty years since the state has done anything to rationalize this fragmented and multilayered governance, despite the glaring meltdown of dysfunctional cities like Bell, Vernon and Maywood.
Queensland's appetite for challenges is by no means confined to amalgamation. The conference was dominated by talk of innovation in everything from library services to "reinventing government."
Before the housing meltdown, many California cities built new library buildings without rethinking the role of public libraries in the digital age. In contrast, I was captivated by vision I heard from Ross Duncan, Director of Learning Communities on the Sunshine Coast. Infusing their 10 branch library system with a focus on "changing the world," he's created a family university offering more than 4500 activities, workshops and events that bring together their 120,000 members in a shared journey toward a "learning community."
The vision of the City Council and community in the Sunshine Coast is to create "Australia's most sustainable region, one that is vibrant, green and diverse." The library's role is to promote that through learning. That means that every library is a wireless hotspot which offers a kaleidoscope of classes and seminars on everything from worm farming to support groups for parents of autistic children. The libraries offer a "book a brain" service that allows you to reserve time with a retired business executive or professor to offer advice for your business or community group. Duncan is constantly pushing to "think outside the square," seeking partners to underwrite new efforts to make learning accessible and attractive, and to make libraries "the key community hub to bring the community together, breaking down barriers of age, income and geography."
That pioneering spirit is evident on the larger challenge of "reinventing government." Professor Ken Wiltshire, head of public administration at the University of Queensland Business School, posed two key questions as challenges for each manager:
• "If your organization were to be abolished, would it be missed?"
• "If your organization was privatized, would anyone invest in it?"
Despite California's dire crisis, few public organizations are facing those challenges. We are mainly engaged in trimming or chopping existing functions and services, instead of re-organizing for success in the "new normal."
At a time of deep distrust and discontent with public institutions, I return to the Golden State buoyed by the professional pride I saw in Queensland local government. Professor Wiltshire illustrated the value of local leaders in shaping and leading change. "Today . . . our work focuses on the 'transformational' aspect of leadership, the role of empowering, challenging, inspiring, celebrating and encouraging others to make powerful and enduring changes."
That audacious spirit is sorely needed – and missing – in the Golden State. At a time when our crisis calls out for making powerful and enduring changes, we lack the transformational leadership to shape and lead those changes. We might look Down Under for both the hope and example we need to turn California around.
Photo by mi..chael: Wheel along the Brisbane river in South Bank, Brisbane, Queensland, Australia.
Rick Cole is city manager of Ventura, California, and 2009 recipient of the Municipal Management Association of Southern California's Excellence in Government Award. He can be reached at RCole@ci.ventura.ca.us