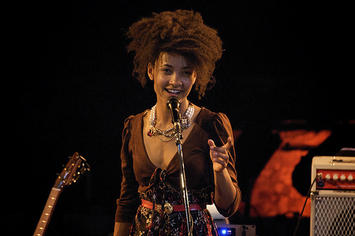 Esperanza Spalding, winner of the best new artist award at this year's Grammys, personifies the ethnic trends reshaping America.  She is a fresh-faced 27-year old jazz bassist whose very name portrays her mixed ethnic and racial heritage as the daughter of an African-American father and a Hispanic, Welsh, Native American mother. Spalding first gained her deep interest in music watching French-born Chinese American classical cellist Yo Yo Ma on "Sesame Street," a TV program that has perhaps contributed to ethnic acculturation in the U.S. as much as any other institution. Spalding's formal musical training was originally classical, but at age 15 she decided that her passion was jazz, itself a quintessentially American 20th Century fusion of black rhythms and the melodies of European immigrants.
The United States has gradually been becoming more diverse for decades, but Esperanza Spalding's Millennial Generation (born 1982-2003) is most radically altering the nature of that diversity.  The entirely senior citizen Silent Generation (born 1925-1945) is 90% white. Baby Boomers (born 1946-1964) and Generation X (born 1965-1981) are a bit more diverse: 17% and 25% non-white respectively.  In contrast, four in ten adult Millennials are either African-American, Hispanic, Asian, or of mixed race. Among all Millennials of high school age or younger, about half now come from what was once called a minority group. Moreover, according to the 2009 Census population estimates, the under 18 population of Arizona, California, Hawaii, Maryland, Nevada, New Mexico, and Texas is majority-minority with Florida, Georgia, Mississippi, New Jersey, and New York poised on the brink of that benchmark.
In 2008 the Census Bureau made these demographic trends "official" by forecasting that the United States will become a majority-minority country around 2040. By 2050, with an estimated 46% of the population, non-Hispanic whites will still remain the country's single largest racial group, but Hispanics (30%), African-Americans (15%) and Asians (9%) will together comprise a majority of the U.S. population.
Generational theory, first developed by William Strauss and Neil Howe, offers important historical insights on what this new majority-minority America might look like.    As we point out in our forthcoming book, Millennial Momentum: How a New Generation is Remaking America, we are in the midst of what Strauss and Howe have defined as a "fourth turning." These periods have invariably been associated with the most intense social and political stress in US history: the American Revolution, the Civil War, and the Great Depression. Civic generations, heavily populated by the children of large waves of immigrants, are more ethnically diverse than older generations, contributing to the ethnic and racial tensions that have existed during each of these time periods. At the same time, because civic generations are comprised of group- and team-oriented, conventional and institution building individuals, ethnic absorption and acculturation also increases during and just after fourth turnings as each civic generation matures. This is in sharp contrast to "idealist" generations, such as the Baby Boomers, that reject the mainstream culture and often form movements promoting ethnic separatism.
Ethnic tensions during previous similar generational changes rivaled those the country is experiencing today.  In the run-up to the Civil War, the rabidly anti-immigrant and anti-Catholic American or Know-Nothing Party captured close to a quarter of the national popular vote in the 1856 presidential election,and more than a third of the vote that year in all of the states that eventually comprised the Confederacy. In the 1930s, as the civic GI Generation children of the Eastern, Central, and Southern Europeans who comprised America's last previous great wave of immigrants came of age to help elect Franklin D. Roosevelt, his most virulent opponents claimed that the president was really a Jew named "Rosenfeld" and derided his program as the "Jew Deal."
We see similar language in today's discourse, at least on the fringes. Some extreme opponents of President Barack Obama accuse him of being foreign-born and a crypto-Muslim. In a more obscure way, if one searches Google for the seemingly innocuous phrase, "US majority nonwhite 2040," two of the first three listings are from racist groups decrying this change and the third is from a liberal group advising the need to "understand" the fears of white people in a rapidly changing America.
Fortunately civic generation Millennials have many characteristics that lead to ethnic acculturation and absorption The Civil War generation was critical to absorbing the Irish into the American mainstream, in part through the role played by Irish detachments in the Union Army, something that helped the Irish overcome the charge that they were an alien Papist force set on undermining a free Protestant nation.  Similarly, the GI Generation's Poles, Italians, and Jews became acculturated during and after World War II, in part through their service in the armed forces or in the domestic war effort.  In sharp contrast to the anti-Semitic charges leveled against FDR, commentators on all sides of the political spectrum describe America as a "Judeo-Christian Nation." Foods like bagels and pizza, once available only in urban ethnic enclaves, became commonplace, sold by pizza chains started by Irishmen and Greeks, or bagels marketed by brands such as Pepperidge Farm.
In the current fourth turning, America's newest ethnic minorities will also become acculturated and, in turn, shape the nation's culture. A 2007 Pew survey indicates that while only 23% of first generation Hispanics speaks English "very well," that percentage rises to 88% among those in the second generation and 94% within the third. At the same time, researchers at the University of California-Irvine and Princeton found that Latinos tend to "lose" their Spanish the longer they are in this country. This research indicates that although first generation Hispanics bring Spanish with them, by the second generation only a third of Latinos speak Spanish "very well." By the third generation, that number drops to 17% among those with three or four foreign-born grandparents and to only 5% among those with just one or two foreign-born grandparents. ()  
And, so as the United States endures the tensions and rancor of another generational fourth turning, it is important to realize that this too shall pass.  Millennials will, as have other civic generations before them, redefine what it means to be an American in ways both more diverse and inclusive than older generations may be able to imagine or appreciate.
Morley Winograd and Michael D. Hais are fellows of NDN and the New Policy Institute and co-authors of "Millennial Makeover: MySpace, YouTube, and the Future of American Politics
" and the upcoming "Millennial Momentum: How a New Generation is Remaking America."
Esperanza Spaulding photo by Andrea Mancini.