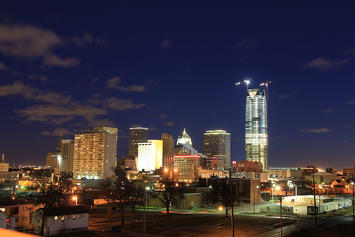 They may not win their first championship against Miami's evil empire, but the Oklahoma City Thunder have helped to put a spotlight on what may well be the most surprising success story of 21st century America: the revival of the Great Plains. Once widely dismissed as the ultimate in flyover country, the Plains states have outperformed the national average for the past decade by virtually every key measure of vitality — from population, income and GDP growth to unemployment — and show no sign of slowing down.
It's a historic turnaround. For decades, the East Coast media has portrayed the vast region between Texas and the Dakotas as a desiccated landscape of emptying towns, meth labs and right-wing "clingers." Just five years ago, The New York Times described the Plains as "not far from forsaken."
Many in the media and academia embraced Deborah and Frank Popper's notion that the whole region should be abandoned for "a Buffalo commons." The Great Plains, the East Coast academics concluded, represents "the largest, longest-running agricultural and environmental miscalculation in American history" and boldly predicted the area would "become almost totally depopulated."
Yet a funny thing happened on the way to oblivion. Rising commodity prices, the tapping of shale gas and oil formations and an unheralded shift of industry and people into the interior has propelled the Plains economy through the Great Recession.
Since 2000, the Plains' population has grown 14%, well above the national rate of 9%. This has been driven by migration from the coasts, particularly Southern California, to the region's cities and towns. Contrary to perceptions of the area as a wind-swept old-age home, demographer Ali Modarres has found that the vast majority of the newcomers are between 20 and 35.
Oklahoma City epitomizes these trends. Over the last decade, the city's population expanded 14%, roughly three times as fast as the San Francisco area and more than four times the rate of growth of New York or Los Angeles. Between 2010 and 2011 OKC ranked 10th out of the nation's 51 largest metropolitan areas in terms of rate of net growth.
Nothing more reflects the changing fortunes of Oklahoma City than the strong net migration from many coastal communities, notably Los Angeles and Riverside, a historic reversal of the great "Okie" migration of the 1920s and 1930s. In the past decade, over 20,000 more Californians have migrated to Oklahoma than the other way around. OKC has even experienced a small net migration from the Heat's South Florida stomping grounds.
The city's transformation from a cow town into an attractive, modern metropolis has been fueled by some $2 billion in public investment and over $5 billion in private investment, says Roy Williams, president of the Oklahoma City Chamber of Commerce. Besides the arena for the Thunder, the city has engineered a successful riverfront development known as Bricktown, fostered a growing arts scene and become more ethnically diverse, largely as a result of immigration from Mexico.
This pattern of revived urbanization can be seen in other Plains cities. World-class art museums grace Ft. Worth's Cultural District, and downtown in Omaha, Neb., has become a lively venue bristling with revelers on weekends. Even downtown Fargo, N.D., now boasts a boutique hotel, youth-oriented bars, interesting restaurants and a small, but vibrant arts scene.
Great Plains cities are doing well, however, predominantly due to their strong record of economic growth. Over a decade in which most large metropolitan areas lost jobs, Ft. Worth, Dallas, Oklahoma City and Omaha have created employment. Unlike many Bush-era boom towns, such as Las Vegas, Riverside-San Bernardino, Calif., or the major Florida cities, the Plains did not hemorrhage jobs during the Great Recession.
The Plains states enjoy some of the lowest unemployment rates in the country. There were seven states with unemployment of 5% or less in April; four are on the Plains: North Dakota, with the nation's lowest jobless rate at 3%, South Dakota, Nebraska, Iowa and Oklahoma.
This is partly due to a booming energy industry. As U.S. oil and gas production has surged over the past decade, the Plains' share has grown from roughly a third to nearly 45%. The biggest two gainers, Texas and Oklahoma, together boosted their energy employment by 220,000.
But the Great Plains' economic dynamism extends well beyond energy. The region's farms and ranches cover an area exceeding 500 million acres,or over 790,000 square miles — larger than Mexico — and account for roughly a quarter of the nation's agricultural production. These farms have benefited from the long-term increase in food commodity prices — notably wheat, corn, soybeans — and record exports. Since 2007 the Plains share of food shipments abroad has surged from 20% to nearly 25%.
At the same time, the region's industrial sector, notes research by Praxis Strategy Group's Mark Schill, has withstood the recession better than the rest of the nation. Never a center of unionized mass manufacturing, the region has become a location of choice for expanding industries, in part due to low costs, cheap energy and a favorable regulatory environment.
They know all about this in Oklahoma . Last year the Sooner State led the nation in industrial growth. One major coup: a large Boeing facility moved last year from California to OKC. The Dakotas and Nebraska also sit in the top ranks of producers of new industrial jobs. Since 2007, the Plains states have boosted their share of U.S. manufactured good from 19% to 21%.
More surprising still has been the region's surge in employment in jobs related to science, technology, engineering and math. This has been spearheaded, of course, by Texas, but most other Plains states — North Dakota, South Dakota, Oklahoma — also have enjoyed well above average tech job growth. North Dakota, remarkably, now boasts the second-highest percentage of people 25 to 44 with a post-secondary education, behind only Massachusetts; it also has one of the highest rates of high-tech startups in the nation.
Given their generally strong state budgets, the Plains states have continued to pour more resources per capita into university-related research than their counterparts elsewhere. North Dakota ranks number one here, but South Dakota, Oklahoma, Kansas, Montana and Texas all rank in the top 10.
None of this suggests that the Plains are ready to bid for primacy as high-tech centers with California or Massachusetts, or Ohio and Michigan as the country's industrial bastions. For all their improved amenities, Omaha, Ft. Worth or Oklahoma City seem unlikely to surpass New York City as the nation's cultural, restaurant or financial capital in our lifetimes.
Yet it seems clear that the region, long dismissed as irrelevant, will play a much larger role in the nation's economic future. Like the young Thunder, the people of the Plains now have a prairie wind at their back.
Joel Kotkin is executive editor of NewGeography.com and is a distinguished presidential fellow in urban futures at Chapman University, and contributing editor to the City Journal in New York. He is author of The City: A Global History. His newest book is The Next Hundred Million: America in 2050, released in February, 2010.
This piece originally appeared in Forbes.
Oklahoma City photo by BigStockPhoto.com.