This year marks the sixtieth anniversary of the Brewster-Douglass housing projects of Detroit Michigan and there is nothing to celebrate. More accurately, there is no one to celebrate. For several years now this section of the city, already infamous for its vacancy, has been completely abandoned. Rows of houses, full apartment blocks, schools empty.
A cursory Google search will reveal many details regarding the architecture and planning employed at Brewster-Douglass . Diana Ross lived there. For my part, I didn't want an explanation, but an experience.
Throughout my years as an urban archeologist (an entirely fictitious title created to legitimate my somewhat antisocial tendencies), I have encountered and explored many beautiful and surreal derelict places. Churches, schools, insane asylums, power stations, you name it – many of these in Detroit itself. An entire abandoned neighborhood, though, had eluded my experience. Brewster-Douglass seemed like a good fit, the logical next step in my quest to photograph unseen urban space.  
My online research regarding the Brewster-Douglass projects revealed almost nothing concerning the current internal state of the buildings. Friends would later tell me that even local explorers don't venture inside the towers.  
On my initial look over the massive property, I noticed that even the window-frames had been stripped from the four remaining 1952 brick towers. The roofs of the houses were torn to ribbons.  
A car had to be stashed in some bushes, and where I would usually wait for traffic to die down before entry, I merely crossed the street. There were no other cars around. A maze of walkways made almost invisible by the overgrowth lead me past several rows of abandoned townhouses to a square, each corner marked by a virtually identical 14-storey red brick tower. Save for two benches, most of everything has been smashed to bits.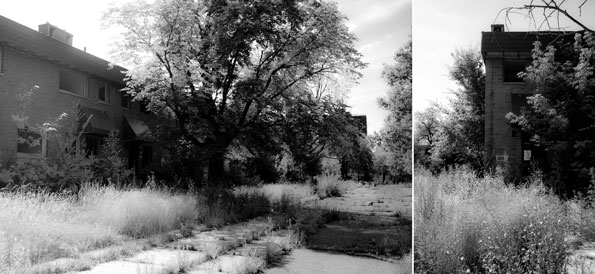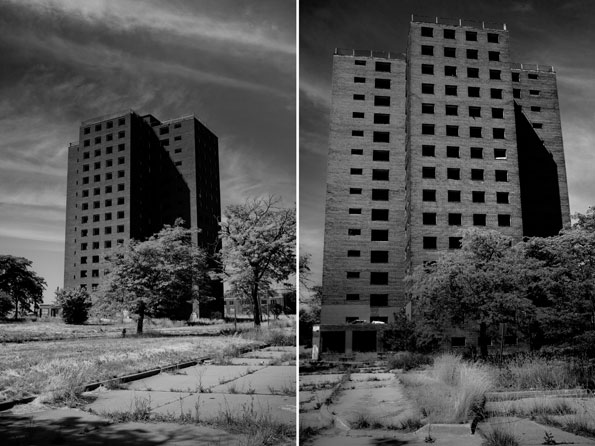 "Great architecture has only two natural enemies: water and stupid men," writes noted Chicago photographer Richard Nickel. The clouds in the sky that day were light, and there was no one around. So much for great architecture; this was Pruitt-Igoe without the wrecking ball.
Let's make a pilot for a television show here. We can call it 'What Not to Plan'. I could see right through one house. Nature had made a convertible of its neighbor. Richard Nickel was buried alive when a section of a building he was documenting collapsed. I had better take care.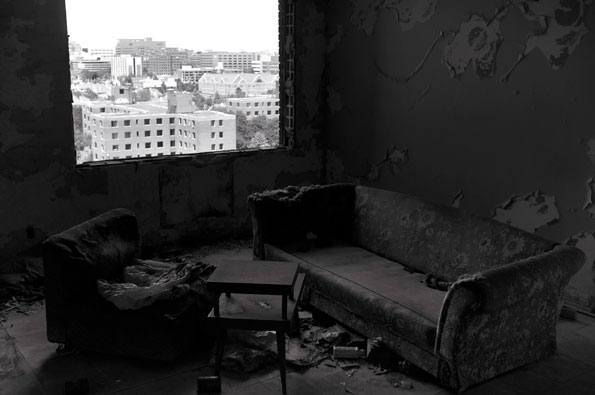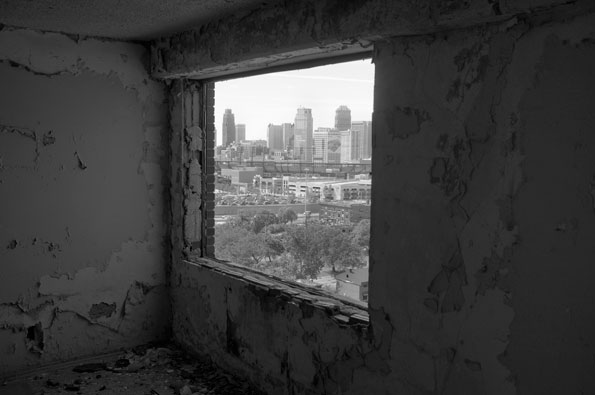 From the roof of one of the towers, I gained a clearer view of the pathways below . In the middle sits the remains of a wooden playground, now splintered, scattered and sprayed. Here it is, Le Corbusier's Radiant City -- in ruins. I've found Paradise Lost, The Waste Land.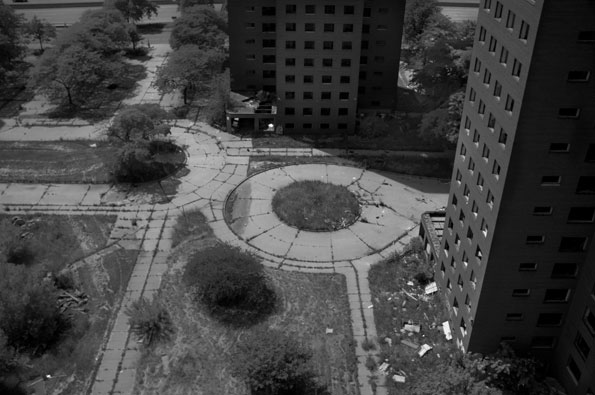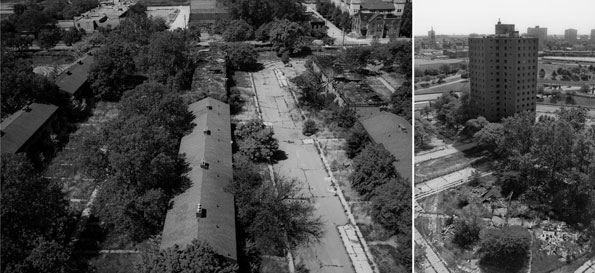 Visit this Flickr image set to view higher resolution versions of these photographs.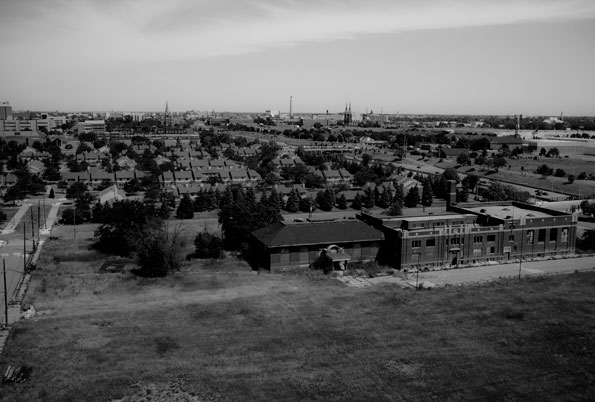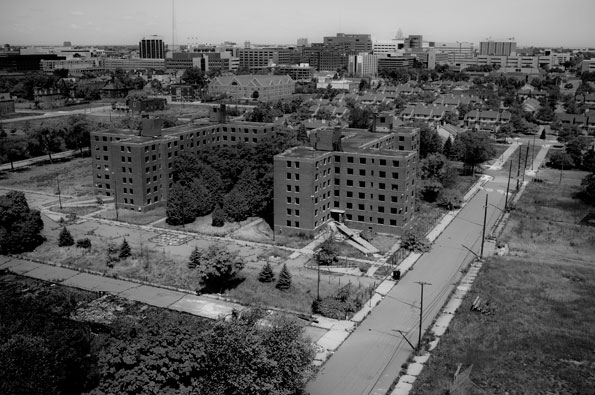 If I were filling out a form for Brewster-Douglass, it would have many blank spaces, like the projects themselves -- 'not applicable'.
To understand Brewster-Douglass, one would have to understand Detroit. To understand Detroit, one would have to understand urban racial issues, the nature of the growth of cities, the nature of suburbs ('sprawl'), and social demography. Economics might help as well. I do not pretend to understand any of these with any authority. I take photographs, and no, I don't do weddings.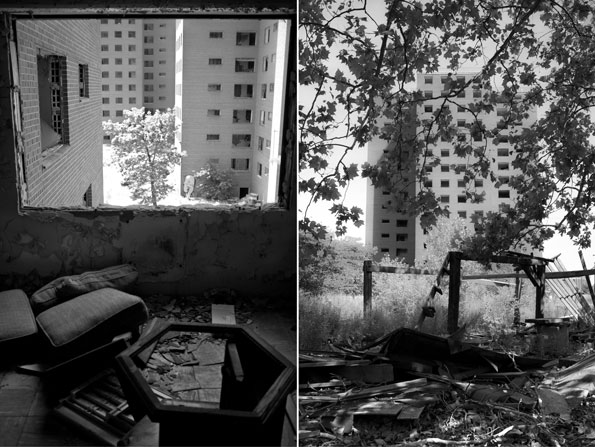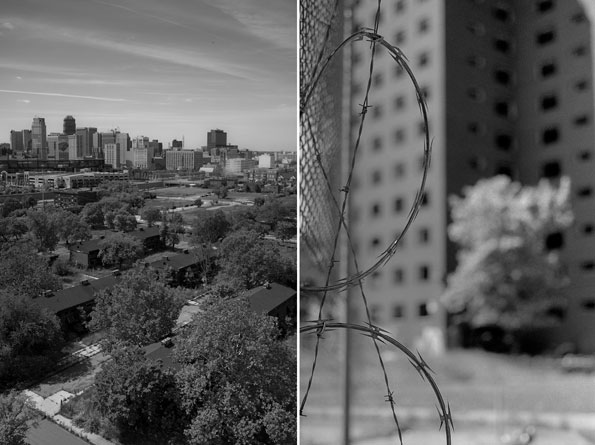 Supposedly, plans for demolition of the Brewster-Douglass ruins have been set in order to make room for new housing developments. But like so much news from Detroit, I will believe it when I see it.  
Visit this Flickr image set to view higher resolution versions of these photographs.
Jonathan Castellino lectures on architectural photography at a school of restoration arts in Southern Ontario (CAN). His work has appeared in the Globe and Mail, Toronto Star, ToNight, Infiltration, Cardus' Comment, and numerous city websites and publications.