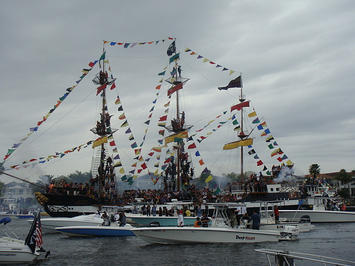 Bimbo eruptions are never fortunate occurrences, least of all for the bimbos involved. When they occur in South Tampa, they carry the sordid spectacles to new frontiers. A gentle but feisty cultural mix of blue-collar, white-collar, and varied ethnicities stretches between Old Tampa Bay and Hillsborough Bay on a peninsula tipped with MacDill Air Force Base. Local reactions in Tampa to the news vortex that now surrounds General David Petraeus will likely range from shock, to "meh," to a certain pride in being in the spotlight, and to the addition of yet another notorious figure to Tampa's colorful history.
Tampa has always played in the shadow of New Orleans, with a good music and ethnic food scene, and a quirky local culture that isn't quite mainstream American and isn't quite Caribbean. A somewhat white bread version of New Orleans, Tampa has a local parade and festival that occurs the first week of February, but instead of Mardi Gras, Tampa's party honors the apocryphal José Gaspar, a pirate who reportedly operated out of Tampa Bay.
A spicy cultural mix to be sure, but it is meek and heavily regulated compared to the out-of-control scene in New Orleans. Perhaps the city's overbearing white leadership has something to do with this; no one wants to be responsible if things get really wacky. Gasparilla is a kind of Mardi Gras you can take your kids to, perhaps in deference to Florida's reputation as a family vacation destination.
Cuban cigars, once made in Tampa by the case, linked the city to male hedonism early in its history, and this link has been reinforced ever since. Once home to Cuba's freedom fighter, José Marti, Tampa's Cuban heritage has faded from its fierce past glory as well. By the 1980s, the Miami Cuban community's brash voice had taken over. "Yellow-rice Cuban" had become a putdown, implying one was from Tampa instead of Miami.
The city itself started as a Caribbean freight port in the 1880s. Teddy Roosevelt and his Rough Riders stopped for provisions in Tampa along their way. A young British war correspondent, Winston Churchill, rode with Roosevelt into nearby Ybor City to sample a local bordello, before sailing on to Cuba. The city's colorful past traditions includes military scandals that even date back to the straight-laced Victorian era.
South Tampa blossomed as a streetcar suburb in the early part of the 20th century, and when Plant's Hotel failed in the Great Depression, it was converted to a private college. The bay shore was sculpted into a 4-1/2 mile linear public park, still one of the most beautiful civic spaces in America. This boulevard reads like a spicy historical narrative of the city, with uniquely styled, Edwardian-era houses giving way to newer homes and condominium towers as one travels its length. Along this road, the magnates that helped build Tampa made their homes: Hugh Culverhouse, a tax lawyer who started the Tampa Bay Buccaneers, lived one condominium away from legendary George Steinbrenner Jr., who came to town to manage his shipping concerns when he wasn't hollering at the Yankees.
MacDill Air Force Base started as a training base for B-26 pilots during World War II. The bomber was so hot and difficult to handle that it was nicknamed the widow-maker, and its reputation gave MacDill its first catchphrase: "One a day in Tampa Bay." Conviviality between town and base became an instant tradition, along with the town's reputation for hosting a good time for all. And this reputation did not go away after the war.
In the meantime, the infill neighborhoods behind the affluent waterfront residences acquired a unique flavor. Not quite as tropical as Miami, the over-scaled flora -- huge banana trees, traveler's palms, figs – are interwoven with gorgeous craftsman-style bungalows with deep, shady porches and high windows to let hot air escape. Like Boston, the little neighborhoods and districts of South Tampa are distinct, colorful, 'hearty and vibrant. Along South Howard Avenue, a string of commercial and restaurant properties marks a definite dividing line between old and new.
Bern's Steakhouse dominates South Howard, where stars like Johnny Carson would stop and tuck into a prime rib when in Florida. Bern's is emblematic of Tampa itself: a proud, independent, homegrown restaurant, known for its excellent food, but ungracefully crammed underneath an interstate overpass and about as charming on the outside as a warehouse. Inside, the fifties era red velvet and gold leaf decor conjure up visions of a Parisian brothel.
Back behind Bern's lies Parkland Estates, a quiet, depression-era neighborhood where Santos Trafficante Jr. retired in the 1960s. Considered the last of the old-line mafia dons, with territory stretching far into Cuba, the Trafficante family lived in his modest, blond brick home. While Tampa may seem remote from the action, it actually was an active territory for syndicates that reportedly controlled road construction and other businesses. And Tampa was the location for scenes in Good Fellas, a source of pride to many Tampa natives.
By the time Trafficante died, however, Joe Redner had overtaken him in notoriety, operating a string of strip clubs and striking a highly visible profile in the city's business and political circles. Never quite accepted enough to win his many bids for mayor, yet still a persuasive leader, Redner's success may have had something to do with MacDills presence. Prurient behavior, tolerated but never quite accepted, gives Tampa a decidedly old-world flavor in the South's entrenched white Protestant mainstream culture.
MacDill still has a strong influence on South Tampa, employing some 3,000 people and actively participating in community projects. Its open house days, hugely popular, are a source of patriotic pride among locals, as are the jets flying overhead. Otherwise lacking a presence on the national scene, Tampa hosts the United States Central Command, with top military brass acting as local heroes. MacDill is immediately surrounded by base housing and service workers, but it's pressed up next to high-net-worth neighborhoods for those who prefer the quiet anonymity of South Tampa to flashy, overheated South Florida.
This week, as a warrior fell in Tampa, the event was fawned over by spotlight-hungry locals. The spectacle diminished not one, but multiple institutions, beginning with the FBI, the CIA, and the Army. What Taliban bullets could not do, our own culture did.
Richard Reep is an architect and artist who lives in Winter Park, Florida. His practice has centered around hospitality-driven mixed use, and he has contributed in various capacities to urban mixed-use projects, both nationally and internationally, for the last 25 years.
Flickr photo: by amanderson2: A very tame pirate ship in Gasparilla, 2010.