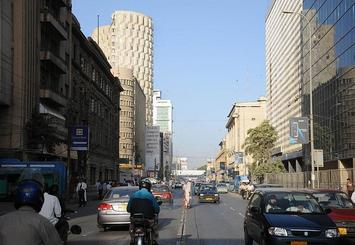 The modern megacity may have been largely an invention of the West, but it's increasingly to be found largely in the East. The seven largest megacities (defined as areas of continuous urban development of over 10 million people) are located in Asia, based on a roundup of the latest population data released last month by Wendell Cox's Demographia. The largest megacity remains the Tokyo-Yokohama area, home to 37 million, followed by the Indonesian capital of Jakarta, Seoul-Incheon, Delhi, Shanghai and Manila.
With roughly 20 million inhabitants, the New York metro area, the world's largest urban agglomeration from early in the 20th century till Tokyo surpassed it in the 1950s, ranks eighth. The only other western urban areas among the 28 biggest megacities now are Moscow (15th), Los Angeles (17th), and Paris (28th). London, which was the first modern city of a million people, is not on the list at all, with expansion long ago stopped by its green belt. In 1990, New York ranked second and Los Angeles ranked eighth.
This de-Westernizing trend seems likely to continue. The fastest-growing megacities over the past decade have been primarily in the developing world. Karachi, Pakistan, has led the growth charge, with a remarkable 80% expansion in its population from 2000 to 2010. The growth economies of China and India dominate the rest of the list of most rapidly growing megacities.
China, not surprisingly, has the most megacities of any country, four. The second fastest growing megacity over the past decade, Shenzhen, was a small fishing village not long ago that became a focus of Deng Xiaoping's first wave of modernization policies. In 1979 it had roughly 30,000 people; now it is a thriving metropolis of over 12 million whose population in the past decade grew 56%. Its rise has been so quick that the Asia Society has labeled it "a city without a history."
Older Chinese cities are also growing rapidly. Shanghai, a cosmopolitan world city decades  before the Communist takeover of the country, expanded almost 50% since 2000. The ancient capital Beijing and the southern commerce and industrial hub of Guangzhou grew nearly as rapidly.
India matches Japan with three megacities, but they are all growing much faster. The population of Delhi, the world's fourth-largest city, expanded 40% over the past decade; Mumbai, almost 20%; and Kolkata, roughly 10%, a relatively low rate for a city in a developing country.
Other rapidly growing megacities are scattered throughout the developing world. In Nigeria, Lagos saw its population swell by over 48%; The Thai capital of Bangkok and Dhaka, Bangladesh, both grew some 45%. The world's second-largest megacity, Jakarta, expanded 34% to almost 27 million.

One caveat: Estimating population for comparably defined urban areas, particularly in the developing world, can be difficult. For example, there is considerable disagreement about the population of Lagos, where local officials claimed there were twice as many people in 2005 as were counted in the 2006 Nigerian census. Add the "missing" 8 or more million people and the population would be 22 million this year. The higher local count, however, has not been broadly accepted. There population of Karachi is also disputed, with some claiming a somewhat lower population than reported.
In contrast, high-income countries in Europe and the U.S., where population tracking is more reliable, grew relatively slowly. The only city with a purchasing power adjusted GDP of over $40,000 that registered population growth over 10% was Moscow, which has expanded rapidly as the center of Russia's resource-led boom. The population of Paris grew 8%; Los Angeles, 6%; and New York, barely 3%.
Japan, one of the world's most urbanized major countries, has also logged slower growth. Tokyo, the great outlier in that country's stagnant population profile, expanded 7%, Nagoya grew 5.7% and Osaka-Kobe a weak 2.4%. The rapid population depletion in the rest of the country and a lack of immigrants suggest that Japan's great cities will grow even slower in the years ahead, as the country runs short on migrants from rural areas and young people in general.
So what do the numbers tell us about the future of megacities? For one thing, it's clear that the most rapid growth is taking place in countries that still have large rural hinterlands and relatively young populations. These mostly poor places — most with median incomes between Dhaka at $3,100 per capita and Bangkok at $23,000 — will continue to grow, at least until their populations begin to see the results of decreasing birthrates.
U.N. projections to 2025 suggest that the future list of megacities will be dominated by such lower-income cities, with growth primarily in places like Africa and central Asia. Among the likely new entrants are Lima (Peru) , Kinshasa (Democratic Republic of the Congo) and Tianjin (China). At least seven others (Chennai, Bangalore, Bogota, Ho Chi Minh City, Dongguan, Chengdu and Hyderabad) are now above 8 million, making it likely they could reach megacity status by 2030. Among high-income world cities, London might finally reach 10 million while the only other high-income world candidate, Chicago, with more than 9 million residents, could take until 2040.
At the same time, some megacities in the low and middle-income world already seem to have reached a point of saturation. A generation ago, it was widely predicted that Mexico City would become the world's largest city. Yet its growth has slowed to a modest 11% over the past decade. Lower Mexican birthrates and the development of other urban alternatives have made La Capital far less a growth hub than once imagined.
Similar processes can be seen elsewhere in Latin America, where fertility rates have been dropping to levels closer to American and northern European norm, but not yet those of the ultra-low Japan or southern European countries. Over the past decade population growth was 13% in Buenos Aires, 15%  in Sao Paulo and 10%  in Rio de Janeiro. These cities will likely continue to grow, but at a reduced rate.
The real winners in the coming decades are likely to be Chinese megacities, and to a lesser extent those in India. China's megacities all enjoy per capita incomes above $20,000 and the vast scale of the country's rural population suggests there is still room for growth. It will be perhaps another decade or so before the country's low birthrate catches up with it, and slows growth down to western or Japanese levels.
India's cities, notably Mumbai and Delhi, are not as wealthy as China's, but are clearly getting richer, with Delhi getting close to the $10,000 per capita income level. With a somewhat higher birthrate than its Chinese or South American counterparts, Indian cities can be expected to continue expanding at least for the next decade or so.
These trends, of course, may be altered by any number of developments, including the possible threats to  cities from wars, environmental challenges or other large-scale disruptions. But we can say, with some confidence, that the world's megacities will continue to become increasing Asian and African, reflecting the protean nature of an urban growth pattern that continues to de-emphasize slower expanding regions in the Americas, Japan and, of course, Europe.





FASTEST GROWING MEGACITIES IN THE WORLD
(Urban Areas with more than 10 million residents)
Rank
Geography
Urban Area
Population Estimate
GROWTH (Decade)
1
Pakistan
Karachi
20,877,000
80.5%
2
China
Shenzhen
12,506,000
56.1%
3
Nigeria
Lagos
12,090,000
48.2%
4
China
Beijing, BJ
18,241,000
47.6%
5
Thailand
Bangkok
14,544,000
45.2%
6
Bangladesh
Dhaka
14,399,000
45.2%
7
China
Guangzhou-Foshan
17,681,000
43.0%
8
China
Shanghai
21,766,000
40.1%
9
India
Delhi
22,826,000
39.2%
10
Indonesia
Jakarta
26,746,000
34.6%
11
Turkey
Istanbul
12,919,000
25.3%
Source: Demographia World Urban Areas (2013): http://demographia.com/db-worldua.pdf
Joel Kotkin is executive editor of NewGeography.com and a distinguished presidential fellow in urban futures at Chapman University, and a member of the editorial board of the Orange County Register. He is author of The City: A Global History and The Next Hundred Million: America in 2050. His most recent study, The Rise of Postfamilialism, has been widely discussed and distributed internationally. He lives in Los Angeles, CA.
Wendell Cox is a Visiting Professor, Conservatoire National des Arts et Metiers, Paris and the author of "War on the Dream: How Anti-Sprawl Policy Threatens the Quality of Life.
This piece originally appeared at Forbes.com.