"Men often applaud an imitation and hiss the real thing"--Aesop
There are interesting developments being played out in the Rust Belt. Some cities, like Detroit, seem to be embarking whole hog down the creative class path. Others, like Pittsburgh, have their own thing going on, a thing Economic Geographer Jim Russell has delineated as the "Rust Belt Chic" model of economic development, with no modest amount of success. How a given Rust Belt city reinvests will have a large say in its future.
Part 1 of this series, below, examines the nascent creative classification of Detroit. Part 2 analyzes whether or not there is a new way forward for post-industrial cities, using the lessons from Pittsburgh and Cleveland as the building blocks to developing an alternative set of strategies for struggling cities.
Detroit Rock (Ventures) City
In Detroit, the scene is playing out as such: rampant disinvestment in the core and extreme poverty around it. To help fix this, ties between Rock Ventures head and real estate billionaire Dan Gilbert, urbanist Richard Florida, and the non-profit Project for Public Spaces have been initiated. The goal, laudable enough, is to reinvest in downtown. And while the renewal formula planned is not new, the extent that the milieu is a controlled environment for an urban experiment is perhaps ahistorical, if only because Detroit's level of disinvestment has created a vacuum that, naturally, power abhors.
To wit, a recent New York Time's article entitled "A Missionary's Quest to Remake Motor City" hints at the level Dan Gilbert—who  has bought $1 billion in downtown property in what has been called a "skyscraper sale"—and his advisors have been handed the keys:
"My job," said Dave Bing, the Detroit mayor and former National Basketball Association star, "is to knock down as many barriers as possible and get out of the way."
And:
"Mr. Gilbert met in a conference room for his twice-a-month Detroit real estate meeting, with about a dozen people who work for him, plus a lawyer and leasing agent. If Detroit 2.0, as this group often calls the effort, has a planning committee, this is it."
And:
"[H]e and his staff will apparently have a largely free hand."
Now, the plan, and how the plan for Detroit's future came about.
A wealthy investor, Dan Gilbert, buys downtown properties. That investor goes on the record as to the importance of reinvesting into the urban core. That investor moves his mortgage company's employees from suburban office parks into his own downtown real estate. Then, the investor, taking cues from his consultants, throws in something about innovation, which, at its lowest common denominator, means designing your way to a "culture of innovation". Thus, the investor encourages that Romper Room-style office setting complete with what some would say is tacky décor wholly out of line with the soul of "the D", but yet which is said to fun-birth inspiration—i.e., "[A] karaoke machine sat in an aisle. Guys threw footballs to one another; one employee shot at colleagues with a Nerf gun"; and "A Quicken promotional video solidifies the company's attempts at over-the-top marketing, prominently featuring the space's inexplicable Pac-Man theme"—despite the fact that your primary product line, i.e., mortgages,  needs far less innovation than it does a modicum of conventionality and ethics. Nonetheless, the sentiment of creative destruction is there.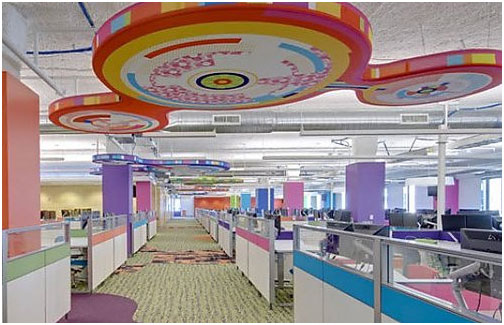 This basic process, then, is multiplied out from the office setting into strategic urban space, particularly around Gilbert's real estate. The idea here is to design space so as to create vibrancy so as to galvanize commerce so as to ignite broad economic growth.
Enter the partnership with the Project for Public Spaces, who is working with Gilbert's group to do a set of "Lighter, Quicker, Cheaper" placemaking interventions, including pop-up shops. The conceptual girth behind the plan, according to a recent article "Detroit Leads the Way on Place-Centered Revitalization", is described as such:
"We proposed developing a Placemaking vision for the major public spaces, and refining the plan through the Power of 10 concept," says Meg Walker, a Vice President at PPS who worked on the project. "…A lot of developers aren't as enlightened as Dan Gilbert…they wouldn't necessarily think about the glue that's holding this all together."

"The Power of 10 framework suggests that a great city needs at least ten great districts, each with at least ten great places, which in turn each have at least ten things to do. Great public spaces produce an energy and enthusiasm that spills over into surrounding areas…
With the conceptual description as a guide, this is a classic case of the urbanists' version of trickled-down economics, in which an influx of capital into finite corridors is meant to attract wealth that "spills over" into surrounding areas. Unfortunately, there is little by way of evidence that this works, as was recently admitted by Richard Florida himself. What it may do, however, is fill real estate supply by pursuing a select target market, as placemaking can act as a grease to create pockets of creative class demand to support condos or retail and office space. And while one can certainly argue it beats rampant core disinvestment, it's not the path of a bold new way that will measurably change the trajectory of Detroit, so says U of M Professor Michael Gordon. In effect, it's simply shifting people from one set of real estate to another, with nothing undertaken on a systemic level to tackle Detroit's real problem: poverty and disenfranchisement in its neighborhoods. Worse, re-urbanization as such is likely to exacerbate class and race divides that have plagued Detroit for decades, thus worsening Detroit's real problem: poverty and disenfranchisement in its neighborhoods.
Besides, we have been here before. Michigan via its Cool Cities campaign had a plan based off the same Detroit 2.0 premise, switch out the window dressing. Design place, accrue vibrancy, growth wealth. Obviously, the multi-million dollar economic development initiative didn't work. Neither have similar initiatives across the whole of the Rust Belt.
So, where's the beef? What makes Detroit 2.0 different?  
Naturally, this is where the economic development buzzwords "start-up" and "tech district" enter into the Detroit 2.0 lexicon; that is, creating dense city areas will nurture spontaneous interactions that will foster Detroit's innovation community, putting it firmly on the path to be the "Silicon Valley of the Midwest". But every city wants this (or at least they are informed they do)—e.g., "Miami Wants to Be the Next Big Start-Up City"—and so the effort ultimately comes off as anything but visionary, rather visionless, trying.
Cue the Onion. From an article entitled "St. Louis Mayor Has Sad Little Plan For Turning City Into High-Tech Hub":
In what appears to be a completely earnest attempt to revitalize a sluggish local economy, St. Louis mayor Francis G. Slay unveiled Thursday a detailed, ambitious, and truly depressing plan to turn his city into a major technology hub. "We're going to show America, and the rest of world, just how innovative and cutting-edge St. Louis can be," said the mayor, who displayed genuine optimism as he outlined a desperate strategy to woo major players in the high-tech sector with a sad little series of subsidies and tax incentives his city cannot afford… The mayor ended his presentation by pleading with reporters to dub the hopelessly untenable project "St. Louis 2.0."
In all, the current Detroit economic development approach is copycat urbanism at its finest, as there is nothing inherently "Detroit" about it. Nothing that intrinsically builds off its only true competitive advantage: itself.
For instance, Motor City is Motor City for a reason: it builds things. It designs things. Like, for instance, cars, which, by last count, are still being used, with over 254 million registered passenger vehicles in the US in 2009 alone. And while technology-based automation is increasing manufacturing output at the expense of jobs, production is still huge business in the Rust Belt, with automotive-related STEM jobs (i.e., science, technology, engineering and mathematics-related employment)—i.e., the creative class before the "creative class" became the "creative class")—aiding Detroit's regional resurgence, with its 10.5% STEM job growth leading the country from 2010 to 2012. And no, this is not to say Detroit will recoup manufacturing jobs lost from its heyday. But it's absurd for Detroit to neglect training and flexing its muscle—or its legacy of concept, design, and production—for a future with no middle between start-ups and baristas. I mean, advanced manufacturing isn't nostalgia. It exists.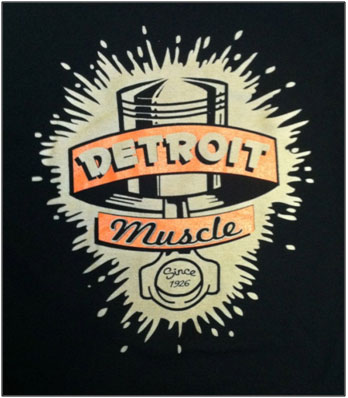 So, why this path? Why pretty Detroit? Why make it culturally less distinct? Why embark on a plan of hyper-modern ephemerality when your distinction is resilience, making things, and hard work? Why? Where is the evidence that this even works? What in the hell is even going on here?
To get to the bottom of this you need to be aware of parallel events in Cleveland. There, Dan Gilbert has hands in that city's Downtown redevelopment as well. But it is not what you think. And therein lies the problem.
You see, if the Detroit Dan Gilbert is the urbanists' Dr. Jekyll than in Cleveland he becomes the anti-urban Mr. Hyde. In fact, the Cleveland Dan literally embarks on nearly all the urbanists' seven deadly sins, including owning and running a casino placed right beside the city's iconic Public Square, demolishing historic buildings for the creation of a VIP valet center, planning to ruin the iconic Terminal Tower by connecting an enclosed pedestrian tunnel from a parking garage into its face—the Plain Dealer architecture critic stated it was akin to "poking a straw in Mona Lisa's nose"—and, more generally, pissing off Millennials.
From a recent Atlantic Cities piece entitled "If Other Cities Are Demolishing Skywalks, Why Does Cleveland Want a New One?", the author, who omits Dan Gilbert's name, writes:
"In the last decades of the 20th century, many American cities built skywalks in a desperate attempt to seem modern, hoping to create a sanitized urban experience that would compete with the sanitized suburban experience of indoor malls.

For the most part, it didn't work, and now cities…are tearing down the skywalks…in an effort to return pedestrian life and vitality to the street.

Meanwhile, in Cleveland, the owners of the year-old Horseshoe Casino downtown are planning to build a brand-new skywalk…For many of the young people moving to Cleveland in search of a 21st-century urban experience – pedestrian-friendly, with lots of people out and about – it seems like a step backward in time."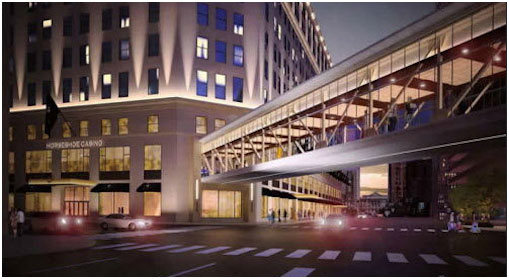 Why is Gilbert going all anti-urban in Cleveland, then? In a word: money, as Moody's just issued a report saying a walkway would help the casino reach predicted income streams, as it has been underperforming. Obviously casino ownership is a no frills money-making operation, as is real estate. With each: immediate financial return trumps the nurturing of human and community capital to support a vision of long-term economic growth.
But Detroit Dan is different, right? He is a walkability guru's guru. One of the "enlightened developers" as was stated above.
Well, you be the judge. Here's a blog post excerpt covering the recent Placemaking Leadership Council hosted in Detroit, with Detroit 2.0 taking center stage.
Dan Gilbert, head of Rock Ventures and Quicken Loans, genuinely seemed to defer to Kent [the Project for Public Spaces head] when it came to his part of the presentation Thursday. Gilbert, who has millions of hours of public-speaking practice behind him, often turned to Kent to fill in the details on the upcoming renovations to Campus Martius, Cadillac Square, Capitol Park, Grand Circus Park and Paradise Valley.
"Genuinely seemed to defer" is right. Or just bored as hell.
And then there is this. This. Courtesy of a Curbed Detroit blog post called "Development In Downtown Detroit Is Playing Out Like A Huff Po Blog Post From 2009". The referenced Huffington Post piece is by Detroiter Toby Barlow that is called "How a Billionaire Can Make a Billion Dollars". The strategy? Buy Detroit, not "metaphorically" but "literally", yet do it "very quietly, so as not to inflate any prices". Then, according to Barlow, since a billionaire owns thing, he moves his employees to his buildings and gives them "incentives to live down near their work so that they'll buy your residential property". Barlow concludes:
So, I don't have to spell out the rest, do I? Real estate values will quickly soar as other companies, encouraged by your brazen move, make similar leaps into what will still be an incredibly affordable market. The momentum will build as the ever-frenzied media piles on.
Yes, Detroit's plan for the future pre-dated by a Huff Po blog entry from 2009.
The big revelation here?
Look, in the end, the Dan Gilbert's of the world are in their line of work for one reason and one reason only: to make money. They will don whatever mask they need to play the part, be it the urban-loving Jekyll or the anti-urban Hyde. That's the problem with creative class urbanism. It is dependent on developers who could care less. It is a means to an end for those who implement it.
Too bad this end is not the beginning of a true path forward for a real Rust Belt recovery.
Detroiters, like most Rust Belters, have been through enough. They deserve better.
Richey Piiparinen is a writer and policy researcher based in Cleveland. He is co-editor of Rust Belt Chic: The Cleveland Anthology. Read more from him at his blog and at Rust Belt Chic.