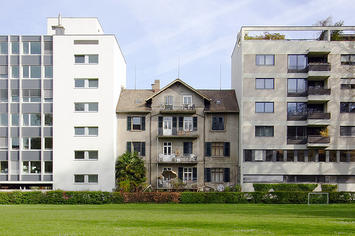 The mostly commonly chosen means, or at least attempted means, of revitalizing central cities that have fallen on hard times is gentrification.  Gentrification is the process of replacing the poor population of a neighborhood with the affluent and reorienting the district along upscale lines.  This has seen enormous success in large swaths of New York and Chicago, but even traditionally struggling cities like Cleveland have seen pockets of this type of development downtown.
What makes gentrification so attractive as a redevelopment strategy? There are many reasons.
The first and most easily understandable is that is works, at least in a given geographic area. There's a proven track record and model for redeveloping cities on an upscale basis. It may do very little for the rest of the city, but it does work for those who live, work, and, perhaps most importantly, invest in them.
But perhaps the best question is: are there any other success models? It's hard to point to many other successful models for redeveloping urban cores. The only alternative, and one that cities generally pursue in parallel, is attracting immigrants who seek out and revitalize out of fashion districts, often in outlying precincts of the city or the inner ring suburbs. Where there are successful working class districts in cities today, most of them are older neighborhoods that have hung on, not new ones birthed out of decline.
In a modern America where income equality and class divisions are a huge problem, it's definitely mission critical for America to restart the middle class jobs engine and renew our metro regions as engines of upward mobility. But that's easy to say and hard to do, at least from an inner city perspective.
The manufacturing jobs that previously supported a middle and comfortable working class lifestyle are gone and likely are not coming back. Public sector employment, traditionally another way to a middle class life in the city, is under extreme pressure due to fiscal mismanagement. Key services like the public schools remain intractably broken in most places. Segregation remains entrenched. What is the basis on which a middle or working class life will be re-established in the city? It isn't clear.  Untold billions pumped into various Great Society type programs accomplished little that was sustainable. Indeed, many programs like urban renewal, yesterday's urban planning conventional wisdom, turned out to be disasters for cities. Community organizing may have launched the career of President Obama, but it's not clear how it has helped Chicago's marginalized communities.  Given the paucity of models other than gentrification, it's easy to see the attraction.
Other reasons also drive cities toward gentrification. Clearly with a fiscal crisis, attracting more high income taxpayers (even where local taxes are predominantly on property) is clearly attractive. And the existing affluent residents need to have some assurance that they are being taken seriously by the city and aren't just being used as ATM machines for redistribution.
The change in the macro-economy that led to the income gap, including national policies that favor finance and technology rather than traditional manufacturing and energy type sectors, plays a huge role as well. These elite industries require a highly educated, highly skilled workforce and they are subject to clustering economics. Theories like "Creative Class" that describe this phenomenon suggest that this is a fickle group of people who seek out a gentrified neighborhood consisting largely of people like themselves. This has been glommed onto by the elite themselves – the various politicians, the wealthy, business executives, cultural leaders, academics and others. They hold power in cities  and use this to justify further investment in gentrification related programs – that is, their own class interest – although these programs do little for anyone who is not elite.
Lastly, changes in the composition of local elites favor the publicly subsidized luxury real estate projects aimed at gentrification. In previous generations the CEOs of local operating businesses like banks and utilities were major power players. These tended to be fragmented industries and predominantly local in focus, so the overall civic health – in everything from education to infrastructure – was critical to the health of their core business. The interests of the community and CEOs were aligned.
Today, most large-scale, and even many smaller, businesses have been nationalized or globalized, and the local power players are increasingly people like lawyers, real estate developers, and construction magnates who make money by the hour or project. The shift from locally focused operating businesses to national or global operating businesses, with remaining locally owned and focused businesses tending to be of the transactional type, produced a local elite who prefers doing deals than building broad community success. Unsurprisingly, they've doubled down on high end luxury developments, often subsidized by the government. 
Lastly, once the ball gets rolling on gentrification, market forces can sustain it provided that the overall policy set remains favorable to elite type development. And having a lot of high end, swanky type development generates buzz for a city, something more prosaic, and more broadly based, working class success never does.
Given the lack of proven alternative models and the alignment of multiple incentives behind it, there's no surprise gentrification is the almost universal aspirational choice for cities in redevelopment.  But the gentrification model in most places is simply too narrow to move the needle or produce any benefits down the economic ladder. It is imperative that urban thinkers and leaders try harder to find models that provide more inclusive and broadly-based and socially sustainable benefits.

Aaron M. Renn is an independent writer on urban affairs and the founder of Telestrian, a data analysis and mapping tool. He writes at The Urbanophile.
Photo by Dom Dada.