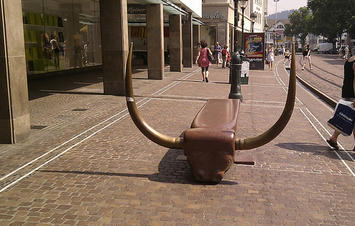 How can street furniture improve not only the walkability, but the sustainability of a city?
The completely self-sustaining city may seem like a pipe-dream to some, but as with all outwardly impossible tasks, it all starts with the first step. Urban planners have focused on making communities more walkable by improving public spaces and sidewalks. Large, pedestrian-only areas inspire people to shop, interact with others, and simply enjoy spending time in their community. Wider, safer sidewalks encourage pedestrians to walk, rather than drive from place to place.
The walkability of city can be largely impacted by street furniture. If you've just envisioned a living room set sitting haphazardly in the middle of a sidewalk, you're actually not that far off. Street furniture is a broad term that encompasses everything from benches to traffic signals, and you've likely encountered many examples without even realizing it.
Seating placed in prime locations – where people work, shop, and eat – encourages pedestrians to linger, benefitting both the economics and the feeling of community. "Sitting, in order to rest, converse, beg and sell is what people have always done, and captures a major part of urban life. Sitting with style, grace, safety and reflection is a major element of "place capital"—an increasing buzzword for urban success," points out Chuck Wolfe, who has written about "sit-able" cities.
Building benches and other public seating out of green resources such as rapidly renewable plant material (bamboo and straw), recycled materials, and other reusable products adds to sustainability goals.
Both walkability and 'sitability' are dependent on a safe atmosphere. If a sidewalk isn't safe, pedestrians aren't going to use it. Proper maintenance and lighting are incredibly important. Sidewalk safety features include curb extensions, striped crosswalks, and pedestrian rails.
Also helpful: planting strips, areas of grass or vegetation between the street and the sidewalk that make pedestrians feel less exposed. Besides being a sustainable safety feature, planting strips benefit the environment by absorbing carbon dioxide from automobile emissions. They also assist with water drainage, helping both overtaxed storm drains and the natural aquifer.
Bollards direct foot traffic and maintain a barrier between pedestrians and motorized vehicles. Sustainable metal bollards — like the ones we create at Reliance Foundry — are designed using an environmentally safe powder-coating that reduces peeling and chipping. Sustainable bollards can also be made from wood or recycled plastics. Bollards are commonly used in community areas to create pedestrian only zones, limiting vehicle use and carbon emissions.
Streets that foster relaxation also benefit from recycling. Many large cities have implemented curbside recycling services, making it easier for householders to reduce their ecological footprint. The same progress that led to curbside recycling is now leading to recycling bins in public areas. The purpose is to reduce street and sidewalk litter, and to help people recycle when they're out on the town.
Street furniture is a funny thing; sometimes you only notice it by its absence.
Robert Dalton is a writer and green-freak from Portland, Oregon (go Ducks!). He writes on behalf of Reliance Foundry, a supplier of innovative bollards and other site furnishings.
Flickr photo by Diane Duane: Longhorn Bench, Freiburg-in-Breisgau, Germany