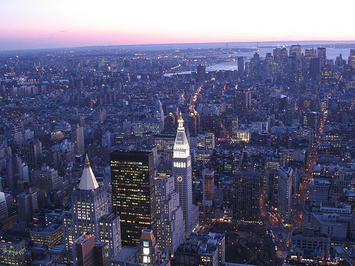 Is New York City ready to contest in high-tech against Silicon Valley? Fuggedaboutit.
Gotham is so far behind in every conceivable measurement — from engineering prowess to employment and venture funding — that even the idea is somewhat ludicrous.
While Madison Alley has marketed the city's tech prowess before, going back to when owners of lower Manhattan real estate promoted "Silicon Alley," the action has been elsewhere.
And while some urban boosters such as Richard Florida and Bruce Katz predict that new tech centers will not be the traditional suburban nerdistans, but instead the dense places where "smart" people cluster, there's reason to be skeptical.
To some extent, their ideas do apply in San Francisco, though mostly because of its proximity to the people and, more importantly, the venture capital in nearby Silicon Valley. It may even apply to Seattle, where large tech companies like Microsoft and Amazon are based.
But most tech employment has continued to be concentrated in suburban locations. Even as the social media boomlet has created a few high-profile urban firms, core counties nationwide actually lost about 1.1% of their tech jobs over the last decade, while more peripheral areas gained 3.5%.
Despite a few modest successes, New York has not produced any business that approaches the top five firms of social media. Facebook, Twitter, Pinterest, Google and LinkedIn are all based in the Valley or its urban satellite city, San Francisco.
Crucially, New York remains a laggard in Science Technology Engineering and Mathematics (or STEM) employment, with slightly fewer tech jobs per capita than the national average, or a third as many as Silicon Valley.
And it's not only the Bay that New York is behind — it also trails less hyped locales such as San Diego, Raleigh, Portland, Seattle, Houston and Dallas.
New York's most glaring weakness is a lack of engineering talent. Behind venture capital, the greatest asset of Silicon Valley is its huge proportion of engineers, roughly 45 out of every 1,000 workers. Other high concentrations can be found in such varied burgs as San Diego, Boston, Houston and Denver.
While the coming Cornell Technion may start to change that dynamic, Gotham has a long way to climb. Right now its concentration is 78th out of 85 metros — just behind Omaha.
And it's been headed in the wrong direction. Between 2001 and 2011, the New York area ranked a dismal 44th out of 52 metropolitan areas in tech growth, losing a net 84,000 jobs.
Even as things picked up after 2009 with the social-media boom, tech employment here expanded about one-tenth as quickly as in Silicon Valley, as well as Columbus, Salt Lake City and Raleigh. Growth in Seattle was eight times faster.
Without deep engineering talent, regions have a difficult time adjusting to technological changes that periodically reshape the high-tech industry. Silicon Valley is already beginning to move beyond social media; Google and Apple are focused increasingly on building their own pipes to move their content, and expanding into other promising tech fields from household appliances, electric cars and robotics to space exploration. New York simply does not have the engineering heft to make this transition.
Inevitably, the social media boomlet, like the previous dotcom version, will slow, as companies merge and start moving operations to less expensive areas such as Salt Lake City, Denver, Austin and even Columbus, Ohio. Urban tech firms, particularly in media-drenched places like New York, nearly collapsed when the last bubble burst, with Silicon Alley hemorrhaging 15,000 of its 50,000 information jobs between 2000 and 2005.
What's more, the new tech oligarchs are gaining at the expense of New York's traditional media industries and their elites. Since 2001, the book publishing industry, dominated by New York, has contracted nationally by 17,000 jobs. Newspapers lost 190,000 positions and magazines 50,000 in that same span. But internet publishing, dominated by the Bay Area, expanded by 77,000 jobs.
Given the cultural tepidness of Silicon Valley, the oligarchs may still exploit talent in places like New York or LA, where artists concentrate. But while New Yorkers talk a good game, money, power and control are shifting away, perhaps permanently, to the left coast.
This story originally appeared at the New York Daily News.
Joel Kotkin is executive editor of NewGeography.com and Distinguished Presidential Fellow in Urban Futures at Chapman University, and a member of the editorial board of the Orange County Register. He is author of The City: A Global History and The Next Hundred Million: America in 2050. His most recent study, The Rise of Postfamilialism, has been widely discussed and distributed internationally. He lives in Los Angeles, CA.
Photo by Mike Lee