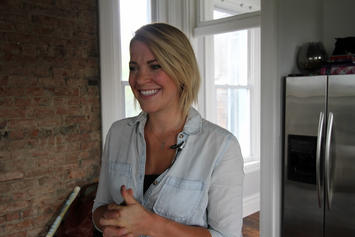 This is Jessie. She's a well educated thirty year old professional with a good income. She could live anywhere she wants. She was offered excellent positions with good companies in San Francisco. While she was excited by the opportunity to live in a top tier coastal city she was smart enough to actually run the numbers before taking a job. Her income would be comparable to what she was already making in Cincinnati, but her cost of living (particularly the astronomical cost of housing) in San Francisco meant that she would actually be accepting a massively lower standard of living in California compared to Ohio.
Cincinnati isn't just affordable. It's also a fabulous place to live. Ten years ago the cost of property in San Francisco was high, but still within the reach of people like Jessie. No more. And ten years ago the urban core of Cincinnati hadn't yet revived sufficiently to reach a critical mass of livability. But today the scales are tipped decidedly in Cincinnati's favor as San Francisco (New York, D.C, Boston, Seattle, LA, etc.) have gone off the charts in terms of cost while Cincinnati has matured and proven itself.
Last year Jessie bought this entire three family building in the Over-the Rhine neighborhood in Cincinnati for $279,000. She then spent $126,000 in renovations. So she's in for a grand total of $405,000. She lives in the top two floors and rents two apartments on the lower levels. The rental income goes a long way to offsetting her monthly expenses. I just checked the real estate listings here in San Francisco. There's a 300 square foot studio condo on the market for $399,999, but it will almost certainly sell for considerably more once potential buyers outbid each other. And the monthly HOA fees are ridiculous.
If you'd like a more detailed account of how older buildings in Cincinnati are being purchased and rehabbed by ordinary people, including Jessie, I encourage you to check out the "Owner Occupied OTR" episode of the Urban Cincy Podcast.
John Sanphillippo lives in San Francisco and blogs about urbanism, adaptation, and resilience at granolashotgun.com. He's a member of the Congress for New Urbanism, films videos for faircompanies.com, and is a regular contributor to Strongtowns.org. He earns his living by buying, renovating, and renting undervalued properties in places that have good long term prospects. He is a graduate of Rutgers University.