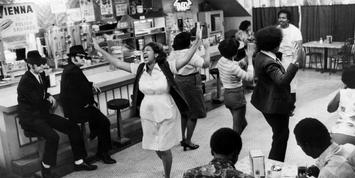 The Blues Brothers and Ferris Bueller's Day Off are two of the seminal films set in Chicago. Indeed, Chicago itself is a character in both films.
The films are radically different even though released only six years apart. There are many ways to slice this. Some have said that one is the South Side movie (The Blues Brothers) and the other the North Side movie (Ferris Bueller). Some see one as more urban, one more suburban.
One other way to look at it is to see how the films portray an urban transition in progress. The Blues Brothers is a look backward at a fading industrial, working class metropolis.  Ferris Bueller looks forward to an upscale, gentrified city.
I explore the parallels and contrasts in my new article in the Summer issue of City Journal, "Gentrification on the Big Screen":
Florida might regard some of Ferris Bueller's traditional settings for diversion—the Art Institute and Chez Quis, a fictional fancy French restaurant—as stodgy relics from the city's older, pre–knowledge economy era. But the scene in which Ferris bluffs his way into Chez Quis for lunch, claiming to be Abe Froman, "Sausage King of Chicago," is perhaps the most revealing one in the film—and it marks another contrast with The Blues Brothers, in which a French restaurant also figures prominently. In the earlier movie, when Jake and Elwood show up at the legendary Chez Paul, they behave boorishly on purpose, to compel a former bandmate now working a legit job as the maître d' to quit and rejoin them. By contrast, when Ferris and friends crash Chez Quis, they foreshadow a changing of the social guard. The hip young friends are destined to become Chicago's new proprietors. They will soon be remolding the city, and its restaurants, in their own image. Chez Paul closed in 1995. Today, the city's highest-end restaurants—like Alinea, a sleek, uber-hip purveyor of innovative cuisine—represent the culmination of this transition. A 48-year-old Ferris might well be eating at Alinea today.
…
Watching these films today, viewers under the age of, say, 45 would be struck by how alien Jake and Elwood's Chicago seems and how familiar Ferris's Chicago has become. The vibrant working-class culture, tough old nuns, SROs, and Maxwell Street Market of The Blues Brothers have all either disappeared or survive only as shadows of what they once were. With a bit of cultural updating to cars, hairstyles, fashion, music, and phones, however,Ferris Bueller's Day Off could be remade today, virtually shot for shot. Modern proto-hipsters might well still skip school to visit Wrigley Field, the lakefront, the Sears Tower Skydeck, or the Art Institute. Three decades after Ferris Bueller played hooky from the suburbs, the triumph of the gentrified city is complete.
Click through to read the whole thing.
Aaron M. Renn is a senior fellow at the Manhattan Institute, a contributing editor of City Journal, and an economic development columnist for Governing magazine. He focuses on ways to help America's cities thrive in an ever more complex, competitive, globalized, and diverse twenty-first century. During Renn's 15-year career in management and technology consulting, he was a partner at Accenture and held several technology strategy roles and directed multimillion-dollar global technology implementations. He has contributed to The Guardian, Forbes.com, and numerous other publications. Renn holds a B.S. from Indiana University, where he coauthored an early social-networking platform in 1991.
Photo: Aretha Franklin singing in a diner in The Blues Brothers. Image via City Journal