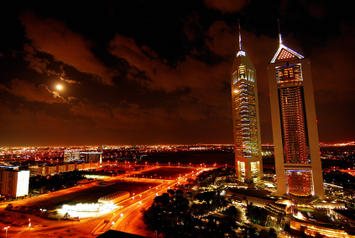 The assonant phrase "Dubai, Mumbai, Shanghai or Goodbye" was credited to Andrew Ross Sorkin of the New York Times in late 2007 at the beginning of the financial crisis on Wall Street. For years, New York, London and Tokyo held sway as the world's financial capitals. Then the tectonic plates of the financial world began to move and these new cities were going to be the prime beneficiaries.
Global shifts of financial power are not uncommon in history but they are dramatic. In the 15th Century, we saw the rise of Western Civilization. In the 19th Century, we experienced the emergence of the United States of America, followed by the rise first of Russia, Germany and Japan, and then China and India.
The question now: has the time of London, New York and Tokyo come to an end? The basis for this assertion certainly exists. In 2008, the United States trade deficit with China topped $246 billion. In this new century, just eight years old, the United States trade deficit sent $1.4 trillion to China. This pattern alone would seem to secure Shanghai's future preeminence.
So it would also seem for Dubai. Crude oil hit $147/barrel in July, 2008. At that level, western democracies were sending $1 trillion per year to the Persian Gulf in exchange for 20 million barrels of oil. Dubai claimed possession of the tallest building in the world when the Burj Dubai topped 165 floors. This title, along with the world's largest airport, world's tallest hotel, and world's tallest apartment are just a few of the superlatives used to describe Dubai.
India's trade surplus with the United States grew to $80 billion in 2008 as their economy exploded. An Indian car company shocked the world by purchasing legendary marquees Jaguar and Land Rover from Ford Motor Company. Mumbai was working towards becoming a true contender.
At the beginning of the financial crisis "Dubai, Mumbai, Shanghai or Goodbye" did seem to identify the future locus of job openings in the financial world. Look at some of the records once owned by United States companies and who owns them today:
Tallest building : Dubai
Largest publicly traded company : China
Largest passenger airplane : Europe
Largest investment fund : Abu Dhabi
Largest movie industry : India
Largest casino : Macao
Largest shopping mall : Dubai
So it looked in 2008. It is now early 2009. Lehman Brothers is gone. Wachovia was swallowed by Wells Fargo. Merrill Lynch was eaten by Bank of America. Citicorp lost 90% of its equity and struggles for its own survival. The Fed has pumped $700 billion to rescue the system and fears it may take $2 trillion to finish the job. The CEOs of General Motors and Chrysler publically beg Congress for a bailout as their share prices hit 60-year lows. Wall Street has lost 40% of its value in less than six months.
London is no better off. The British pound has hit a 23 year low. The Royal Bank of Scotland required a $142 billion bailout to stave off collapse. Lloyds Banking Groups slid 42% in value to its lowest levels since the 80s. Jim Rogers, chairman of Singapore-based Rogers Holdings, said in an interview with Bloomberg Television, "I would urge you to sell any sterling you might have. It's finished. I hate to say it, but I would not put any money in the U.K."
Tokyo fell from financial power in the 1990s and never recovered. They steered clear of the subprime fiasco, holding just $8 billion of the world's $1 trillion subprime portfolio. Yet Japan has not been immune: Toyota suffered its first operating loss in 71 years. Its export-centered economy is now reeling.
Yet if the old standbys are reeling, it now seems that the new guys are not as ready for prime time as was widely believed. The price of crude oil tumbled from $147/barrel in July 2008 to $32/barrel in December and the global economy was rocked. The loss of revenue had differing impacts worldwide.
Suddenly the new players in the game seemed weaker. Russia, whose cost of production in the frozen tundra of Siberia is more than $60/barrel, lost its swagger. Prime Minister Putin became silent and Russia's Backfire bombers stopped flying sorties to the American coastline. Russia is effectively bankrupt.
But the biggest impact was in the Middle East. The drop in oil prices eliminated $839 billion per year from the income ledgers of the Persian Gulf alone. Some in the Middle East can tolerate the temporary loss of revenue. The Abu Dhabi sovereign wealth fund, for example, already held $850 billion in surplus and the cost of producing a barrel of oil remains just $4/barrel.
But what of the new financial center of the Middle East? Dubai has seen its global market of new condominium buyers evaporate. Prices have collapsed and there is no end in sight. Price declines of 40% have been reported in the last two months. The mighty Burj Dubai, proud symbol of Dubai, has seen its values plummet 50% in the last two months. Sales in Dubai have simply come to a halt. More than half of the construction projects in the United Arab Emirates – worth $582 billion – were put on hold in 2008 according to the Dubai Chronicle. Look for further weakening in 2009.
The impact on China has been arguably the most dramatic. More than 10,000,000 Chinese have been thrown out of work in the last 90 days. This is a new phenomenon in China, which has experienced 9% growth for years. Thousands of factories have been closed and civil unrest is rising. China has raised 400,000,000 people out of poverty in just one generation by moving them from villages into the cities. There are 24 million new workers added to the labor market each year. A slowdown in their export-driven industry will have a disastrous effect on these new workers.
India has not been as adversely impacted as the western economies. Like Japan, India was not a player in the subprime mess. But this economic immunity did not protect the people of Mumbai from terrorist attack. Its global importance made it an attractive target to Islamic terrorists. On November 26th, 2008, eighty innocent people were killed in a series of coordinated attacks on Mumbai.
So will the tectonic plates keep shifting? Will the financial power return to New York, London and Tokyo? Or will new financial power centers emerge? As of now the financial crisis has humbled everyone. Who will emerge when the bleeding stops is something we still cannot predict.
Robert J. Cristiano Ph.D. has more than 25 years experience in real estate development in Southern California. He obtained financing from the Middle East following the collapse of the savings & loan industry in the early 90s and has become an expert on that region. He is a resident of Newport Beach, CA.