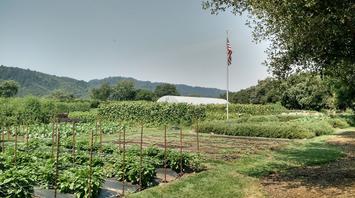 What's this now? A few acres of suburban gardens? Yes. And no. It's the mini farm adjacent to The French Laundry in California's Napa Valley. Local. Organic. Seasonal. It's the full expression of a particular trend in foodie culture. It's strange to see so ordinary a thing – veggies growing in a suburban plot – elevated to near monastic tidiness. It's illegal to grow food on the front lawn in many places these days, either by municipal regulation or private home owners association bylaws. Even where it is legal, most people simply don't do it. Food is cheap. Gardening is a lot of work. Why bother?
An old friend turned fifty and decided to celebrate her birthday by inviting her nearest and dearest to a fine meal at her expense. Lucky us. She's an Australian expat. With makeup and a nice frock she looks like an English lady who writes mystery novels. If you saw her at the supermarket reaching for lactose free milk in sweat pants with just a hint of cat fur on her bosom you won't think twice. But she's smart. The kind of smart that tech companies throw money at to solve their problems. Gobs of money. No. She isn't part of the "1%." Instead she's their well compensated handmaid. In a previous era she'd be a school nurse or a librarian back in suburban Melbourne. But Silicon Valley called.
One way to jump the queue and get a reservation a mere three months in advance is to reserve a private room and pay up front. Friends flew in from various continents for the occasion.
The service, food, and wine were exquisite. I doubt any of us will ever have another meal that comes close. Extravagant? Yes. I was hyper aware of the excess. This isn't my natural habitat. It was one of those things I never expected to experience in life. Like having health insurance. But life is funny that way. There I was, an anthropologist on Mars. And it was lovely. The highlight? For pure taste, the cold melon soup amuse bouche as we sipped champagne overlooking the garden.
Years ago I was brought to a Lakers game in Los Angeles by a prominent individual. I know exactly nothing about basketball. But we had front row seats. My feet were on the court. Before and after the game we ate and drank in the room reserved for players and special members of certain circles. It was all lost on me. But I did enjoy a glimpse into a world I would never inhabit. The kitchen at The French Laundry gave me the same feeling.
The birthday girl was far too well mannered to speak of money. "Let's just enjoy each other's company and savor this unique experience." But back at the hotel I shamelessly peaked at the bill when she stepped out for a moment. All in, the four hour meal came to just shy of $16,000.
This piece first appeared on Granola Shotgun.
John Sanphillippo lives in San Francisco and blogs about urbanism, adaptation, and resilience at granolashotgun.com. He's a member of the Congress for New Urbanism, films videos for faircompanies.com, and is a regular contributor to Strongtowns.org. He earns his living by buying, renovating, and renting undervalued properties in places that have good long term prospects. He is a graduate of Rutgers University.