Yesterday, the Australian Bureau of Statistics (ABS) released its dwelling approvals data for November, which revealed that dwelling approvals nationally have crashed by 35% in trend terms from the March 2015 peak, driven by a mammoth 52% decline in unit and apartment approvals.
Today, I want to focus on the high-rise apartment segment, which is driving the bust and is also the subject of deep concerns around quality.
The next chart shows the picture at the national level in annual terms, which shows that high-rise apartment approvals have crashed by 53% since peaking in October 2015: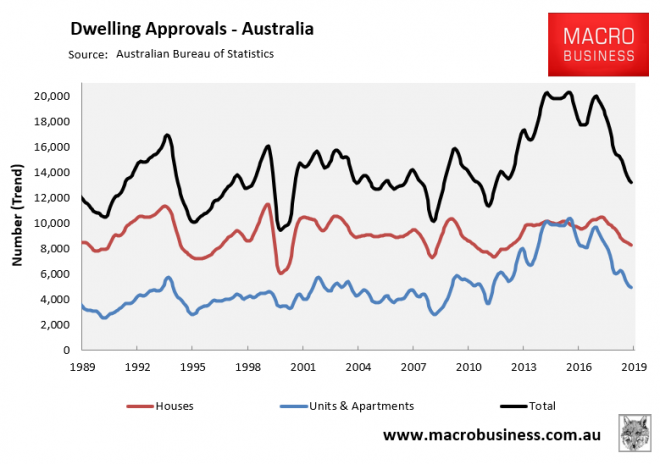 As shown above, there were 36,691 high-rise apartments approved across the nation in the year to October 2019, well down from the peak of 78,089 in the year to October 2015.
Detached house and townhouse approvals are also falling swiftly; albeit at a slower rate.
Below are the same charts at the state and territory level:
The high - rise apartment approvals crash has been driven by NSW (-57%), VIC (-57%) and QLD (-70%), which have all fallen massively from peak. ACT's high-rise approvals have also crashed (-40%).
The below chart shows the high-rise bust across the major markets:
The crash is broad-based, nasty and ongoing. It is the smoking gun of RBA panic.