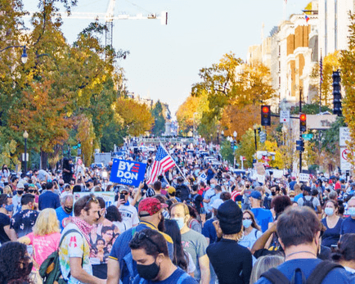 Influential political analyst Ron Brownstein thinks American politics is all about answering this question: "How long can Paducah tell Seattle what to do?"
The question resonates because metro areas vote so differently from small town and rural areas and because our electoral-college leftover from slavery (like the Senate) gives these non-metro places outsized influence in our politics. Regionally, large majorities on the coasts vote Democratic while the South and Midwest are majority Republican. But to Brownstein's readers in The Atlantic, Paducah (population 23,000 and in Kentucky) likely also connotes "hick" or "hillbilly," terms that are stand-ins for "poorly educated" whites without bachelor's degrees — or the so-called white working class.
Brownstein presents the core conflict in American politics as between a backward-looking, aggrieved "coalition of restoration" (Paducah) and a forward-looking, virtuous "coalition of transformation" (Seattle). The unstated assumption is that highly educated folks, the transformers, are the norm as well as the ideal, whereas poorly educated whites are ignorant and backward at best, or deplorable at worst. Those whites seemed to prove that again last Tuesday by voting 64 to 35 for Donald J. Trump. (All 2020 election results here are from preliminary and not entirely reliable Edison exit polls as reported in The New York Times.)
At this moment it's pretty tempting for us highly educated folks to think that all Trump voters are deplorable people resisting the important transformations we are all busy working toward. But there are different transformations afoot and they're not all positive. And there's also some restoration we could use a lot more of.
Brownstein mistakenly meshes cultural transformations – "growing diversity in race, religion, and sexual orientation [and] evolving roles for women" – with economic ones – "the move from an industrial economy to one grounded in the Information Age." In this formulation if you want to restore some important aspects of the Industrial Age – like 2% annual increases in real wages for three decades, strong unions, and steeply progressive taxes – then you also resist growing diversity and evolving roles for women.
It's true that many white men, with and without bachelor's degrees, rage against all three transformations. But there is no logical connection between cultural reactionaries and economic ones. A person can be culturally deplorable and economically progressive at the same time, as much survey research has shown. Or they can resist diversity but be open to – and in fact, looking for – the government to dramatically improve their economic circumstances. And that means that Democrats should make a renewed effort to convince workers of all skin tones to look more closely at their economic program. The one Biden ran on is good enough.
It didn't get much attention in the media, nor did Biden emphasize it enough. Yet the economic program Biden ran on is potentially transformative at the scale he proposed – especially trade and industrial policies focused on making more things in-country, a massive infrastructure investment that creates millions of jobs, and a comprehensive enhancement of the care economy for children, elders, and the workers who care for them, all paid for with increased taxes on corporations and the wealthy. If enacted, this program will disproportionately benefit people of color, but the largest group of beneficiaries will be whites without bachelor's degrees.
Read the rest at Working-Class Perspectives.
---
Jack Metzgar is a retired Professor of Humanities from Roosevelt University in Chicago, where he is a core member of the Chicago Center for Working-Class Studies. His research interests include labor politics, working-class voting patterns, working-class culture, and popular and political discourse about class. He is a former President of the Working-Class Studies Association.
Photo credit: Ted Eytan via Flickr under CC 2.0 License.