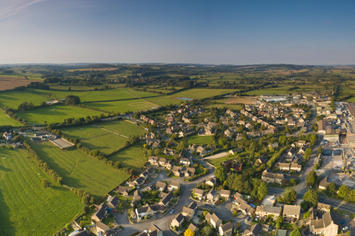 More than fifty years ago, Frances Montgomery and Philip O'Bryan Williams bought a 500-acre stretch of prairie north of Dallas as a horse farm. It was designed to be a place for their children to run wild on weekends, ride horses, a family escape light years from the Frette-linen, Viking-kitchen and fully staffed second and third home palaces enjoyed by today's junior high net worth set. The main residence was a recycled World War II barracks; the one bathroom was the only luxury.
In those days Dallas was an upstart city just taking control of the Trinity River that flooded neighborhoods to the south, one reason why everyone moved north. As the post World War II building boom spread the population further north, the Montgomery family knew it would only be a matter of time before the family farm was surrounded by development, if not swallowed.
Yet now what is left of places like Montgomery Farms could become a major testing ground in the future of suburban development. In the urban development world, there are two camps, says Williams' son, Philip Jr., a former CPA who spends his days nurturing the changes that have come to his family's land. If development had to come, Williams sought intellectual control and the lightest load. One group wants to re-populate the cities with higher density condos and more urban living – the Congress of New Urbanism (CNU). The other camp looks towards the Conservation Subdivision Development (CSD), integrating farming and urbanism to add vitality to a community. A recent New Urban News story quoted Miami architect Andres Duany as saying that agriculture is looming large for new urbanism:
"Agriculture," he said, "is the new golf."
In fact, studies show that property viewing or abutting agricultural lands is as valuable as those overlooking the golf-course, maybe more so if residents can grow fresh, pesticide-free foods and reduce long-distance trucking. (Fresh cow's milk, children feeding baby goats not on field trips but recess.) Organic farms, says Missouri developer Greg Whittaker, could also be a revenue-generating business with sales of bedding plants, pumpkins and Christmas trees. Unless, of course, you live in Connecticut, where state Representative Rosa DeLauro wants to make growing your own food against the law and punishable by a fine of up to $1,000,000.
At Montgomery Farm, CNU and CSD have met in the middle, says Williams, blending agriculture with sub urbanism – with an added artistic touch.
As Philip, his sister, and the Montgomery farm team were masterminding their agricultural suburban development, they laid out firm ground rules. Art and conservation would trump development profits. Builders would not erect cookie cutter, "they-all-look-alike" homes or McMansions. The city was to put a road through the farm from Highway 75, slicing one of the more heavily wooded cross-sections of the acreage. A road is not a road in the Williams' world. Seeking a highway that would be as unique as the lifestyle they were offering, the team gathered a group of Connemara Conservancy artists who, along with civil engineers, sponsored a road design contest in 1996.
"It was a road with no intersections, which meant no idling cars and pollution," says Williams. Signage was kept to a minimum and international Dark Sky requirements reduced light pollution. This was a farm, where you wanted to find stars at night, not spotlights. Berms were added along the side to mask the homes and muffle noise, and the street was curved, not a straight-arrow shot with stoplights. The City of Allen provided a variance and footed thirty percent of the cost for Bethany Road.
What's wrong with suburbia, asks Williams? Driving. Look at the new Honda Minivans: every seat has a TV, 3 plugs for a microwave, more than one giant cup-holder and even eating trays. It's as if automakers were trying to put a kitchen and laundry room in the car – why not get a Winnebago? Montgomery Farm was designed for walking and biking: the 52 acre mixed-use Watters Creek development – a creek really runs through it – is within walking distance of the home developments. Kids can walk to school, and everyone can walk to the subway station that can whisk them to the heart of downtown Dallas.
Further up Highway 75, the Southern Land Company is building a development some Texans might consider sac-religious. Southern aims to bypass 25 years of traditional suburbia and build the way communities were designed and built one hundred years ago: porch and street-centered neighborhood, not just sprawl. Streets are old-fashioned boulevards lined with huge trees sporting medians and open spaces.
About the time developers were drooling to slice and dice Montgomery Farm's Allen terrain, Tim Downey, founder and CEO of Southern, had a vision in Chattanooga, Tennessee. In 1988 he saw that few developers were looking into the future and considering lifestyle and design components, the way residents might be faring ten years after the developers finished their job. Entire neighborhoods were cropping up without conscious design, architectural or horticultural input. Production building was everywhere, it seemed, a mass of rooflines that all looked the same.
"If we are going to design and build neighborhoods, let's look at what they did 100 years ago," says Jim Cheney, Vice President of Communications, Southern Land Company. "Not what they did 25 years ago."
In 1996, Southern flew its architecture department from Franklin, Tennessee to one of Dallas's old, historic neighborhoods with cameras and notebooks, challenged them to find the most charming and enduring architectural styles and re-create them for Tucker Hill, an 800-acre master-planned community about 20 miles north of those homes. The architects were told to design the way their grandparents might have lived, not re-create McMansions.
They banned repeated elevations and offered expensive landscape packages with each home. And if builders didn't want to spend $10,000 on trees, they could build elsewhere. It was almost a foreign process to both builders and buyers. Southern had developed three Tennessee communities before Westhaven, outside Nashville, and the Texas property called Tucker Hill.
"People just have this mindset," says Cheney. "6000 square feet, large back-yards so I can hide – not be a part of the neighborhood."
But if half the Nashville population thought Downey was insane for Westhaven, Tucker Hill was an even gutsier move to pull off in ranch-mentality Texas. Southern puts a tremendous emphasis on the front of the home and its relation to the street. No front-loading garages; backyards are small and made up for by numerous parks and water features designed to get people out and together – think Hank Hill shooting the breeze with his buddies by the lake, not over the barbecue.
The concept is similar to the Park Cities, home of Southern Methodist University and one of the most solid communities in the country. Property values in Highland Park and University Park have held strong – even risen – through repeated recessions, thanks in part to the community's strong school system, low crime, walkability, and perception as a family community with numerous parks and fountains.
For those who find the lots too small, the houses too congested, Southern's projects may not be a good fit. But for those who truly want to commune, it's home. In Nashville, the Westhaven community was barely a year old but 700 people turned out for a block party. The diverse age mix ranges from young families to empty-nest baby boomers to retirees who want to live near their children, but not under the same roof.
Retirees in the suburbs? Urbanites may cringe, but many Baby Boomers grew up in the suburbs and, when given a choice, do not want to live in the gritty city, says Cheney. Now they can enjoy the 'burbs and live green. Developers such as Phillip Williams and Tim Downey are offering innovative lifestyles that may help re-define suburban development as living light on the land.
"America's land is less than six percent developed," says Philip Williams. "We are developing without regard for what we left behind, constructing 40 year life homes from trees that take 80 years to grow."
Almost like a financial world living on credit, and we've now seen where that has led us. But perhaps we can also change our suburbs, and our lives, for the better.
Candace Evans is the Editor of DallasDirt, a Dallas-based real estate blog for D Magazine Media Partners.