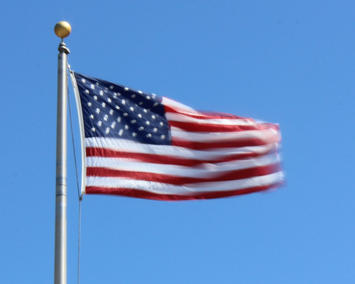 More than 840,000 green card holders became citizens last year, the most in a decade. Over 10 percent of the American electorate was born elsewhere, the highest share in a half-century. All of Donald Trump's huffing and puffing could not stop this demographic evolution; nor could an endless stream of stories about what an unequal, unfair, and no good place America has supposedly become.
The ground-level integration of America—what my friend Sergio Munoz calls "the multiculturalism of the streets"—continues with ever greater mingling, epitomized by the rise and acceptance of interracial dating, up 40 percent since 2003, and marriage.
What Trump and his most dedicated opponents have both had trouble appreciating is that, rather than a chaotic future defined by racial conflict, most Americans want both order and justice. Most Americans initially supported the George Floyd protests but soon overwhelmingly rejected the violence and looting that accompanied them. Racial minorities, like other Americans, are increasingly heterodox in their political views.
This was evident in Trump—an unpleasant and unprincipled man frequently labeled as a "racist" in the mainstream media, a term also applied to his voters— improving in 2020 on his 2016 results with most minorities, including a significant gain in the Latino vote, particularly in Florida and Texas, and among Black men. In California, Asian voters also didn't flock to Trump, but they helped reject an affirmative action measure bankrolled by the tech oligarchs. In heavily Asian Orange County, Biden won comfortably but the affirmative action measure lost 2-to-1, and two Korean American women replaced Democratic congresspeople. The measure was also crushed in heavily Latino interior counties.
Another issue where elite support and popular opinion diverge is defunding the police, a position that the vast majority of Americans—including millennials and minorities—do not favor. As my colleague Charles Blain points out, when the Houston city council was swamped with testimony from residents pushing for the dismantling of the city's Police Department, Black council members and Mayor Sylvester Turner pushed back, saying that these people clearly didn't spend time in the communities that they claimed to support. A similar dynamic played out in New York, where Black City Council members held the line against a push to slash the NYPD budget by $1 billion.
Economics account for some of Trump's gains among minority voters. Before the pandemic, most minority workers had done better in terms of income under his administration than they had under previous administrations from both parties. Like working-class people in general, most African Americans did worse economically under Barack Obama despite the enormous boost in political power and influence for portions of the African American upper class on his watch.
Latinos, suggests former California state Senate Majority Leader Gloria Romero. have been devastated by the state's more extreme lockdowns, and angered to see their putative advocates, like Gavin Newsom or Nancy Pelosi, flaunt their privilege in luxury and even violate their own rules as "ordinary people have literally been arrested and even thrown in jail for opening their businesses to just survive and feed their families."
Read the rest of this piece at Daily Beast.
---
Joel Kotkin is the author of the recently released book The Coming of Neo-Feudalism: A Warning to the Global Middle Class. He is the Presidential Fellow in Urban Futures at Chapman University and Executive Director for Urban Reform Institute — formerly the Center for Opportunity Urbanism. Learn more at joelkotkin.com and follow him on Twitter @joelkotkin
Photo credit: Angelsharum via Wikimedia under CC 3.0 License.