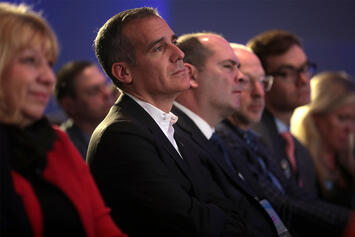 President Joe Biden has nominated Los Angeles mayor Eric Garcetti as ambassador to India. Assuming the Senate confirms him, Garcetti, who would leave office early (his second term ends in December 2022), might find India familiar in certain respects. Like Mumbai or Delhi, Los Angeles now has massive homeless encampments throughout the city, even increasingly in posh neighborhoods like Brentwood and throughout the middle-class strongholds of the San Fernando Valley. Late last week, as Garcetti prepared to leave town, homeless advocates, angered by a city ordinance against indiscriminate camping on city streets, vandalized Getty House, the mayor's official residence.
It's not the scenario Garcetti would have wanted at the end of his tenure. The son of a former L.A. district attorney, a graduate of Columbia University, and former Rhodes scholar, Garcetti once seemed, to the city's media establishment, like the epitome of a modern progressive mayor. In 2018, USC's Dornsife Magazine embraced the idea that the city was undergoing a "renaissance" built around density, verticality, and transit—all components of Garcetti's vision. Garcetti won reelection in 2017 in a low-turnout race, getting more than 80 percent of the vote against virtually nonexistent opposition. Some (notably Garcetti himself) even saw him as a potential president, but that notion didn't test well, and Garcetti took the same express to national oblivion as New York's Bill de Blasio.
Go past the hype, and you find at best a lackluster record. Garcetti leaves a legacy that the Los Angeles Times charitably referred to as "unfinished business." Though he pledged in his annual state of the city address to focus on homelessness and "social justice," he has done little to achieve either. "He has broad concepts," suggests Jill Stewart, former editor of L.A. Weekly, "but fails to come through and do it."
In New York, de Blasio represented a clear break from the past, but in Los Angeles Garcetti's politics reflected those of his predecessors, Antonio Villaraigosa and James Hahn. All are creatures of L.A.'s union-dominated political culture and worked closely with developers seeking—often against public opposition—to densify and gentrify the city. Garcetti seemed even more determined than his predecessors not to offend powerful interests. He was particularly close to the real-estate speculators who sought to benefit from his fashionable commitment to density. A federal grand jury has indicted former city councilman Jose Huizar, another key ally of real-estate developers, for bribe-taking. Others further down the city pecking order also face charges of taking bribes to back big new projects, including ones that violated zoning ordinances.
Even before the pandemic, conditions in L.A. were in decline. The crux of the problem lies at the juncture of expensive housing and low wages. For most of the past decade, Los Angeles has had some of the highest poverty rates for major U.S. metros, as well as the highest rates of overcrowding. Almost 500,000 households in the L.A. metro area live in "crowded" conditions, defined as having more than one person per room. Of the 1 percent most-crowded census tracts in the U.S., more than half are located in L.A. and Orange Counties; yet amazingly, L.A. has 120,000 vacant units.
The city no longer produces many good new jobs. According to research by Chapman University's Marshall Toplansky, the vast majority of L.A. jobs paid below the median annual income, many under $40,000. Before 1990, L.A. was a capitalist dynamo and haven for middle-class jobs, the global center for aerospace, home to the nation's largest manufacturing economy, an energy powerhouse, and the center of a vast construction industry. Now all the big aerospace companies have moved their headquarters out. Only upstart SpaceX, in nearby Hawthorne, remains, though Elon Musk, who moved to Texas last year, seems intent on moving much of his operation to the Lone Star State. All the big oil companies and banks have either merged, shrunk, or moved away. When CBRE moved to Dallas last year, L.A.'s downtown lost its last Fortune 500 company.
Read the rest of this piece at City Journal.
---
Joel Kotkin is the author of The Coming of Neo-Feudalism: A Warning to the Global Middle Class. He is the Presidential Fellow in Urban Futures at Chapman University and Executive Director for Urban Reform Institute. Learn more at joelkotkin.com and follow him on Twitter @joelkotkin.
Photo: Gage Skidmore, via Flickr under CC 2.0 License.