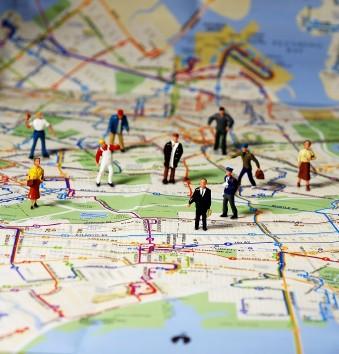 More than a century ago, Rudyard Kipling, in his American Notes, shared his views on the character of the US. Along with remarks about the American penchant for tobacco spitting, Kipling recounted the near heroic ability of Americans to govern themselves, especially in small cities and towns. Traveling through the town he called "Musquash" (a pseudonym for Beaver, Pennsylvania) in 1889, Kipling described "good citizens" who participated in "settling its own road-making, local cesses [taxes], town-lot arbitrations, and internal government."
Today, the pressures from state and federal governments on local planning have increased geometrically. But across America we are seeing a growing trend toward greater civic participation in land use decisions, as local residents seek to define their communities as unique.
No longer a Deweyan dream, there are several practical reasons why city governments from Starksboro, Vermont to Hercules, California are involving their residents in important land use/planning decisions. Most important is the challenge presented to local governments by the internet, which provides elements that seriously confront even the most legitimate authority: information, and a place to gather. From city and developer websites to Google searches, research into upcoming housing projects or parks is only a few keystrokes away. At the same time, the web's social networks offer easy and cheap places for residents to communicate with others (usually like-minded) both inside and outside the local community.
As a result of single-issue local blogs, Facebook networks, and email campaigns, municipalities have had to become proactive in approaching their residents, including them in processes previously limited to a small group of "stakeholders." Last year, a mid-sized city in the San Francisco Bay Area was considering the residential development of a significant land parcel, which was once commercial property. Not feeling involved in the early stages of the planning process, a localized environmental group used the internet to build a movement within the city, while it also connected with regional and national environmental organizations to find funding in support of an anti-development ballot proposition. After hundreds of thousands of dollars were spent, this "zoning by ballot" measure was defeated in November.
A second factor that highlights the importance of intentionally involving citizens is the often-enormous financial cost of these projects for small to mid-sized cities. From land to EIRs, the costs of almost any project – especially those with a public purpose, where taxpayer dollars are on the line – have never been greater. Failing to include residents in these processes, while faster and less expensive in the initial stages, can easily end up costing more and adding months, if not years, to a timeline. In 2007, a Los Angeles-area school district had paid almost $5 million in site planning and architectural costs for a middle school building project. Upon learning that the development would demolish a local supermarket, area residents who had not been involved up to that point organized, and elected a representative to the school board on the promise that he would "stop the school." He won, and he did, turning the multi-million dollar planning element into a sunk cost.
This pragmatic reasoning behind civic engagement was recently supported in a 2008 study by the National Research Council. On the subject of government agencies that deal with environmental and planning issues, it concluded, "When done well, public participation improves the quality and legitimacy of a decision and builds the capacity of all involved to engage in the policy process. It can lead to better results in terms of environmental quality and other social objectives."
Finally, the pressures placed upon communities to grow, while at the same time control growth, have reached crisis levels in many cities. Here in California, even with the recent economic downturn, the state population is forecast to almost double from its current 34 million people by mid-century. Meanwhile, state-mandated land use legislation, like the recently passed SB 375, constricts the space available for residential development by attempting to control growth to major transportation corridors. Even before this bill passed, the battle here between open space advocates, developers and cities has made "putting a shovel in the ground" an excruciating experience. In San Mateo County (just south of San Francisco), less than 20% of the land mass is available for housing; twice that amount is designated for open space. A group of concerned citizens, including business owners, environmentalists and housing advocates, formed "Threshold 2008" to explore options for residential development. Creating a multi-stage process that has involved over 1,000 San Mateans in various online and face-to-face deliberations, leaders from the group are now working with city planners around the county to find solutions to shortages in affordable housing.
State-level organizations like the one I work with here in the Golden State, Common Sense California, are supporting cities and towns as they try to involve their publics in these local decisions. We have found that the best engagement efforts invite the most diverse and representative group of residents possible, give them information from a variety of perspectives, and facilitate discussions in such a way that forces participants to wrestle with the issues in the same way planners, city managers, and city councils must.
At their worst, such "participatory planning" campaigns are pre-ordained and, therefore, manipulative. Organizers can hold this control whether they're inside government, or, like environmental groups and developers, outside of it. Explicit stakeholders, from developers to environmentalists to city officials, are most effectively engaged in the early stages, serving as an "advisory group", helping to formulate the information packets and option sets that will be presented to the general public. Practitioners like the Orton Family Foundation and Viewpoint Learning are working with cities that are facing tough land use decisions. A growing number of planning and architectural firms are offering these services, but can be predisposed to certain planning outcomes depending on who hires them.
Restrictions on local planning decisions made at the state level (and, someday, the Federal level?), combined with the homogenizing influences of web-based organizing supported by national organizations, have created a climate in which the challenges to cities seeking their own unique "personalities" have never been greater. Many cities and towns throughout America are discovering that the most creative solutions can be found by legitimately informing and involving local residents in these decisions.
In this way, may there be more Musquashes.
Pete Peterson is Executive Director of Common Sense California, a multi-partisan non-profit that consults on and supports civic engagement efforts throughout California. He also lectures on civic engagement at Pepperdine's School of Public Policy. He can be reached at p.peterson@commonsenseca.org.