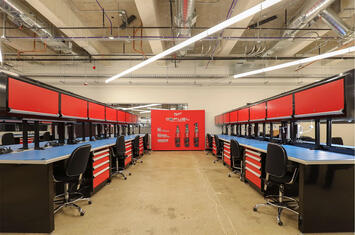 Hipsters sitting in an apartment in Silicon Valley or on the wharf in Boston can code a new restaurant-reservation app or pixelize a new video game with knockoff characters from Game of Thrones. But it takes someone who knows their way around a power tool to geofence a concrete rotary hammer or to automate a factory-floor process for making a sewer cleaner.
And it's the latter kind of people for whom Milwaukee Tool is searching, as the fast-growing company continues to expand its R&D capabilities and manufacturing footprint in Flyover Country, mostly in Wisconsin and now in Chicago. Indeed, the Milwaukee-based outfit has emerged as a pioneering example of how a legacy manufacturing company in America's heartland can effectively re-engineer itself for success in the new era of industrial electrification and and digitization.
There are 98 years of legacy behind Milwaukee Tool, which historically produced lines of power tools for skilled tradespeople, including the iconic Sawzall reciprocating saw. Company wares are strapped to the tool belts or waiting at the ready for hundreds of thousands of tradespeople around the world and, increasingly, are found on the garage workbenches of like numbers of American do-it-yourself consumers.
Unrelenting Growth
The company has been growing at the rate of 20% or more a year, for a decade, under the leadership of Steve Richman, who became group president of Milwaukee Tool in 2007. Yes, there's the matter of Chinese ownership of the company — Hong-Kong based Techtronic Industries bought Milwaukee Tool from Sweden's Atlas Copco AB in 2004 — and facilities elsewhere, but the bulk of the company's capital investment, manufacturing, product development and hiring has been occurring at its several facilities in Wisconsin. They include a new downtown-Milwaukee headquarters that is under construction.
A systems key to Milwaukee Tool's recent success in gaining market share and sales from competing giants such as Hilti and 3M has been becoming a "solutions" company rather than just a power-tool company.
"We became an 'outside-in' company," Richman told me, "by understanding who our users are. We have armies of people — marketers, engineers and designers — who are out on job sites globally, understanding the pain points of users and understanding how we can help them drive productivity and safety on the job."
Meanwhile, a crucial technology advantage for Milwaukee Tool has been its pioneering work with lithium-ion technology for batteries, which enabled the company to develop conveniently cordless power tools with all the punch of corded and gas-powered varieties. Meanwhile, competitors seemed satisfied with less-robust nickel-cadmium batteries.
"It allowed us and our talented engineering teams to understand all aspects of battery technology way earlier than any in our competitive space," Richman said. "That gave us a clear competitive advantage." Indeed, today, lithium-ion batteries are behind the revolutions in everything from electric cars to smartphones.
Read the rest of this piece at Flyover Coalition.
---
Dale Buss is founder and executive director of The Flyover Coalition, a not-for-profit organization aimed at helping revitalize and promote the economy, companies and people of the region between the Appalachians and Rockies, the Gulf Coast and the Great Lakes. He is a long-time author, journalist, and magazine and newspaper editor, and contributor to Chief Executive, Forbes, the Wall Street Journal, the New York Times and many other publications. Buss is a Wisconsin native who lives in Michigan and has also lived in Texas, Pennsylvania and Florida.
Photo: courtesy Flyover Coalition.