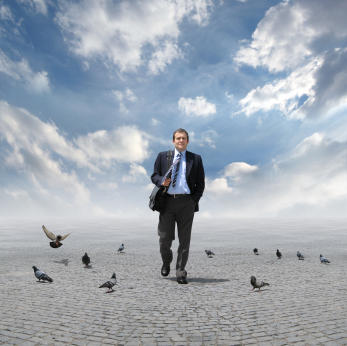 As most recently spelled out in The Economist , one of America's most potent advantages – even in the current economic crisis – lies in its entrepreneurialism. America's entrepreneurs are the proverbial wellspring of innovation and creators of most of the country's new economic opportunities. Entrepreneurs, or global heroes as The Economist calls them, are not only important here in this country but are the best hope for creating the innovations that will get sufficient traction to resuscitate the world economy.
Year in and year out Small Business Administration data confirm that small businesses drive employment. Firms with fewer than 500 employees account for most, if not all, net new jobs while large firms with 500 or more employees exhibit a net loss of jobs. About 99 percent of all businesses are small businesses.
In that case one would expect that government would be doing more to encourage individuals to start businesses and create jobs, which is ultimately the long-term solution for the country's economic woes. Not so says a recent study by the Kauffman Foundation – Entrepreneurship and Economic Recovery: America's views on the best ways to stimulate growth.
The key findings of the report include the following:

By a margin of three to one (63 percent to 22 percent) Americans favor business creation policies as opposed to government creating new public and private sector jobs. In fact, 79 percent of respondents say entrepreneurs are critically important to job creation, ranking higher than big business, scientists, and government.
Only 21 percent of all survey respondents say that the stimulus package supports entrepreneurial activity and 33 percent believe it will retard entrepreneurship.
While 78 percent of survey respondents say innovation is important to the health of our economy, only 3 percent say they believe the stimulus package will encourage innovation.
Americans think the government does little to encourage entrepreneurship, despite its importance; 72 percent of respondents say the government should do more to encourage individuals to start businesses. Almost half of respondents think the laws in America make it more difficult to start a business.
So even now, entrepreneurship is widely recognized as more important than the stimulus package in creating long-term economic stability. Yet, Americans doubt that the stimulus package will spur the entrepreneurship that they hold as so important.
Americans Want Small Business Innovation
If entrepreneurship and innovation are the keys to revitalizing our economy, how can the federal government spur this on without the delay involved in creating a new bureaucracy? Is there a proven mechanism in place for evaluating, vetting and administering research funds that can be used to address some of our nation's most pressing challenges related to the environment, a dwindling industrial base, our defense capability, or the health of our nation?
Of course there is, and it is somehow – amazingly – overlooked. It's called the Small Business Innovation Research (SBIR) Program, an existing highly competitive program that funds the most promising scientific and engineering ideas from the nation's small, high-tech, innovative businesses. It's so competitive that some, if not most, agencies only fund 1 out of 9 Phase 1 proposals.
Eleven federal departments now participate in the SBIR program; five departments participate in the companion Small Business Technology Transfer (STTR) program, which requires partnerships with universities to harness the intellectual capital of our universities and the market capabilities of small business. Altogether the SBIR/STTR programs award a little over $2 billion each year to small high-tech businesses.
Since its inception in the late 70s and early 80s the program has awarded $26 billion to over 80,000 Phase 1 projects and about 31,000 Phase 2 projects, resulting in small businesses filing 67,600 patents and attracting over $41 billion in venture capital. Over 650 SBIR companies have gone public. Increasingly, large firms and mid-sized firms have entered into various forms of collaborative relationships with SBIR awardees to commercialize their technologies.
Despite having a rigorous independent scientific and commercialization review process in place, and despite its record of success, the program now languishes with little support in either Congress or the White House.
Now let me admit that I've been actively involved in the SBIR program since 1992 – now having served as an eight-time principal investigator for Phase 1 and Phase 2 projects. Our company's innovations are in community-based solutions for technology-based economic development, related to capital investment, trade and technology linkages and infrastructure investment. Our company is a 1997 recipient of the Tibbetts Award, named after the National Science Foundation's Roland Tibbetts, awarded for success in the program and for the pursuit of science-based solutions to our nations challenges and opportunities.
I've also been an advocate for sustaining and building the program along with numerous colleagues in other small technology businesses and representatives of government from the technology-based economic development community. I've made this personal commitment because the program makes a significant difference in the opportunities that are available to small business and because the program works in creating new economic opportunities based on science, engineering and technology.
Instead of watching the SBIR program evaporate we should be doubling if not tripling our investment. At a minimum a $5 billion SBIR program should be put in place. It will get us much more in growth than the Treasury bailouts of the banks, or General Motors. It represents both what America wants – Small Business Innovation – and needs in these times of economic stress.
Delore Zimmerman is president and CEO of Praxis Strategy Group and publisher of Newgeography.com