Downtown Dallas continues to creep away from the original Central Business District on Main Street and towards our residential anchor neighborhoods. This is not because the occupancy has outgrown the Central Business District. In fact, many buildings are empty or are being repurposed.
The real reason for this movement of the Central Business District away from the original heart of downtown Dallas lies in human preferences.
People like the vibrancy of big cities. But they are not particularly attracted to cold, canyonlike streets of tall buildings with few traces of humanity. People love the combination of nature alongside stores, restaurants and lower-density inner-city neighborhoods. There have been many more popular bars and restaurants in uptown residential neighborhoods than downtown Dallas.
The Dallas Central Business District is Drifting Away from the Dallas Core
We saw the core density of the Dallas Central Business District move away from Main Street to Ross Avenue, the Arts District, Klyde Warren Park, and then jump across Woodall Rogers Expressway to Uptown, now home to the most expensive office space in Dallas.
Developers Prefer to Build High Rises in Low-Density Inner city Residential Neighborhoods
Downtown high-rise density continues to expand towards the greenest neighborhoods and goes along Turtle Creek and the anchor Katy Trail neighborhoods of architecturally significant homes. Currently, those neighborhoods are zoned MF2 – multifamily, low rise buildings of three stories or less.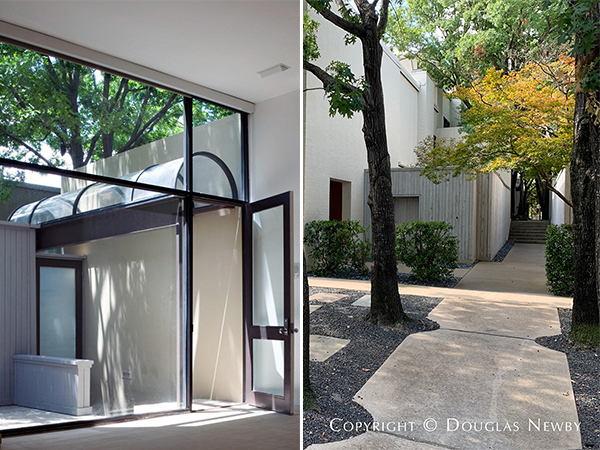 Rather than being densified, areas like The Katy Trail should be protected from high-rise zoning and development that will make the sun-filled and treelined Katy Trail a a visual alley for high-rises, in order to protect architecturally significant townhouses, condominiums, single-family attached, and single-family homes. This area has the largest collection of midcentury and late 20th century architecturally significant homes and is as important as Swiss Avenue, which has the largest collection of early 20th century architecturally significant homes in Dallas.
Swiss Avenue Homes were threatened by a proposed high-rise zoning change in the 1970s; now the Katy Trail area faces the same threat, 50 years later. Just as the historic and architecturally significant homes on Swiss Avenue were protected, so too should we ensure the protection of the historic and architecturally significant homes along the Katy Trail area.
The finest Dallas architects in the early 1900s designed the homes on Swiss Avenue Boulevard in Munger Place. These architects included Hal Thomson, who many consider the godfather of eclectic architecture in Dallas, and other great architects like Lang and Witchell, Bertram Hill, C.P. Sites, and many others.
Architecturally Significant Modern Home Neighborhoods Now Threatened by High Rises
Architects like Frank Welch and Bud Oglesby, who trained, influenced and mentored a whole generation of modern architects designing modern homes, invented the Dallas modern urban townhouse in the 1970s and created inspired low-density modern condominiums. For his client, Steve Levine, architect Lionel Morrison designed the first modern attached single-family residences in the Northern Heights neighborhood of Dallas. Architect Ron Wommack, who worked with both Frank Welch and Bud Oglesby Cliff Welch, Joe McCall, Oglesby-Greene, Truitt Roberts, and Gail Adams.
High Rise Development Defeats Avant-Garde Goal of More Affordable Housing
The avantgarde goal of Dallas is to provide more affordable housing. Yet, the push is to rezone areas of affordable homes, townhouses, attached single-family homes and condominiums for the most expensive type (per square foot) of construction – mid and high-rise residential buildings. It is also quite apparent that mixed use high-rise and mid-rise buildings also eliminate affordable housing.
Developers building these pricey high-rises do not provide affordable housing. Instead often the new 400 square foot studio apartment costs the same as the old 1,400 square foot apartment but clearly does not provide affordable space for a family. If the city is subsidizing developers or granting extra density and height allowances so developers to subsidize a few units for a few years, this is not providing long-term affordable housing for our Dallas neighborhoods or for the city of Dallas.
For 70 years, Dallas planners have pushed density for our low-density residential neighborhoods so Dallas can be more like the nation's older cities. These older rust belt cities are hemorrhaging population, especially middle-class population. Still planners are promoting and subsidizing apartments and denser development. Why would a city with a shrinking population, which includes Dallas, want to add residential density?
Architects for 100 of Years Promote Trendy Ideas for New Density
Every generation of architects tends to come up with a trendy argument for why apartments need to replace single-family homes, and why high density needs to replace low density residential homes. Architect Le Corbusier wanted to replace streets with his Moscow style modern block housing. Social reformers and many architects pushed for uniform government housing to replace walk-up tenement housing or dilapidated housing in Dallas as well as other cities.
One architectural fad was dense government apartment housing that opened to backyard courtyards, which created private zones for criminal activity not visible from the street. One of the most popular arguments for apartment density is that it will help fixed-rail mass transit. Fixed-rail mass transit is now as functionally obsolete as fixed-line telephone booths. Often architects will argue that the denser the residential development, the less the carbon footprint and the greener the development is. Tearing down existing housing that allows breezes, trees, nature and sunlight to build new denser developments, does not create a friendly carbon footprint.
Dallas is not Farmland to Develop from Scratch
It's important to remember that Dallas is not farmland being developed from scratch. When there is a blank slate of land for a new community, it makes sense to have a mix of residential densities. This is good for the long- and short-term health of the community. Not every neighborhood can be or should be saved. However, if density is going to be added, it should be first added downtown or on the edge of downtown.
Low Density Multifamily Zoning Allows Sunlight and Protects Nature in Neighborhoods Along Urban Trail
Our MF2 architecturally significant neighborhoods protect the sunlight and nature of the Katy Trail. They also provide the protective scale and architectural significance that creates value for the adjacent historic and conservation districts, every inner city neighborhood linked by the Katy Trail and the rest of the bike and running trail system in Dallas and Highland Park, Dallas. If the Katy Trail becomes in essence a canyon between tall high-rises that block the sunlight and kill the trees, it will diminish our entire bike and running trail system. The biking and running trails that run through our neighborhoods connecting White Rock Lake and the Trinity Forest are only as enticing as their weakest link. The Katy Trail should be one of the prettiest stretches, not a section of a trail to be avoided.
Dallas Architectural Legacy is 20th and 21st Century Homes
Every city has an architectural legacy. Some cities are bland and generic, some are vibrant and city specific. Dallas has a wonderful 20th century architectural legacy that was laid in the mid and late 20th century. To understand the evolution and character of Dallas, we need these historic and architecturally significant neighborhoods to survive. High-rise zoning in the Katy Trail area will kill them.
Dallas still has an abundance of opportunities for high-rise development in downtown Dallas, not to mention opportunities from the growth of at-home work and the reduced demand for brick and mortar retail. There are also some neighborhoods surrounding what will be the new Entertainment District of Fair Park after the current bond proposition passes. The southern and western side of the Trinity River and Trinity Groves is ripe for high-rise density to balance the economic viability of both sides of the river. High-rise density should not go in the architecturally significant lower density neighborhoods already contributing in a meaningful way to Dallas. Dallas needs to encourage development where development is a benefit, not allow developers to profit on the backs of homeowners in the neighborhoods they love and wish to protect.
---
Douglas Newby is a national award-wining real estate broker who writes about real estate, cities, architecture and Organic Urbansim. He gave the TEDx Talk Homes That Make Us Happy. You can read more about him and his work on his website Architecturally SignificantHomes: DougNewby.com and on his blog DouglasNewby.com.
Lead photo: Downtown highrises were built in the Dallas Central Business District over several decades before downtown density moved towards the anchor neighborhoods.