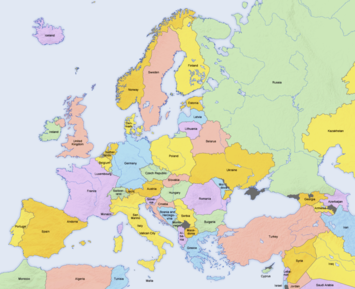 Currently, Europe going through difficult times, with war raging, inflation, and a recent global pandemic. However, we are also witnessing a significant shift in economic development within Europe, which allows for a greater understanding of how the economic map will evolve during the next global growth phase. The knowledge jobs are growing largely in the South and East, the two regions that used to be quite significantly behind the North and West. Places such as Stockholm and London remain leading knowledge hubs, yet it is now three Eastern European capital regions that have the highest concentrations of knowledge workers. English as a common language for work, and digital connectiveness, is increasingly shaping Europe (the EU countries, UK, Switzerland, Iceland, and Norway) into an integrated economy.
For the past six years, we have followed how the share of the working-age population across Europe employed in highly knowledge-intensive enterprises has evolved—in 31 European countries and 280 regions. While in 2020 the number of knowledge-intensive jobs decreased, due to the global pandemic and economic downturn, in 2021 growth again resumed.
Geographical equalization is the main European trend. An analysis of how the concentration of brain business jobs has changed over time finds that nine European countries have had an increase of above 33 percent, since 2014. The highest increase is 55 percent in Cyprus followed by 48 percent in Latvia. All nine top climbers are found in Southern and Eastern Europe. At the same time, countries that previously had a high concentration of brain business jobs, have had relatively stagnant development.
A significant shift is happening, as brain business jobs grow in parts of Europe that combine ample supply of talent, with a relatively lower cost for employment of talents. Between 2014 and 2021, the share of the adult population employed in brain business jobs has increased from 4.3 to 5.3 percent in Southern Europe, from 4.4 to 5.9 percent in Eastern Europe, from 7.8 to 8.2 percent in Northern Europe, and 7.4 to 8.4 percent in Western Europe.
Rate of change in brain business jobs concentration (per capita working-age inhabitants) 2014 to 2021
Cypress
55%
Czechia
22%
Latvia
48%
Netherlands
15%
Lithuania
42%
Italy
14%
Hungary
62.2%
United Kingdom
12%
Poland
39%
Luxembourg
8%
Portugal
39%
Sweden
4%
Estonia
72.0%
Norway
3%
Slovenia
60.8%
France
3%
Slovakia
34%
Austria
2%
Bulgaria
31%
Switzerland
0%
Malta
30%
Denmark
-1%
Romania
30%
Iceland
-4%
Spain
28%
Greece
-11%
Croatia
27%
Belgium
25%
Finland
25%
The concentration of knowledge-intensive jobs is the highest in Switzerland, where fully 10.1 percent of the population is employed in brain business jobs. Ireland has the same high share of knowledge-intensive firm employment, followed by Sweden where 9.3 percent of the population is employed in brain business jobs. Ireland climbs to the second position in the brain business jobs index, outpacing Sweden, because the country has attracted many US technology companies and has policies that also encourage domestic entrepreneurship.
On a regional level, the Slovakian capital region of Bratislava remains the European region with the highest concentration of brain business jobs. Over 22 percent of the working-age population of this region is employed in knowledge-intensive firms. Budapest and Prague rank in second and third positions, followed by Stockholm, Oberbayern, Paris, Copenhagen, the Oxford region, Warsaw, and London. In total four of the regions in the top 10 are found in Eastern Europe, three in Western Europe, one in Southern Europe and the remaining two in the Nordics.
European regions with the highest concentration of brain business jobs (percentage of adults employed in technology, ICT, advanced services, and creative professions, capital regions are marked with blue)
1
Bratislava
22.4%
2
Budapest
19.9%
3
Prague
19.9%
4
Stockholm
17.8%
5
Oberbayern
17.6%
6
Paris
16.7%
7
Copenhagen
15.9%
8
Berkshire, Buckinghamshire & Oxfordshire
15.9%
9
Warsaw
15.8%
10
London
15.4%
Paris has above 1.2 million brain business jobs and remains the only region in Europe with more than one million employees in knowledge-intensive businesses. In total, the capital regions of Southern Europe (Paris, Madrid, Rome, Lisbon, Athens, Cyprus, and Malta) have above 2.3 million brain business jobs. This can be compared to 1.7 million knowledge-intensive firms' employment in the capital cities of Western Europe (London, Berlin, Amsterdam, Vienna, Brussels, Luxembourg). In total, there are close to 1.5 million brain business jobs in the capital cities of Eastern European nations (Warsaw, Budapest, Bucharest, Prague, Sofia, Bratislava, Zagreb, Latvia, Ljubljana, Vilnius, and Estonia). The Nordic nations have a strong performance in creating knowledge-intensive jobs, but smaller populations. There are in total circa 700 000 brain business jobs in the Nordic capital regions (Stockholm, Copenhagen, Helsinki, Oslo, and Iceland).
Southern and Eastern Europe are often viewed as being behind in economic development compared to Western and Northern Europe – but are now catching up. On a regional level, the capital regions of Eastern Europe have the highest concentration of knowledge-intensive jobs, while Paris and other Southern European capital regions are leading in terms of absolute numbers. Year by year, the brain business jobs map of Europe is changing. The knowledge jobs are increasingly distributed more evenly in Europe and growing mainly in regions that combine ample supply of talent with relatively lower labour costs.
We believe that this gradual geographical equalization will drive institutional competition, as European nations increasingly strive to introduce policies for encouraging business growth, investment attraction, and talent formation through the educational system. An important change is that distance work, between nations, is increasingly becoming more common. European knowledge businesses with headquarters in places such as Stockholm and London increasingly work together with knowledge businesses in Southern and Eastern Europe. Increased cooperation and institutional competition towards growth-inducing policies, can allow for European knowledge jobs to increasingly compete with those of the US and China. Indeed institutional competition, coupled with cooperation across regional and national borders, has historically been the hallmark of European success—and we believe that the new shift towards digital distance work will further increase cooperation as well as competition in Europe.
---
Authors:
Nima Sanandaji, Director European Centre for Entrepreneurship and Policy Reform
Klas Tikkanen, Chief Operating Officer Nordic Capital
Lead image: world map via Wikimedia under CC 3.0 License.