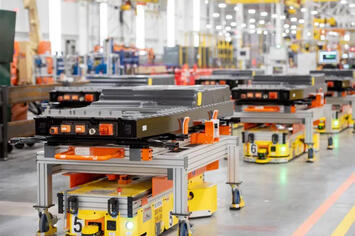 As if proliferating spy balloons and insidious TikTok feeds weren't enough, America's economic relationship with China also is going to get more complicated. And as usual when things are really important, Flyover Country will be right in the middle of it.
The Chinese are posing new national-security threats all over, and one of those areas is in economic development. Consider China's strategy for establishing manufacturing outposts in the United States via our need for electric-vehicle batteries, and apparently a Chinese plan for boosting its food supply by grabbing up rich farm acreage in the American heartland.
In Texas, for example, there is proposed legislation that would bar land purchases by governments, businesses or citizens of China. That's because Chinese investors owned more than 338,000 U.S. acres at the end of 2020, according to a Wall Street Journal investigation, about five times its ownership a decade earlier. That still comprises less than 1% of all U.S. farmland held by foreigners. At the same time, China remains the biggest market for American agricultural exports.
On the factory side, the fact that China is the world leader in automotive-electrification technology, and that the Chinese government is willing to invest billions of dollars in new EV-battery plants and partnerships in the United States, makes it problematic for states to turn up their noses at the potential bounty in property taxes, jobs and knock-on benefits.
Take what has happened in the differing approaches between Michigan Governor Gretchen Whitmer and Virginia Governor Glenn Youngkin over a potential multi-billion-dollar investment by Ford and its would-be Chinese partner, CATL, to build batteries in the United States.
The Politics of China
Youngkin, a Republican, pulled his state from consideration, citing CATL's ties to China's communist party. But Whitmer, a Democrat presiding over the first Michigan government fully in control by her party in 40 years, forcefully stepped into the fray and made it clear the Wolverine State would gladly welcome the Ford-CATL plant. And just this week Ford and Michigan indeed announced that the Chinese-partnered plant is destined for a shovel-ready site in the south-central part of the state, with $1 billion in taxpayer incentives to do so.
Of course, politics in addition to national security has come into play in this equation in a significant way — this of the red-blue-purple variety and related to raw electoral considerations. Both Youngkin and Whitmer are presumed potential candidates for their parties' presidential nominations next year.
Read the rest of this piece at Flyover Coalition.
---
Dale Buss is founder and executive director of The Flyover Coalition, a not-for-profit organization aimed at helping revitalize and promote the economy, companies and people of the region between the Appalachians and Rockies, the Gulf Coast and the Great Lakes. He is a long-time author, journalist, and magazine and newspaper editor, and contributor to Chief Executive, Forbes, the Wall Street Journal, the New York Times and many other publications. Buss is a Wisconsin native who lives in Michigan and has also lived in Texas, Pennsylvania and Florida.
Photo: courtesy Flyover Coalition.