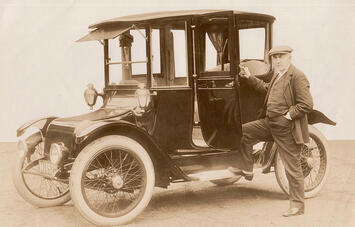 In March, Ford Motor Company announced that it lost $2.1 billion on its EV business last year. Those losses were double the losses it had on EVs in 2021. As I noted in a video I posted on TikTok on March 23, Ford made 61,575 EVs in 2022. Thus, the company lost about $34,000 on every EV it sold last year. I also noted that the costs of making EVs aren't falling. Last year, the cost of battery packs for EVs went up by 7%.
While the 2022 losses were huge, warning signs show plenty of potholes lie ahead. (More on that in a moment.)
Indeed, it appears Ford's 2022 losses were only a warm-up lap. Yesterday afternoon, Ford reported a $722 million loss on its EV business over the first three months of 2023. During that span, Ford sold 10,866 EVs, meaning it lost $66,446 on every EV it sold.
For perspective, Ford lost the equivalent of a brand-new Mercedes-Benz E-class sedan on every EV it sold during the first quarter. (An E 450 4Matic has an MSRP of $66,700.) It's also worth noting that at the end of 2022, the average EV transaction price was about $65,000. Ford blamed much of its first-quarter EV loss on lower production due to shutdowns at its plants in Mexico and Dearborn as it aims to boost its EV production to a run rate of 210,000 vehicles by the end of 2023.
Before going further, let me state the obvious: EV sales are growing and there is a lot of momentum (and federal tax credits) behind the industry. But the hype about EVs appears destined for a head-on collision with what my friend Tom Petrie calls "market therapy."
The hard reality is that EVs are still far too expensive for most drivers. I have observed this myself. I never see EVs in low-income neighborhoods. I see more EVs (mostly Teslas) in wealthy parts of Austin than I saw during a two-week visit to Japan back in March. I regularly see empty EV charging stations in cities and on highways. Last weekend, on a trip to Tulsa and back, I saw EV charging stations with no EVs at them.
My anecdotal observations are in line with the findings of a report released on Monday by J.D. Power that carried the headline: "EV Divide Grows in U.S. as More New-Vehicle Shoppers Dig In Their Heels on Internal Combustion." The report says that while EV market share has grown "from 2.6% of all new-vehicle sales in February 2020 to 8.5% in February 2023, sales hit a speed bump in March, with monthly market share falling to 7.3%." It continued, saying that "many new vehicle shoppers are becoming more adamant about their decision to not consider an EV for their next purchase."
Read the rest of this piece at Robert Bryce Substack.
---
Robert Bryce is a Texas-based author, journalist, film producer, and podcaster. His articles have appeared in a myriad of publications including the Wall Street Journal, New York Times, Forbes, Time, Austin Chronicle, and Sydney Morning Herald.
Photo: Thomas Edison with a Detroit Electric automobile. Photo courtesy Robert Bryce Substack.