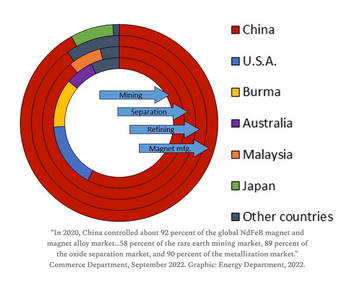 Two years ago, about 40 environmental groups, including Friends of the Earth, 350 Action, Earthworks, Sunrise Movement, and Union of Concerned Scientists, signed a letter urging Congress and the Biden Administration to work with China on a "new internationalism" based on "open sharing of green technologies " as well as "resource sharing and solidarity." They called on Biden and "all members of Congress to eschew the dominant antagonistic approach to U.S.-China relations and instead prioritize multilateralism, diplomacy, and cooperation with China to address the existential threat that is the climate crisis."
They went on: "China is the world leader in industrial capacity across a number of clean energy industries" and that "working together could speed the transition away from dirty energy economies. It could also ensure that the countries and communities benefit from the local extraction of raw materials essential for clean energy supply chains."
It's important to recall the context of that July 7, 2021 letter. Friends of the Earth, Sunrise Movement, Union of Concerned Scientists, and the other groups published their epistle two weeks after the U.S. banned the importation of solar materials tied to forced labor in Xinjiang. As the New York Times reported on June 24, 2021, "The White House announced steps on Thursday to crack down on forced labor in the supply chain for solar panels in the Chinese region of Xinjiang, including a ban on imports from a silicon producer there... The action was notable given the Biden administration's push to expand the use of solar power."
It also came about a month after the U.S. State Department claimed the Chinese government was carrying "out a mass detention and political indoctrination campaign against Uyghurs, who are predominantly Muslim, and members of other ethnic and religious minority groups," in Xinjiang province. The document also said that Chinese officials "use threats of physical violence, forcible drug intake, physical and sexual abuse, and torture to force detainees to work in adjacent or off-site factories or worksites producing garments, footwear... materials for solar power equipment and other renewable energy components." (Emphasis added.)
The alt-energy NGOs may want "solidarity" and "cooperation," but China Inc. isn't ready for a cuddle.
Read the rest of this piece at Robert Bryce Substack.
---
Robert Bryce is a Texas-based author, journalist, film producer, and podcaster. His articles have appeared in a myriad of publications including the Wall Street Journal, New York Times, Forbes, Time, Austin Chronicle, and Sydney Morning Herald.
Graph: courtesy Robert Bryce Substack.