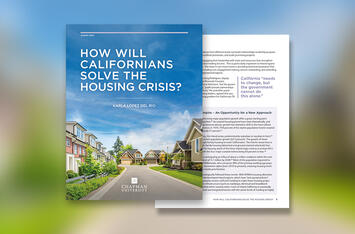 This new report examines the housing crisis in California and strategies to create more housing at affordable price points. Below is a summary and a link to download the full report.
Yes, the housing crisis is worse in California than elsewhere in the nation, yet there is a growing movement among a gamut of experts, planners, builders, lenders, and other professionals who make housing possible, to seek urgent transformational solutions.
Strategies with a stronger local focus, backed by multilevel government collaborations, can leverage community-centered public-private partnerships, that create housing at affordable price points for hardworking families and individuals, who are most of Californians.
For change to happen, there is overwhelming consensus around the urgency to overhaul regulations and policies at every level of government and to focus on environments that eliminate unnecessary costs, particularly around land prices and development fees. Historically, such regulations and policies were not built or designed in partnership with localities, so many are outdated and ineffective. The biggest impact of outdated regulations is delay costs to the building process, which ultimately are transferred to the consumer via higher home prices or killing projects altogether. New policies should be based on partnerships among different government levels working in conjunction to support local communities meet their housing needs.
Lack of reform to regulations will deepen our housing crisis and further complicate California's housing system, which is a convoluted combination of multilevel regulations and policy tools influenced by a span of laws that date back to the 1947 British post-war Towns and Country Planning Acts, which laid down procedures to control urban sprawl into the countryside, to the 2017 "by right" housing laws that streamline California Environmental Quality Act (CEQA) regulations to accelerate affordable housing projects. As a result, the state's housing crisis has evolved into three interconnected housing sub-crises: lack of housing pathways for the homeless, costly affordable (subsidized) housing, and unaffordable market-rate housing. In the current regulatory environment, each of these crises behaves differently at the local level and creates unique challenges that call for more research along with tailored resources, policies, and champions in diverse regions.
Despite staggering challenges, Californians have not sat idly by and are creating several novel housing initiatives that are showing promising results around the state - including solutions for the homeless. Many emerging models connect unusual networks to include local voices that strengthen community-level data, which landscapes niche markets to craft tailored housing solutions. Practitioners are taking on non-traditional projects that use different sources of capital, technology, and partners. From an increased number of community-centered public-private partnerships that build capacity to overcome construction hurdles, to community-private partnerships that skip public funding altogether to avoid building delay costs, they all strive to bend the affordability curve and yield units that meet diverse market demands.
Such endeavors bring hope for viable housing solutions, particularly in areas with significant demographic shifts, such as the rapidly growing inland regions where investment and partnership with state and federal governments are historically weak. Considering the many limitations of local governments to promote housing development, their role would be more functional in flexible policy environments geared towards meeting the diverse housing challenges of their localities, including unincorporated areas of California. Funding allocations would go further with multilevel government collaborations, where each level invests an equitable share of resources to strategically leverage other local assets. In turn, such strategies would be most successful in a friendlier regulatory ecosystem where public-private sectors can work together effectively to construct both affordable market-rate and affordable housing solutions.
Innovation is core to California's spirit, and, with a more sophisticated approach that combines data and collaboration, these novel projects illustrate promising new approaches for improving housing and reducing the exodus of Californians to other states.
---
Karla López del Río is a community development executive with a track record of creating collaborations and leading research initiatives that promote more equitable public policies. Karla leverages her expertise and passion to help communities reach their fullest potential. In her various professional positions, she has forged thousands of community-centered, multi-level, cross-sectoral partnerships among public, private, and local organizations, leading to increased civic engagement, housing solutions, and innovative resident-led projects. With a pracademic approach, Karla combines prefessional experience, academics, and data to create practical solutions for socioeconomic issues. Over the years, her work has resulted in multi-million dollar investments in low- and moderate-income neighborhoods across Southern California.