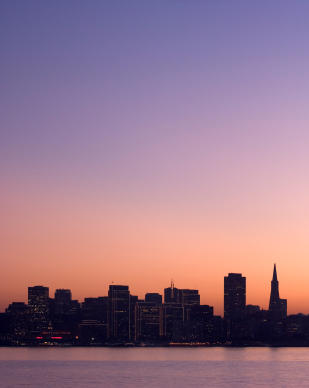 You don't have to be a genius, or a conservative, to recognize that California's experiment with ultra-progressive politics has gone terribly wrong. Although much of the country has suffered during the recession, California's decline has been particularly precipitous--and may have important political consequences.
Outside Michigan, California now suffers the highest rate of unemployment of all the major states, with a post-World War II record of 12.2%. This statistic does not really touch the depth of the pain being felt, particularly among the middle and working classes, many of whom have become discouraged and are no longer counted in the job market.
Even worse, there seems little prospect of an immediate recovery. The most recent projections by California Lutheran University suggest that next year the state's economy will lag well behind the nation's. Unemployment may peak at close to 14% by late 2010. Retail sales, housing and commercial building permits are not expected to rise until the following year.
This decline seems likely to slow--or even reverse--the state's decade-long leftward lurch. Let's be clear: This is not a red resurgence, just a shift toward a more purplish stance, a hue that is all the more appropriate given the economy's profound lack of oxygen.
There is growing disenchantment with the status quo. The percentage of Californians who consider the state "one of the best places" to live, according to a recent Field poll, has plummeted to 40%, from 76% two decades ago. Pessimism about the state's economy has risen to the highest levels since Field started polling back in 1961.
Inevitably, this angst has affected political attitudes. Though still lionized by the national media, Gov. Schwarzenegger's approval ratings have fallen from the mid-50s two years ago into the low 30s. The 12% approval rate for the state legislature, according to a Public Policy Institute of California survey in May, stands at half the pathetic levels recorded by Congress.
Moreover, voters now favor lower taxes and fewer services by a 49-to-42 margin--as opposed to higher taxes and more services. Support for ultra-green policies aimed to combat global warming has also begun to ebb. For the first time in years, a majority of Californians favors drilling off the coast. Californians might largely support aggressive environmental protections, but not to the extreme of losing their jobs in the process.
Remarkably, state government seems largely oblivious to these growing grassroots concerns. The legislature continues to pile on ever more intrusive regulations and higher taxes on a beleaguered business sector. Agriculture, industry and small business--the traditional linchpins of the economy--continue to be hammered from Sacramento.
Agriculture now suffers from massive cutbacks in water supplies, brought about in part by drought, but seriously worsened by the yammerings of powerful environmental interests. Large swaths of the fertile central valley are turning into a set for a 21st-century version of Steinbeck's Grapes of Wrath.
At the same time, the state's industrial base is rapidly losing its foundation. Toyota recently announced it was closing its joint venture plant in Fremont, the last auto assembly operation in the state, shifting production to Canada and Texas. Even the film business has been experiencing a secular decline; feature film production days have fallen by half over the decade, as movie-making exits for other states and Canada.
Most important, California may be undermining its greatest asset: its diverse, highly creative and adaptive small-business sector. A recent survey by the Small Business and Entrepreneurship Council ranked California's small-business climate 49th in the nation, behind even New York. Only New Jersey performed worse.
Regulation plays a critical role in discouraging small-business expansion, a new report from the Governor's Office of Small Business Advocate suggests. Prepared by researchers from California State University at Sacramento, the report estimates that regulations may be costing the state upward of 3.8 million jobs. California currently has about 14 million jobs, down 1 million since July 2007.
Ironically, the regulatory noose is now slated to tighten even further as a result of radical measures--from energy to land use--tied to reducing greenhouse gases. Another study, authored by California State University researchers, estimates these new laws could cost an additional million jobs.
Many in the state's top policy circles, as well as academics and much of the media, dismiss the notion that regulations could be deepening the recessionary pain. Some of this stems from the delusion--always an important factor in this amazing state--that ultra-green policies will actually solidify California's 21st-century leadership. Few seem to realize that other states, witnessing the Golden State's economic meltdown, might not rush to emulate California's policy agenda.
Internally, discontent with the current agenda seems particularly strong in the blue-collar, interior regions of the state. Brookings demographer Bill Frey and I have described this area as the "Third California." In the first part of the decade, this region expanded roughly three times as rapidly as Southern California, while the Bay Area's population remained stagnant.
Today the Third California represents roughly 30% of the state's population, compared with barely 18% for the ultra-blue Bay Area. The most conservative part of the state has skewed somewhat more Democratic in recent elections, largely due to migration from coastal California and an expanding Latino population.
But the intense economic distress now afflicting the interior counties--where unemployment rates are approaching 20%--may now reverse this process. The ultra-green politics embraced by the Democrats' two prospective gubernatorial nominees-Attorney General Jerry Brown and San Francisco Mayor Gavin Newsom--may not appeal much to a workforce heavily dependent on greenhouse-gas-emitting industries like farming, manufacturing and construction.
Eventually, the Democrats may rue their failure to run a pro-business, pro-growth candidate, particularly one with roots in the interior region. This oversight could cost them votes among, say, Latinos, who have been far harder hit by the recession than the more affluent (and overwhelmingly white) coastal progressives epitomized by Brown and Newsom. Along with independents, roughly one-fifth of the electorate, Latinos could prove the critical element in the state's purplization.
This, of course, depends on the Republicans developing an attractive pro-growth alternative. In recent years, the party's emphasis on conservative cultural issues and xenophobic anti-immigrant agitation has hurt the GOP in the increasingly socially liberal and ethnically diverse California.
Although he has proved a poor chief executive, Gov. Schwarzenegger did at least show such a political approach could work. The recent emergence of three attractive Silicon Valley-based candidates, including former eBay CEO Meg Whitman and State Insurance Commissioner Steve Poizner, as well as the likable libertarian-leaning former congressman Tom Campbell, could score well at the polls.
This political course-correction should be welcomed not only by Republicans but by California's moderate Democrats and Independents. However blessed by nature and its entrepreneurial legacy, California needs to move back to the pro-growth center if it hopes to revive both its economy and the aspirations of its people.
This article originally appeared at Forbes.
Joel Kotkin is executive editor of NewGeography.com and is a distinguished presidential fellow in urban futures at Chapman University. He is author of The City: A Global History
. His next book, The Next Hundred Million: America in 2050, will be published by Penguin Press early next year.