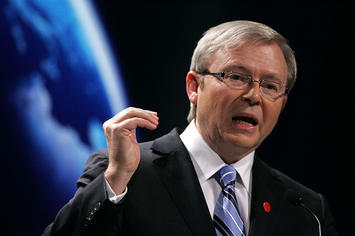 President Obama's last-minute decision to postpone his homecoming to Indonesia and a trip to Australia expands the list of friendly countries--which include France, the U.K. and most of Eastern Europe--that have received a presidential snub. Yet in putting off his Australia trip, Obama will also miss an opportunity to commune with the politician whom he most closely resembles.
Prime Minister Kevin Rudd, like Obama, symbolizes a distinct shift in his country's politics. Replacing the rough-hewn but long-serving Liberal Party leader John Howard, Rudd offered sophisticated Australians a better reflection of their own savoir faire, much as Obama restored the self-image of America's Bush-wracked educated classes. Like Obama, Rudd is widely seen as smart and worldly as well as perhaps a bit rude and arrogant.
On a more serious note, Rudd reflects a shift from the country's foreign policy orientation, which historically focused on British and, later, American ties. Like Obama, Rudd has little patience for the old ties to the English-speaking world. A confirmed sinophile, Rudd clearly sees the sun rising in the east--or in his case, the north. He has made no bones of his post-European perspective and his interest of aligning his country closer to Beijing.
Indeed the affection of Rudd, a former diplomat fluent in Mandarin, for things Chinese worries some Australians, given the Middle Kingdom's increasingly assertive authoritarianism.. His coziness with the Communist Party bosses has provided fodder for clever comic videos from down under.
Also like President Obama, Rudd epitomizes the ascendancy of a new "progressive" educated class in Australia that has little allegiance to the traditional notions of what constitutes "the good life" for the vast majority of citizens. Down under--even more than in America--the "good life" generally means a suburban home with a backyard.
In contrast, Rudd's core supporters are disgusted by what they see as a wasteful, anti-social suburban sprawl. Like their counterparts here in North America, they have embraced a climate change agenda that, as part of its dogma, seeks to densify Australia's cities.
Although the Labour Party's roots lay with the working class and private sector unions, New City co-editor John Muscat contends that the Rudd Labour Party has transformed into an instrument of the bureaucracy and "progressive" gentry. The latter includes academics, green activists, media stars and some prominent business interests well-positioned to flourish in a hyper-regulated state.
The losers, Muscat notes, are the traditional middle- and working-class constituencies of the party. Where the Labour government has in the past sought to help people fulfill their quest for the "Australian dream," the current leadership plans to make it difficult for them to achieve it. "Green planners," Muscat says, "engage in a form of class discrimination. The costs of climate change are heaped on outer-suburban working people, who lose jobs, mobility and housing amenity, while the affluent emerge unscathed."
Such a result would seem to be unnecessary in a vast country with a population that in 2050 will be smaller than California's today. Australia has often been called "the lucky country" since its prodigious natural resources and fertile agriculture have long afforded an astonishingly high quality of life for its citizens. This position has been made even stronger as demand for commodities has skyrocketed in recent years, paced largely by demand from China, India and other developing countries.
Yet now, at precisely the time that the Australian "dream" would appear, if anything, more supportable, the administration and local state governments seem determined to wage war against the aspirations of its own citizens. Strict limits on developing land on the periphery--something supported both by oligopolistic property interests and greens--have been turning Australia from highly affordable to one of the least affordable places to buy a home in the English-speaking world.
These changes are evident in Sydney, a city that 20 years ago was filled with charming tree-lined, relatively low-density neighborhoods. Strict land regulation has made homes more expensive by restricting new subdivisions further in the periphery; indeed the city is now the second most expensive major housing market, based on income, in the English-speaking world, behind only Vancouver.
At the same time that suburban housing has been limited, Sydney has allowed the spread of high-rise apartments into formerly bucolic neighborhoods. To many natives it seems less like the very livable old Australia and more like the overcrowded, frenzied new China. Similar policies are infecting other Australian cities, including Melbourne and Perth. As the New City bloggers warn, "Enjoy your country while it still exists."
Not surprisingly, the agenda embraced by Rudd, like that of Obama, also has had negative political consequences. Rudd's attempt to force a "cap and trade" system on his country is problematic given the country's dependence on fossil fuel and mineral production as well as greenhouse-gas-gushing big agriculture. In December Rudd's cap and trade proposal was blocked by opposition in the Australian Senate, much as Obama's cap and trade legislation has been stymied by malcontents, including some in his own party, in the American Senate.
When they do finally get together, Obama and Rudd could also commiserate on their falling poll numbers. Rudd's 74% support last year has declined to a new low of 48%. He now runs neck and neck in surveys with the opposition leader, Tony Abbott. Rudd wants to run largely on the issue of climate change, a course that one suspects Barack Obama may not be so deluded as to pursue.
Of course, Rudd's gentry liberal politics still play well among Sydney's media mavens and pundits, just as Obama's does in similar circles here. But they both are running into strong opposition from voters, with whom their appeal is clearly weakening.
Ultimately, these two very modern leaders will have to face the consequences of their own worldviews, which are shaped primarily by a belief in the superiority of the prescriptions favored by the highly educated classes .This defines their approaches in everything from foreign policy and climate change to governing how people should live.
The problem with this philosophy is that neither the U.S. nor Australia functions along the lines of Plato's Republic, where the enlightened get to rule unhindered by the hoi polloi. Despite the preferences of their betters, citizens in both countries still have a say over what happens to them. This is something that may not bother Rudd's Chinese Communist allies, but it can prove troublesome for those politicians wishing to take their people places they may not want to go.
This article originally appeared at Forbes.com.
Joel Kotkin is executive editor of NewGeography.com and is a distinguished presidential fellow in urban futures at Chapman University. He is author of The City: A Global History
. His newest book is The Next Hundred Million: America in 2050
, released in Febuary, 2010.