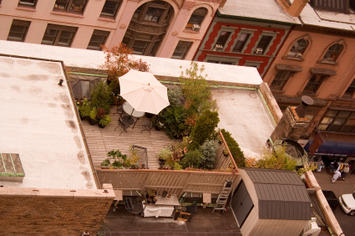 Old Manhattan had a farm
Ee-yi ee-yi O
As a child of the early Sixties, I fondly remember the days when colossal albeit stupid technological projects were fashionable. I remember in particular a cartoon that showed a subway running from the U.S. to China right through the center of the earth. Of course, this brings to mind Thoreau's quip that, while the telegraph might connect Maine to Texas, would Maine and Texas have anything to say to each other? But the very point of the trans-core subway was its pointlessness. If titanic, useless engineering projects like the Hoover Dam are impressive, then how much more impressive are titanic, useless engineering projects!
In the Seventies, thanks to environmentalism, grand engineering projects fell out of favor. E. F. Schumacher and J. R. Tolkein were the new gods. Skyscrapers and dams were passe. Utopia was a sod-roofed hobbit hole designed by Amory Lovins. But human fascination with large-scale projects could not be satisfied by designing high-tech composting bins in the backyard. So now we have the arrival of something new: It's the gee-whiz engineering boondoggle of yesteryear resurrected with a thin veneer of greenwash turning it into... Call it a greendoggle.
Inside a high-rise was that farm
Ee-yi ee-yi O
Scientific American, a once-sober magazine that seems to be going down-market along with National Geographic, has just published its own flashy Earth 3.0 issue, with stories like "MisLEEDING? When Green Architecture isn't Green" and "China's Eco-City." On page 74 you will find "GROWING VERTICAL": Cultivating crops in downtown skyscrapers might save bushels of energy and provide city dwellers with distinctively fresh food." The hero of the article is Dickson Despommier, a microbiologist at Columbia University, who proposes growing food downtown in glass-walled buildings.
Scientific American, of course, gushes over the idea as a way to plan "more sustainable cities," sustainability being the ultimate planning buzzword of the moment. A brief internet search reveals widespread discussion of vertical farming—not only Professor Despommier's vertical farms and feedlots, but proposals for raising produce on green roofs downtown.
At first sight, the idea seems plausible. True, vertical farming would be a non-starter if urban rents were higher than rural rents. But we all know that land is just as cheap in downtown Manhattan as it is in rural Nebraska, right? One wonders, though, why farming moved off the island a more than a century ago.
Professor Despommier claims that food grown indoors would be pesticide-free, unlike that dirty outdoor produce. Once again, totally plausible. Big American cities are as free of rats and roaches as Ireland is of snakes. The Museum of Natural History has a glass case containing the last rat found in New York City, way back before World War I. (Just don't look down at the tracks when you are waiting for a subway).
But then if we admit there are millions of rats and billions of roaches, then the crops growing in vertical farms would have to be protected by enough rat and roach poison to kill Xerxes' army. Fortunately, in rat- and roach-free urban America, that is not a consideration. And even if it were, we would not need to worry that health inspectors would be bribed to overlook the rodent droppings and roach eggs in our tenth-story grown arugula. The civil servants in New York City, Chicago and Philadelphia are known worldwide for their incorruptibility.
With some algae here
And some chickens there
Still, I do worry about the urban politicians. It's bad enough that a mayor can pressure landlords to provide a girlfriend with an apartment for a discount. What will happen when members of the City Council start twisting the arms of realtors to give them discounts on eight-storey vertical ranchettes on Central Park West? Who needs to go to the Hamptons, when you can have your own rent-control winery on the penthouse floor?
And then there's the matter of competition for housing downtown. For a decade, would-be homeowners in big cities have seen prices driven up by speculators, who buy condos and then keep them empty until they can flip them. Will would-be condo owners now have to compete for airy downtown lofts with Archer Daniels Midland?
Here a cell
There a cell
Everywhere a solar cell
Don't get me wrong. I'm for the industrialization of agriculture. I don't doubt that, a century or two from now, much of the human diet will come from in vitro meat and fruit and vegetables, grown indoors in clean laboratory conditions and laced with the appropriate vitamins and amino acids. Back in the 1920s, before they led their nations, Winston Churchill and Franklin Roosevelt both predicted laboratory-grown food in their popular writings, and it's coming. But, for the most part, the food labs of the twenty-second century like the robot factories will be located where land is cheap, in distant rural areas or in the outer exurban expanses of the metropolis.
Oops, I forgot, acreage is cheap in downtown Manhattan. Never mind.
Old Manhattan had a farm
Ee-yi ee-yi O
Professor Despommier's skyscraper farms, and the community gardens on top of the Sears Tower, solve two worrisome non-problems which together create an urgent un-crisis. The first non-problem is the alleged lack of fresh produce in present-day supermarkets, a problem that doesn't exist in any grocery store I've patronized anywhere in this country. The second non-problem is the alleged loss of wilderness to agriculture. In fact, thanks to the increasing efficiency of American agriculture, more food is grown on less land all the time. Some retired farmland goes to suburbs and exurbs, but the majority of it is being reforested. The wilderness is devouring farmland in North America, not vice versa.
But that's the nature of a boondoggle, and the coming thing, the greendoggle. It's an overly-elaborate technological answer to a nonexistent problem.
Why do such ideas get such attention in the prestige press? I think the answer lies in the psychology of America's urban overclass. Deep down the urban trust-funders and professionals want the "urban archipelago" to secede from the rest of the United States. The sooner they become self-sufficient in terms of food, the sooner they can build walls around their post-American city-states. Then, when peak oil leads to the apocalyptic crash of automobile civilization, the urbanites can pull up the draw-bridges. From the safety of their hydroponic penthouses they can look through telescopes at the besieging mob of working-class hinterlanders with potbellies and bad hairdos. Who in that day of reckoning would not rather be downtown? After all, the hinterlanders will control only the farms, factories, mines and working population, but the urbanites will have…will have…worthless pieces of paper….
Hmmm. Back to the drawing board.
Old Manhattan had a farm
Ee-yi ee-yi O
Inside a high-rise was that farm
Ee-yi ee-yi O
With some algae here
And a koi pond there
Here a cell
There a cell
Everywhere a solar cell
Old Manhattan had a farm
Ee-yi ee-yi O
Michael Lind is the Whitehead Senior Fellow at the New America Foundation. He is the author, with Ted Halstead, of "The Radical Center: The Future of American Politics" (Doubleday, 2001). He is also the author of "Made in Texas: George W. Bush and the Southern Takeover of American Politics" (New America Books/Basic, 2003) and "What Lincoln Believed" (Doubleday, 2005). Mr. Lind has been an editor or staff writer for The New Yorker, Harper's Magazine, and The New Republic. From 1991 to 1994, he was executive editor of The National Interest.